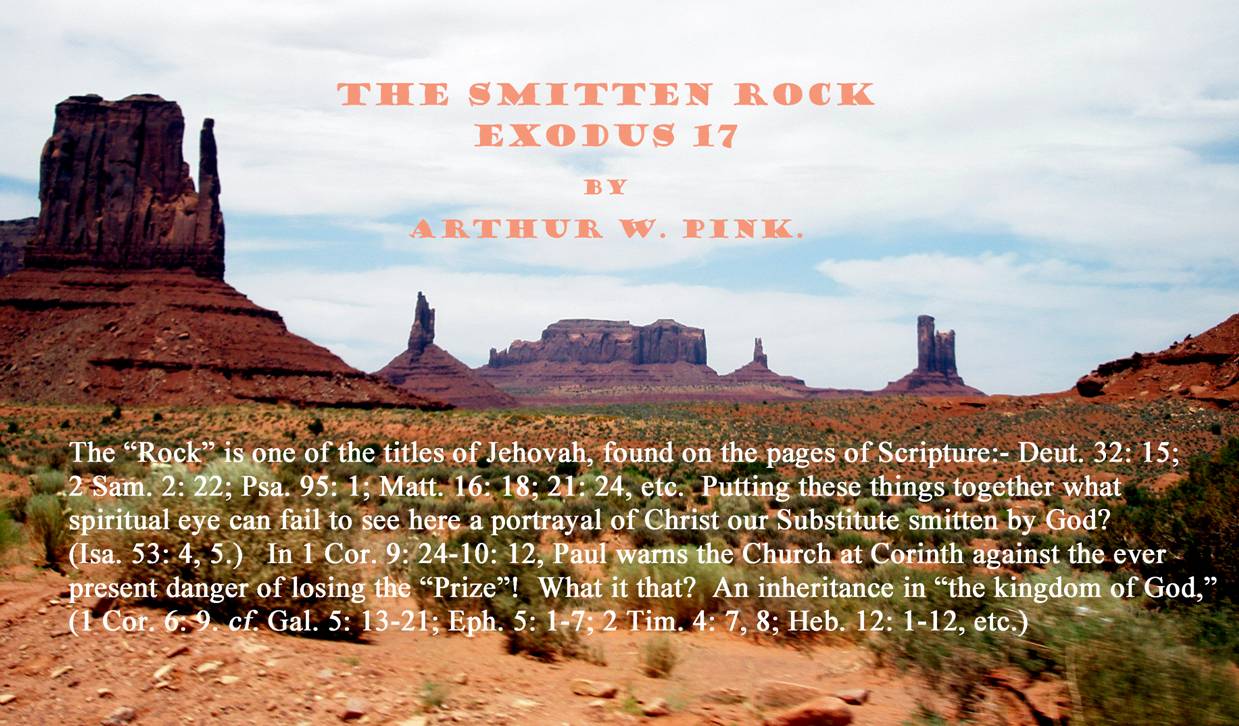 [*Exposition from the author's book, 'Gleanings in Exodus,' PP. 136-140. Photograph above by Clive R. Tindle. ]
EXODUS 17
"And all the congregation of the children of Israel journed from the Wilderness of Sin" (v. 1). Mark that this chapter opens with the word "And," connecting it with the one preceding. So, too, chapter 16 begins with "And," linking it on to the closing verses of 15. "And" is a little word, but we often miss that which is of much importance and value through failing to weigh it carefully. There is nothing trivial in God's Word, and each word and syllable has its own meaning and worth. At the close of Ex. 15 (v. 23) Israel came to Marah, and they could not drink of the waters there because they were bitter. At once we find the people murmuring against Moses, saying, "What shall we drink?" (v. 24). Sad, sad was this, after all that the Lord had done for them. Moses cried unto God, and in long-suffering grace He at once came to the relief of the people. The Lord showed him a tree, which when cast into the bitter waters, at once sweetened them. After this experience they reached Elim, where were twelve wells of water. There Ex. 15 closes.
Ex. 16 opens with "And." Why? To connect with what has just preceded. But for what purpose? To show us the excusableness and to emphasise the enormity of the conduct of Israel immediate[ly] following; as well as to magnify the marvellous patience and infinite mercy of Him who bore so graciously with them. Israel had now entered the wilderness, the Wilderness of Sin, and it furnished no food for them. How, then, do they meet this test of faith? After their recent experience at Marah, one would suppose they promptly and confidently turned unto their Divine Benefactor and looked to Him for their daily bread. But instead of doing this we read, once more, "The whole congregation of the children of Israel murmured against Moses and Aaron" (16: 3), and not only so, they "spake against God; they said, Can God furnish a table in the wilderness?" (Psa. 78: 19). Yet, notwithstanding their petulancy and unbelief, the Lord again came to their relief and rained down bread from Heaven. The remainder of the chapter is occupied with details concerning the manna.
Now, once more, the chapter before us for our present study, begins with "And." The opening verse presents to us a scene very similar to that which is found at the beginning of the previous chapter. Israel are once again face to face with a trial of faith. Their dependency upon God is tested. This time it is not lack of food, but absence of water. How this illustrates the fact that the path of faith is a path of trial. Those who are led by God must expect to encounter that which is displeasing to the flesh, and also a constant and real testing of faith itself. God's design is to wean us from everything down here, to bring us to the place where we have no reliance upon material and human resources, to cast us completely upon Himself. Oh how slow, how painfully slow we are to learn this lesson! How miserably and how repeatedly we fail! How long-suffering the Lord is with us. It is this which the introductory "And" is designed to point. Here in Ex. 17 it is but a tragic repetition of what it signifies at the beginning of chapter 16.
"And there was no water for the people to drink." What of that? This presented no difficulty to Him who could part the sea asunder and then make its waves return and overwhelm their enemies. It was no harder for Jehovah to provide water than it was for Him to supply them with food. Was not He their Shepherd? If so, shall they want? Moreover, had not the Lord Himself led Israel to Rephidim? Yes, for we are here expressly told, "The children of Israel journeyed according to the commandment of the Lord, and pitched in Rephedim." He knew there was no water there, and yet He directed them to this very place! Well for us to remember this. Ofttimes when we reach some particularly hard place, when the streams of creature-comfort are dried up, we blame ourselves, our friends, our brethren, or the Devil perhaps. But the first thing to realize in every circumstance and situation where faith is tested, is, that the Lord Himself has brought us there! If this be apprehended, it will not be so difficult for us to trust Him to sustain us while we remain there.
"Wherefore the people did chide with Moses, and said, Give us water that we may drink" (v. 2). The word "chide" signifies that the people expostulated with Moses in an angry manner for bringing them hither, reproaching and condemning him as the cause of their trouble. When they said to him, "Give us water that we may drink," it was either that they petulantly demanded he should give what God only could provide, signifying that he was under obligations to do so, seeing that he was the one who had brought them out of Egypt into the wilderness; or, because they had seen him work so many wonders, they concluded it was in his power to miraculously obtain water for them, and hence, insisted that he now do this.
"And Moses said unto them, Why chide ye with me? Wherefore do ye tempt the Lord?" (v. 2). Moses at once reminded the Israelites that in criticising him they arraigned the Lord. The word "tempt" in this verse seems to signify try or test. They tried his patience, by once more chiding His servant. They called into question both His goodness and faithfulness. Moses was their appointed leader, God's representative to the people; and therefore to murmur against him was to murmur against the Lord Himself.
"And the people thirsted there for water; and the people murmured against Moses, and said, Wherefore is this that thou hast brought us up out of Egypt, to kill us and our children and our cattle with thirst?" (v. 3). And as their thirst increased they grew more impatient and enraged, and threw out their incentives against Moses. "Had Israel been transported from Egypt to Canaan they would not have made such sad exhibitions of what the human heart is, and, as a consequence, they would not have proved such admirable examples or types for us; but their forty years' wandering in the desert furnish us with a volume of warning, admonition, and instruction, fruitful beyond conception. From it we learn, amongst many other things, the unvarying tendency of the heart to distrust God. It would rather lean upon a cobweb of human resources than upon the arm of an omnipotent, all-wise, and infinitely gracious God; and the smallest cloud is more than sufficient to hide from its view the light of His blessed countenance. Well, therefore, may it be termed 'an evil heart of unbelief,' which will ever show itself ready to 'depart from the living God'" (C.H.M.).
"And Moses cried unto the Lord, saying, What shall I do unto this people? They be almost ready to stone me" (v. 14). It is beautiful to see that Moses made no reply to the cruel reproaches which were cast upon him. Like that blessed One whom he in so many respects typified, "When He was reviled, He reviled not again; when He suffered, He threatened not; but committed Himself to Him that judgeth righteously" (1 Peter 2: 23). This is what we see Moses doing here. Instead of returning an angry and bitter rejoinder to those who falsely accused him, he sought the Lord. Blessed example for us. This was ever his refuge in times of trouble (cf. 15: 25, etc.). The fact that we are told Moses "cried unto the Lord" indicates the earnestness and vehemence of his prayer. "What shall I do?" expressed a consciousness of his own inability to cope with the situation, and also showed his confidence that the Lord would come to his and their relief. How often should we be spared much sorrowful regret later, if, instead of replying on the spur of the moment to those who malign us, we first sought the Lord and asked, "What shall I do?"
"And the Lord said unto Moses, Go on before the people, and take with thee of the elders of Israel; and thy rod, wherewith thou smotest the river, take in thine hand, and go. Behold, I will stand before thee there upon the rock in Horeb; and thou shalt smite the rock, and there shall come water out of it, that the people may drink. And Moses did so in the sight of the elders of Israel" (v. 5, 6). This brings before us on of the many Old Testament types of the Lord Jesus, one for which we have New Testament authority for regarding it as such. In 1 Cor. 10: 1-4 we read. "Moreover, brethren, I would not that ye should be ignorant, how that all our fathers were under the cloud, and all passed through the sea; And all were baptised unto Moses in the cloud and in the sea: And did all eat of the same spiritual meat; And did all drink of the same spiritual drink; for they drank of that spiritual Rock that followed them: and that Rock was Christ."
The "Rock" is one of the titles of Jehovah, found frequently on the pages of the Old Testament. In his "song," Moses laments that Israel forsook God and "lightly esteemed the Rock of his salvation" (Deut. 32: 15). In his song, we also hear the sweet singer of Israel saying, "The Lord is my Rock and my Fortress, and my Deliverer" (2 Sam. 2: 22). The Psalmist bids us make a "joyful noise to the Rock of our salvation" (95: 1). While the prophet Isaiah tells us "And a man shall be as an hiding place from the wind, and a covert from the tempest as rivers of water in a dry place, as the shadow of a Great Rock in a weary land" (32: 2). In the New Testament we get that memorable and precious word, "Upon this Rock (pointing to Himself, not referring to Peter's confession) I will build My church, [and the gates of Hades will not overcome it" (N.I.V.).] (Matt. 16: 18).
The first thing that impresses one when we see a rock is its strength and stability, a characteristic noted in Scripture in the question of Bildad to Job, "Shall the rock be moved out of his place?" (Job 18: 4). This is a most comforting thought to the believer. The Rock upon which he is built cannot be shaken: the floods may come, and the winds may beat upon it, but it will "stand" (Matt. 7: 25).*
[* Here, it is the putting into practice the precepts of Christ; they will be able to "stand" against the onslaught of trials and tribulations when they come.]
Another prominent characteristic of rocks is their durability. They outlast the storms of time. Waters will not wash them away, nor winds remove them, from their foundations. Many a vessel has been dashed to pieces on a rock, but the rock stands unchanged; and it is a deeply solemn thought that those who are not built upon The Rock, will be shattered by it – "And whosoever shall fall on this Stone shall be broken," said Christ, pointing to Himself, "but on whomsoever it shall fall, it will grind him to powder" (Matt. 21: 24).
A third feature that may be mentioned about a rock is its elevation. It towers high above man and is a landmark throughout that part of the country where it is situated. Some rocks are so high and so steep that they cannot be scaled. Each of these characteristics find their application to and realisation in the Lord Jesus. He is the strong and powerful one – "The mighty God" (Isa. 9: 6). He is the durable One – "the Same yesterday and to-day and forever." He is the elevated One, exalted to the Throne of Heaven, seated at the right hand of the Majesty on high [until His enemies be made His footstool].
The first thing to be noted here in our type is that the rock was to be smitten. This, of course, speaks of the death of the Lord Jesus. It is striking to note the order of the typical teaching of Ex. 16 and 17. In the former we have that which speaks of the incarnation of Christ; in the latter, that which foreshadowed the crucifixion of Christ. Ex. 17 is supplementary to chapter 16. Christ must descend from Heaven to earth (as the manna did) if He was to become the Bread of life to His people; but He must be smitten by Divine judgment if He was to be the Water of life to them! Here is another reason for the opening "And."
There are three details here which enable us to fix the interpretation of the smiting of the rock as a type of the death of the Lord Jesus. First, it was to be smitten by the rod of Moses. The "rod" in the hand of Moses had been the symbol of judgment. The first reference to it definitely determines that. When he cast it on to the ground it became a "serpent" (4: 3) – reminder of the curse. With his rod the waters of the Nile were smitten and turned into blood (7: 17), and so on. Second, only the "elders of Israel" witnessed the smiting of the rock. This emphasises the governmental character of what was here foreshadowed. Third, Jehovah Himself stood upon the rock while it was smitten. "Behold, I will stand before thee there upon the rock in Horeb" (v. 6) – marvellous line in the picture was this. Putting these things together what spiritual eye can fail to see here a portrayal of our Substitute being smitten by the Governor of the Universe. Doubtless that word in Isa. 53: 4, 5 looks back to this very type – "Smitten of God … by His stripes we are healed." How solemn to behold that it was the people's sin which led to the smiting of the rock!
Out from the smitten rock flowed the water. Beautiful type was this of the Holy Spirit – gift of the crucified, now glorified, Saviour. May not this be one reason why the Holy Spirit is said to be "poured out" (Acts 2: 18)? – speaking in the language of the very type. The gift of the Holy Spirit was consequent upon the crucifixion and exaltation of the Lord Jesus. This is clear from His own words from John 7: 37, 38: "Jesus stood and cried, saying, If any man thirst, let him come unto Me, and drink. He that believeth on Me, as the Scripture hath said, out of his belly shall flow rivers of living water." Now mark the interpretation which is given us in the very next verse: "But this spake He of the Spirit, which they that believe on Him should receive: for the Holy Spirit was not yet given because that Jesus was not yet glorified."*
[* How much greater will be the blessing when He returns again to establish His Kingdom here, and manifest His glory for all then living on earth to see? The Transfiguration being a preview of that coming "day" (Matt. 16: 28; 2 Pet. 3: 8.). Then this earth shall be filled with the "GLORY of the Lord" even as the waters cover the sea. Haba. 2: 14. cf. Isa. 12: 6; Zech.9: 10; Rom. 8: 19-22.]
The Holy Spirit has given us a supplementary word through the Psalmist which enhances the beauty of the picture found in Exodus 17. There we are told, "He opened the rock, and the waters gushed out; they ran in the dry places like a river. For He remembered His holy promise (to) Abraham His servant" (105: 41, 42). It was because of His covenant to Abraham that God gave the water to Israel. So, too, we read of God promising to give eternal life to His elect "before the world began" (Tit. 1: 1, 2), and this, on the basis of "the everlasting covenant" (Heb. 13: 20).
1 Cor. 10, also supplements Ex. 17. In the historical narrative we read of Moses striking the rock in the presence of "the elders" of Israel, but nothing is there said about the people drinking of the streams of water that flowed from it. But in 1 Cor. 10: 4, we are told, "And did all drink the same spiritual drink." This is an important word. It affirms, in type, that [initially]* all of God's people have received the Holy Spirit. There are some who deny this. There are those who teach that receiving the Holy Spirit is a second work of grace. This is a serious error. Just as all the children of Israel (God's covenant people) drank of the water from the smitten rock, so in the anti-type, all of God's children are made partakers of the Holy Spirit, gift of the ascended Christ – "And because ye are sons, God hath sent forth the Spirit of His Son into your hearts, crying, Abba, Father" (Gal. 4: 6). There is no such thing as a believer in Christ who has not received the Holy Spirit: "If any man have not the Spirit of Christ, he is none of Him" (Rom. 8: 9).**
[*Note. The question which every Christian should ask is: 'Will the Holy Spirit continue to dwell within a disobedient child of God?' And the Scriptural answer is a definite NO! "We are witnesses of these things and so is the Holy Spirit, whom God has given to those who obey Him" (Acts 5: 33). Upon repentance, the Holy Spirit can return: "This son of mine was dead and is alive again; he was lost and is found" (Luke 15: 24). And again, addressing the church in Sardis, we read: "I know your deeds; you have a reputation of being alive, but you are dead. Wake up! Strengthen what remains, and is about to die, for I have not found your deeds complete in the sight of my God. Remember, therefore, what you have received and heard; obey it, and repent:" (Rev. 3: 2, 3). See also 1 Sam. 10: 6, 7. cf. 1 Sam. 12: 14, 15; Judges 16: 20; and **note the stated condition in Rom. 8: 13, 14: "If you live according to the sinful nature, you will die; but if by the Spirit you put to death the misdeeds of the body, you will life, because those who are led by the Spirit of God are sons of God." (Quoted from the N.I.V.).]
Much of the blessedness in our type will pass unappreciated unless we note carefully the occasion when the stream of living water gushed from the smitten rock. It was not when Israel was bowed in worship before the Lord, it was not when they were praising Him for all His abundant mercies toward them. No such happy scene do the opening verses of Ex. 17 present to our view. The very reverse is what is there described. Israel were murmuring (v. 3); they were almost ready to stone God's servant (v. 4); they were filled with unbelief, saying "Is the Lord among us or not?" (v. 7). The giving of the water, then, was God acting according to His marvellous grace. Where sin abounded, grace did much more abound. But, be it well noted, it was grace acting on a righteous basis.* Not till the rock was smitten did the waters flow forth. And not till the Saviour had been bruised by God was the Gospel of His grace sent forth to "every creature." What, my reader, is the response of your heart to this amazing and rich mercy of God? Surely you say, out of the deepest gratitude, "thanks be unto God for His unspeakable Gift" (2 Cor. 9: 15).
[* And this principle holds firm with a Holy, sin-hating God, when we study passages (and their immediate context) which have to do with winning or attaining the "Prize" and the "salvation of your souls" (1 Cor. 9: 24; Phil. 3: 14. cf. Heb. 10: 26-39; 1 Pet. 1: 5, 9, 11, 13.). A righteous God will not give the "Prize" to anyone whom He has judged as unworthy of it!]
This paper would not be complete were we to close without a brief word upon Num. 20 where we again find Moses smiting the rock. "And the Lord spake unto Moses, saying, Take the rod, and gather thou the assembly together, thou, and Aaron, thy brother, and speak ye unto the rock before their eyes, and it shall give forth His water, and thou shall bring forth to them water out of the rock; so thou shalt give the congregation and their beasts drink" (vv. 7, 8).
What is recorded in Num. 20 occurred forty years later than what has been before us in Ex. 17. Almost everything here is in sharp contrast. The rock in Ex. 17 foreshadowed Christ on the cross; the rock in Num. 20 pictured Him on high. The Hebrew word for "rock" is not the same. The word used here in Num. 20 means an elevated rock, pointing plainly to the Saviour in His exaltation. Next, we notice that Moses was not now bidden to "strike" the rock, but simply to speak to it. In Ex. 17 the rock was smitten before the "elders" of Israel; here Moses is bidden to "gather the assembly together." And while Jehovah bade him take a rod, it was not the rod used in Ex. 17. On the former occasion Moses was to use his own rod – "Thy rod, wherewith thou smotest the river." That was the rod of judgment. But here he was to take "The rod" (Num. 20: 8), namely, the rod of Aaron. This is clear from verse 9. "And Moses took the rod from before the Lord, as He commanded him" if we compare it with Num. 17: 10 – "And the Lord said into Moses, Bring Aaron's rod again before the testimony (viz., the Ark of the Holy of Holies), to be kept for a token against the rebels." This, then, was the priestly rod. Mark also how this aspect of the truth was further emphasised in the type by the Lord bidding Moses, on this second occasion, to take Aaron along with him – Aaron is not referred to at the first smiting of the rock!
The interpretation of the typical meaning of Num. 20: 8 is therefore abundantly clear. The rock must not be smitten a second time, for that would spoil the type. "knowing that Christ being raised from the dead dieth no more; death hath no more dominion over Him For in that He died, He died unto sin once; but in that He liveth, He liveth unto God." (Rom. 6: 9, 10). "But now once in the end of the world hath He appeared to put away sin by the sacrifice of Himself … So Christ was once offered to bear the sins of many" (Heb. 9: 26, 28). Streams of spiritual refreshment flow to us on the ground of accomplished redemption and in connection with Christ's priestly ministry.
How solemn the sequel here. The servant of the Lord failed – there has been but one perfect "Servant" (Isa. 42: 1). The meekest man upon the earth became angry at the repeated murmurings of Israel. He addressed the covenant people of God as "Ye rebels." He asked them, "Must we fetch you water out of the rock?" He "smote the rock twice" – indicating the heat of the heat of his temper. And because of this God suffered him not to lead Israel into Canaan. He is very jealous of the types – more than one man was slain because his conduct marred them.
It is striking to note that though Moses smote the rock instead of speaking to it. Nevertheless, the refreshing waters gushed forth from it. How this should warn us against the conclusion that a man's methods [and interpretation] must be right if the Lord is pleased to use him. Many there are who imagine that the methods used in service must be pleasing to God if His blessing attends them. But this incident shows plainly that it is not safe to argue thus. Moses' methods were wrong; notwithstanding God gave the blessing! But how this incident also manifests, once more, the wonderous grace of God. In spite of (not because of) Israel's murmuring, and in spite of Moses' failure, water was given to them, their every need was supplied. Truly, our God is the "God of all grace." May the realization of this draw out our hearts in adoring worship, and may our lives rebound more and more unto His glory.
* * *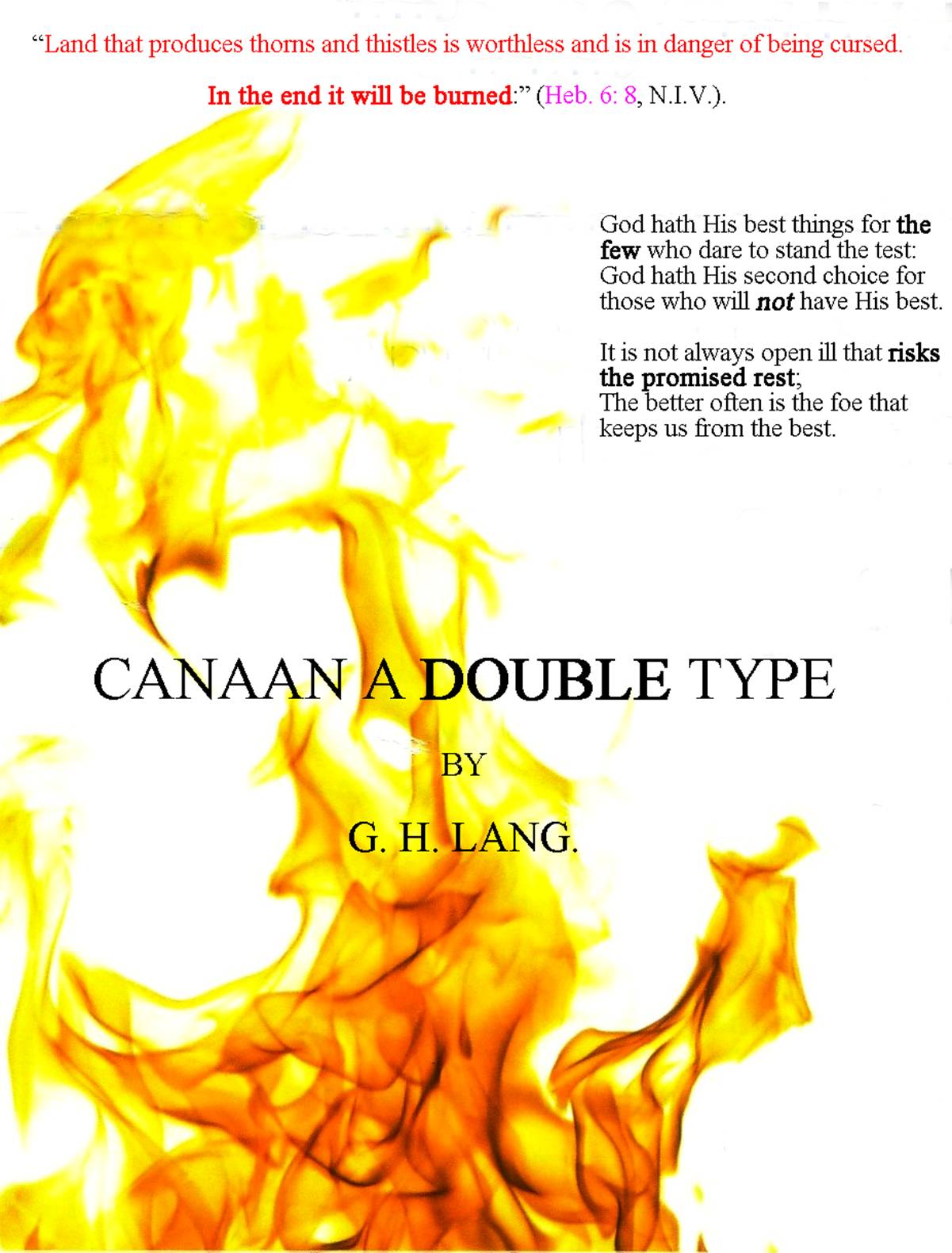 … And now to enforce this lesson upon his "brethren," the inspired writer carries back their thoughts to Israel journeying from Egyptian bondage to the land of promise.
1. He first emphasizes that the whole people started with equal providential and spiritual privileges. They were not deluded or deceiving professors, falsely claiming experiences which they knew not, but were actual partakers of the vast and saving benefits mentioned: it is expressly declared that they knew and partook of the spiritual food and drink (Christ) of which manna and living water were material types: "they did all eat the same spiritual food, and did all drink the same spiritual drink: for they drank of a spiritual rock that went with them: and the rock was Christ." Thus they stand forth as a type of the real believer, identified with Christ and partaking of Him.
2. Also, they all had a title to, and a promise of, the glorious land, God's sworn possession to their fathers.
3. They had only to persevere awhile through the intervening difficulties, and they would duly reach their goal; and thus
4. By faith in the fidelity and power of their God they would certainly gain possession of their inheritance.
Thus, as a number of racers, they all started together and without handicap, being all equal in opportunity and resources, and the prize so ample that all might find a rich share: and yet most of them never attained to it, but were overthrown in the wilderness. The desiring of things evil; worshipping something other than Jehovah; sins of the flesh; provoking God by declaring that they wished that they had never come out of Egyptian bondage; and murmuring against God's judgments and God's leaders: these caused vast numbers of them to fail of the possessions and joys which awaited them in Canaan.
There was, therefore, positive chastisement: "they were overthrown in the wilderness," "they fell," "they perished," they came under the power of "the destroyer." How many believers of our age would indeed have done well to have given earnest heed to these things. How many have passed their lives in a wilderness of spiritual dearth and misery, and have died there after long wanderings, and all because they never pressed on to the better things of which God speaks. How easy it is to murmur against trial, to hanker after the forbidden things of the godless world from which we separated, or to give way to the lusts of the flesh. Such could have overcome, for God makes this possible for everyone of His people; but carnal security induced laxity, and they fell.
Nor let us overlook the danger of things morally right over-engrossing, things present and pleasant. True are A. B. Simpson's lines:
God hath His best things for the few
Who dare to stand the test:
God hath His second choice for those
Who will not have His best.
It is not always open ill
That risks the promised rest;
The better often is the foe
That keeps us from the best.
So that there was, further, an actual loss of better things that were to come. They who suffer the positive chastisement in this life, dying in their hardness of heart and unbelief, forfeit their share of that which Canaan in this sense typifies. For that goodly land has a double significance typically. (1). As known under Joshua and down to the time of David's full conquests, it pictures the present conflict which the eager aspirer after exalted spiritual benefits must confront and sustain. Satan and his hosts set themselves to frustrate the Christian warrior from obtaining enjoyment of his heavenly privileges in Christ. Power for righteous living, peace in troubled circumstances, joy under affliction, power in intercession, these and other such good things spiritual, our heavenly enemies will hinder our acquiring, or if we gain them, they will seek to rob us of them. (2). But the years of battle past, the Jebusites driven at length from Mount Zion (Ezk. 28: 16; Rev. 12: 7-12), then Canaan in Solomon's earlier years pictures that millennial day when the true Prince of peace shall reign before His ancients gloriously.
This latter aspect it is that is mainly now before us; only it must again be remarked that such as never enter the land never will enjoy its delights and glory. The redeemed but earth-bound heart to-day, neither knowing nor seeking the things that are above, content to believe his soul to be safe from hell [i.e., the 'lake of fire'], will take no part in the conflicts under Joshua and David, and will have no share in the glories of Solomon's household and government. "Wherefore let him that thinketh he standeth take heed lest he fall." And this exclusion will become plain as we pass on to the second of these special scriptures, the third and fourth chapters of the letter to the Hebrew saints.
In approaching this epistle it is imperative to observe that the Christians addressed are not viewed as Jews belonging to the earthly nation. They are early and distinctly recognized as "holy brethren, partakers of (the) heavenly calling" (3: 1). They had "endured a great conflict of sufferings" for the faith, and the "better and abiding possession" was so real to their hearts that they took joyfully the spoiling of their earthly possessions (10: 32-36); they loved the name of God, and showed it by serving His saints (6: 9-12). It is as such that they are instructed, encouraged, and warned; the very argument of the epistle is based upon the fact.
They had been Israelites; but they had accepted Jesus as the Messiah, whilst the nation had rejected Him. This cleavage was too thorough, and duly became too wide, for any individual to be on both sides at once. Consequently Jewish Christians lost their national privileges, such as the temple and priesthood and sacrifices; and how great this loss must have seemed to a devout Jew we may guage from the sorrow it still is to such. We have heard them with grief explain that the reason why they do not now offer sacrifice is that they have, alas, neither temple nor priesthood. And for these advantages the sincere of the nation still yearn.
But also the orthodox leaders soon persecuted the Christian Israelites, and that very bitterly and often. So that to follow Christ seemed mainly loss; and thus the temptation was severe to turn back to Judaism, or at least to espouse Christ and His cause less vigorously. To counteract this tendency, and to save his brethren from the peril and permanent loss thus threatening, the writer, taught of the Spirit, addresses to them this letter.
1. His principal theme is the superior dignity, offices, and glory of the Son of God over all others, even the angels, as well as over the great leaders of Israel's national life, Moses, Aaron, Abraham, Levi, and Joshua. It was to the one Who is altogether unique in Person, and pre-eminent in power and glory, they had joined themselves. Let them not turn their back on Him.
2. Next the epistle emphasizes that there is an actual heavenly realm of existence, with its throne and sanctuary, its immediate presence of God, its royal priesthood and eternal sacrifice, and many vast heavenly advantages, which are as much richer than Israel's earthly blessing as heaven is higher than earth. Of these divine things the tabernacle was but a copy; and who need sorrow to have left the picture for the original, or to have lost the shadow and have gained the substance? Far, far more than all that the sacrifices of animals could provide was theirs through the blood of Jesus; much more than the Aaronic priesthood could secure the priesthood of Christ guaranteed. Let them not forego these heavenly benefits in hope of retaining the imperfect and transitory earthly good.
3. Lastly, whatever gain it was to Israel of old to be in Canaan as compared with Egypt and the wilderness, is to be indefinitely transcended by the "rest of God" which yet remaineth for the enjoyment of the believer. But even as many of Israel failed to reach the earthly inheritance, so let us also beware lest we fail to enter into the heavenly [and millennial] rest (chs. 3 and 4, spec. 4: 9-11).
The use that is made of the ninety-fifth psalm is characteristic of the treatment of the Old Testament by the apostolic writers which has been before remarked. It is pointed out that by the mouth of David God refers to a "rest" of His own which He had offered to Israel 450 years or so before, but as to which He had sworn that they who rebelled at Kadesh barnea should never enter. It is argued further (ver. 8), that not even the next generation under Joshua entered into that rest, though the land of Canaan, it is said, "had rest from war" (Josh. 11: 23). For had the promise been fulfilled then God would not be heard, after a lapse of centuries, still speaking of His rest as awaiting the entrance of the faithful ['overcomer']. It is further evident that none in the years that had intervened since God thus spake through David had attained to such a condition as is implied in the term "My rest," "for he that is entered into his rest hath himself also rested from his works, as God did from His." But the people of God are still toiling and striving in this world of labour and conflict. It is therefore concluded that there must yet remain a sabbath-rest for the enjoyment of the people of God. And that none should fail to reach that blissful era is the urgent message of the epistle.
But let us pause, for here is a ray of light as to what the rest is not. It has not yet been entered upon, and therefore it remains, is the argument: and this is urged by and to men who knew the fulness of present Christian blessings in heart-experience wrought by the Holy Spirit. So that it is not here intended to point to that inward state of peace which is the present privilege of the saint. By grace, not a few have known the blessedness of being in perfect peace of heart as promised in Isaiah 26: 3. "The peace of God which passeth all understanding" has been the mighty garrison of many that had cause enough to have grown prematurely old with anxiety. But not peace but rest is spoken of in these scriptures; not freedom from anxiety, but rest from labour, is what is here in view. So that it is somewhat that is future that is in question, somewhat that is connected with circumstances and surroundings.
And this meaning is required by the very force of the term "sabbath-rest" (sabbatismos); for a sabbath rest is repose after labour. Hence we may further negative any thought that it is the eternal rest of God which is here intended. For that state of calm and repose in which God was and is eternally (and to which necessarily all the finally saved will enter in the eternal state), that rest, because it is a necessary attribute or condition of the Almighty, has never been broken nor ever can be disturbed, and this just because it is eternal and therefore changeless. But this rest of which God speaks to man is a sabbath rest, and therefore is a state which will follow upon the period in which God is working.
Now after He had refashioned the earth, and had put man upon it, and had seen with satisfaction that all was "very good," then God rested from all His work which God had created and made (Gen. 2: 3). Thus He commenced a sabbath rest. But, alas, the irruption of sin out of the angelic world into the earthly sphere marred God's works, and constrained Him again to start working to recover the ruin and restore beauty, for He was by no means content to leave this world to the Enemy. Thus the rest of God after creation was broken, and the greater labour of redemption commenced. The Son of God asserted that even down to His own day His Father had been working and not resting, and that Himself, the Son, was joined with His Father in those works: "MY Father worketh even until now, and I work" (John 5: 17).
This work is not completed in either heaven or earth. God's servants are still labourers, working together with him (2 Cor. 6: 1; 1 Cor. 3: 9). The sacrifice which is unto God as a savour of rest (as the term "offering of a sweet savour" means) has indeed been offered at Calvary, and is the basis and promise of that "rest which remaineth"; but the work of establishing righteousness upon that basis, and so of assuring rest to the sin destroyed earth, is far from being accomplished. Nor can it be completed save by the casting out from the heavenly places of the rebellious angels who have disturbed those sacred realms (Rev. 12: 9), and the pouring forth of the foretold and mighty judgments which shall destroy the wicked from the face of the earth, so that God's Spirit may be poured out upon all of mankind that are spared. When the brightness of the out-shining of the Messiah of Israel shall have driven to perdition His foe (Rev. 19: 19, 21), the Antichrist, the last king of Babylon, the coming world-emperor, then "it shall come to pass in that day that the Lord shall give thee rest from thy sorrow, and from thy trouble, and from the hard service wherein thou wast made to serve, that thou shalt take up this parable against the king of Babylon, and say, How hath the oppressor ceased! the golden city ceased! The Lord hath broken the staff of the wicked, the sceptre of the rulers; that smote the peoples in wrath with a continual stroke, that ruled the nations in anger, with a persecution that none restrained," and then shall it be said with joy, "The whole earth is at rest - is quiet: they break forth into singing" (Isa. 14: 3-7). And as touching, not Israel, but the church of God now labouring and distressed, the promise is, "to you that are afflicted rest with us, at the revelation of the Lord Jesus from heaven" (2 Thess. 1: 7). Then shall Jehovah himself return unto His rest so long interrupted, as it is written, "Sing, 0 daughter of Zion; shout 0 Israel; be glad and rejoice with all thy heart, 0 daughter of Jerusalem ... The Lord thy God is in the midst of thee, a mighty one who will save: he will rejoice over thee with joy, he will rest in his love, he will joy over thee with singing" (Zeph. 3: 14, 17).
It is therefore to the millennial day that these passages specially point; and hence it is in harmony with all other scriptures that strong exhortations are given which imply the possibility of missing that rest, a possibility which cannot exist for even one justified soul in relation to eternal security and repose. "Let us fear, therefore, lest haply, a promise being left of entering into His rest, any one of you should seem to have come short of it"; and again, "Let us therefore give diligence to enter into that rest, that no man fall after the same example of disobedience" (Heb. 4: 1, 11).
We have a great priest, and drawing near habitually to Him we may find pardon for past coldness and slowness, and may find also grace to help in running the race that may yet lie before us. Putting in Him our faith, by fully accepting and responding to His word of promise (4: 2), and thus diligently obeying His call to press on to the goal, we shall duly arrive at His rest and glory. But let none dream that, because of Calvary's cross, indolence of spirit, or rebellion and unbelief, in His people, pass unvisited by God. The cross where the Son of God died because of sin can never be perverted into a pretext for allowing sin. Nay! God's word - such a word as Psalm 95 here quoted and re-quoted - is "living and active and sharper than any two-edged sword, and piercing even to the dividing of soul and spirit, of both joints and marrow, and quick to discern the thoughts and intents of the heart. And there is no creature that is not manifest in His sight: but all things are naked and laid open before the eyes of him with whom we have to do" (Heb. 4: 12, 13), that is, to reckon.
We cannot escape from His scrutiny, nor deceive Him, as we may our fellow Christians, into thinking us to be diligent in things heavenly when in truth our heart is set upon things earthly. And this unchangeable oath shall certainly operate effectually against any entering into that rest who are unbelieving and disobedient. "Today; today"; cries our God, "harden not your heart" against My call that you strive to live wholly for My glory. "Today" - be not faithless but believing; "today," labour in the work of the Lord; "today" obey all My holy will, and especially that you set your heart on the things that are above, not on the things that are upon the earth, even its lawful things (Col. 3: 1.4). Oh, "Take heed, brethren, lest haply there shall be in any one of you an evil heart of unbelief, in falling away from the living God: but exhort one another day by day, so long as it is called To-day; lest any one of you be hardened by the deceitfulness of sin: for we are become partakers of Christ, if we hold fast the beginning of our confidence firm unto the end : while it is said,
To-day if ye shall hear his voice,
Harden not your hearts, as in the provocation."
(Heb. 3: 12-15).
The comments of William Kelly upon this chapter 4 are important. They are the more striking in that he would not have supported our view of the forfeiture of the millennial kingdom, and yet his own statements lead inevitably towards this conclusion. We quote from p. 65 et seq. of his Exposition of the Hebrews:
"The all-important point for a just interpretation is that God's rest is here before us, His glory with Christ. It is not at all rest for the conscience or the heart, which the believer has or finds now in Christ. The 'rest of God' is exclusively future. ... Faith makes both our own now; but we are called also to exult in hope of the glory of God. This is His rest; and we are going on toward it, as Israel to Canaan. Such is the text here applied. It is God resting in what satisfies His love and holiness when righteousness reigns and sorrow flees away. ... The former is applied in Gen. 2 (LXX) when sin and death had not entered the world. It is used here also for the scene and time of glory, when they will be manifestly vanquished. … It is impossible to understand the entire context if we regard the rest here spoken of as any other than the future rest of God into which Christ will introduce us at His coming. Wrest it to the primary need of the soul as men are apt to do, and all is confusion ... The rest then is God's rest, made by Him, and suited to Him, which He will enjoy in perfected glory with those who believe in Christ, who alone by His work could fit sinful men to share it, perfected as they are through His one offering. ...
"The present tense of verse 3 ['do enter into that rest'] is not historical but absolute, a usage most frequent in Scripture and in ordinary speech too, especially as to principles of truth ... There is no thought of an actual entrance now; for the whole argument shows the rest here is future, whatever rest may be for faith to apprehend before God shares His rest with all that are His own. This Epistle always regards the believer as on, the way. The 'sabbatism' here in view is not yet enjoyed by the saints, but 'remaineth' (verse 9)
"Verse 10 is an added word very characteristic of the inspired writer. It asserts the general principle, by the case put, that we cannot be working and have rest in the same things and in the same sense. When one is entered into his rest, he also has rested from his works. It is not at all the common notion of resting from bad works when a man gets peace with God. However true this may be, it has nothing whatever to do with what is here written. And this is demonstrable, not only from the whole passage treating, not of the soul's spiritual rest by faith of Jesus but of God's future rest in glory, yet by the comparison that follows, as God from His own (works). Now assuredly His works were never bad, but always and perfectly good. Nevertheless He is to rest even from the activity of His love to enjoy the glorious results. Such is the case spoken of. He that is entered into his rest is no longer busied with his works. It is a necessary principle and a blessed application to the matter in hand, and in no way a moralising upon a sinner ceasing from his evil works and finding rest in Christ. Now is the time for the saint not to cease from his good works. Soon he will enter the eternal rest of God. The prevalence of sin and misery calls for unremitting labour while it is day; in this too we have communion with the Father and the Son (John 5: 17). When they rest so shall we; and eternity, as the active Arnauld d' Andilly said to Nicole, will be long enough to rest in. The A.V. is very faulty in its mistaken emphasis, which helps on the popular misapprehension.
"The eleventh verse concludes the caution against present rest for the Christian, followed by a statement of the means grace supplies to safeguard us through the wilderness ... We are exhorted to earnest striving now; for there is much that invites us to ease and relaxation. The very mercy of God to our souls might so dispose us ... Immense is the deliverance from bondage and doubt and dimness by the simple yet profound gospel of God. Yet the danger of reaction is not small. We are saved that we may diligently serve Him. We are put into fellowship with God's feelings as to all that surrounds us as well as what surrounds Him. This is not our rest, but our scene of labour where people and things are estranged from God. We shall rest when we enter what is perfectly according to His nature and purpose. Hence now and here below is the strongest call to diligence, not to rest ...
"Let us then be diligent to enter into that rest, refusing every other. Israel is the great example of falling through not hearkening to the Lord. This is the fatal disobedience here spoken of. They stumbled at the word, being disobedient. And such is the danger of all Christians now, as well as those immediately addressed. We stop short, grow weary, make difficulties, get preoccupied, distracted from God's objects, attracted by things that are seen and temporal. We are called now to the work of faith and labour of love, while we patiently wait for rest in glory at Christ's coming.
"Unbelief may work in us as in Israel as to both the way and the end. They were weary of the one, and they despised the other. Let us take heed that none of us fall into the same example of disobedience."
Others who take the "rest" as future are Bengel, Bloomfield, Weymouth, Govett, Delitsch, Alford, the last saying: "the promise still remains unfulfilled; they who at the time of its fulfilment shall be found to have believed, shall enter into it."
Who would share Abraham's blessing
Must Abraham's path pursue;
A stranger and a pilgrim
Like him must journey through.
The foes must be encountered,
The dangers must be passed;
Only a faithful soldier
Receives the crown at last.
- Paul Gerhardt.
The alternatives of the argument in Hebrews 3 and 4 are thus inevadable. A redeemed earthly people had the promise of an inheritance, but many failed to reach it. A redeemed heavenly people have the promrise of an inheritance, and are warned lest they fall after the same example of disobedience and come short of the goal. If the "rest of God" set before the latter be the eternal state, then redeemed persons may after all be [eternally] lost. If this be not possible, as assuredly it is not, then the "sabbath rest" can be only the millennial not the eternal. In this case (1) only actually redeemed persons can be in question, for such alone have any promise of the first resurrection and the millennial kingdom; (2) the millennial kingdom may be missed by such as are heirs of the promise, or the very argument of the passage is futile, for it depends wholly upon the point that the "rest that remaineth" is as forfeitable as Canaan was by Israelites. That the heirs of the promise may lose eternal life or the millennial kingdom seem the inexorable alternatives.
We are persuaded that this same lesson from the rebellion of Israel at Kadesh-barnea is before the mind of the Spirit in the celebrated and much controverted passage which opens the sixth chapter.
It is the same danger that is before the writer's mind, that of not advancing, and therefore of retrograding, in Christian knowledge, experience, and usefulness: "ye are become dull of hearing. For when by reason of the time ye ought to be teachers, ye have need again that some one teach you the rudiments of the first principles of the oracles of God; and are become such as have need of milk, and not of solid food. For every one that partaketh of milk is without experience of the word of righteousness; for he is a babe. But solid food is for fu1l-grown men, even those who by reason of use have their senses exercised to discern good and evil" (5: 11-14).
Therefore he urges them to "press on unto perfection (full growth)" - a vigorous exhortation and a high standard. The passage reads : "Wherefore let us cease to speak of the first principles of Christ, and press on unto perfection; not laying again a foundation of repentance from dead works, and of faith toward God, of the teaching of baptisms, and of laying on of hands, and of the resurrection of the dead, and of eternal judgment. And this we will do, If God permit. For as touching those who were first enlightened and tasted of the heavenly gift, and were made partakers of the Holy Ghost, and tasted the good word of God, and the powers of the age to come, and then fell away, it is impossible to renew them again unto repentance; seeing they crucify to themselves the Son of God afresh, and put him to an open shame. For the land which hath trunk the rain cometh oft upon it, and bringeth forth herbs meet for them for whose sake it is also tilled, receiveth blessing from God: but if it beareth thrrns and thistles, it is rejected and nigh unto a curse; whose end is to be burned" (Heb. 6: 1-8, R.V.).
IT WILL BE WORTH IT ALL. LET US "PRESS ON".