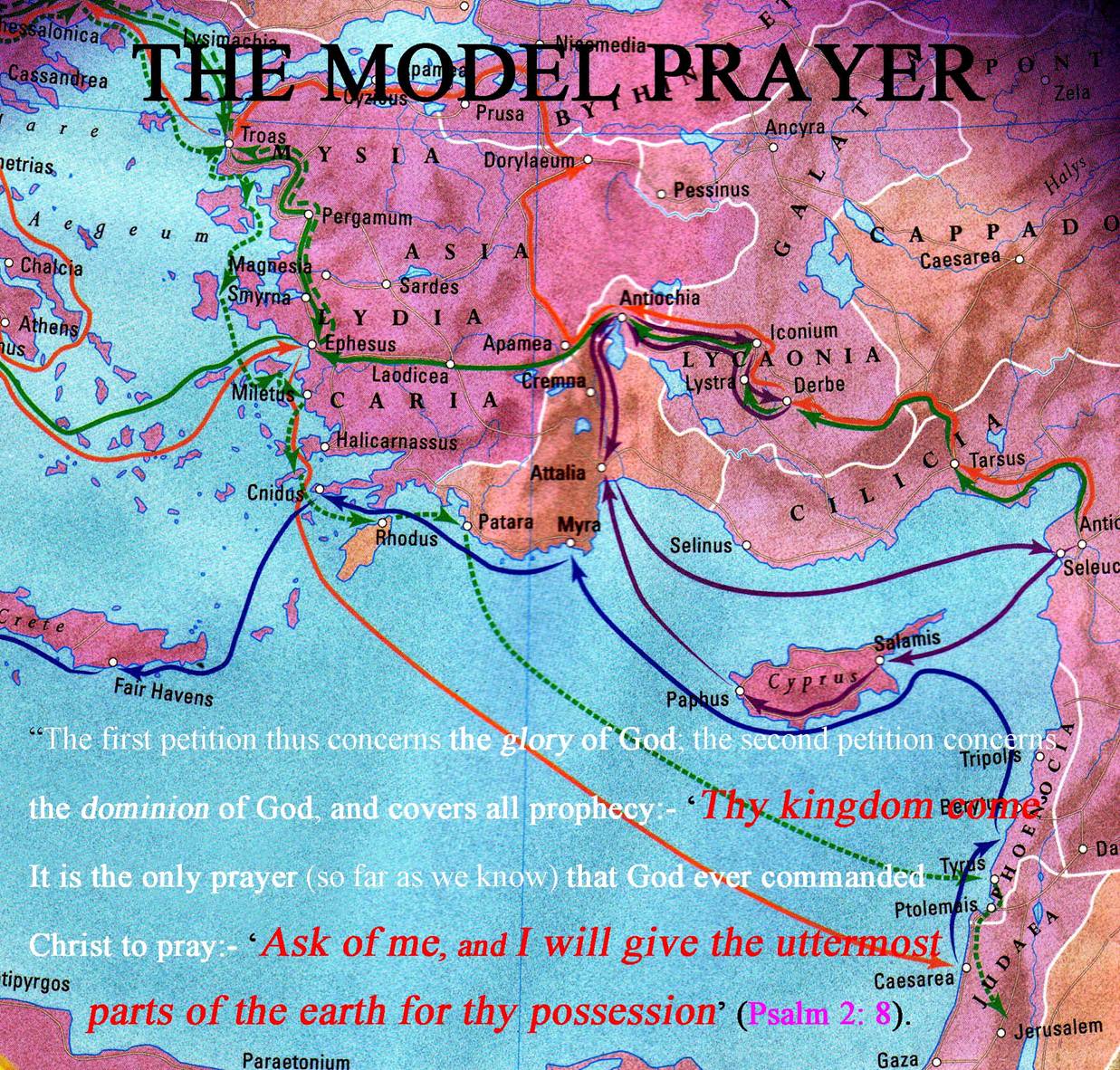 In response to the appeal, "Lord, teach us to pray", the Saviour gives the model prayer for all time. "When it has been prayed intelligently," Dr. Campbell Morgan says, "we have swept the whole realm of prayer." Our Lord makes it clear that it is not a set liturgy. He does not say, In these words pray ye; but, "After this manner pray ye": that is, it is a pattern for all prayer, not a stereotyped petition to be constantly repeated: there is no record in Scripture that it was ever used by the Apostles or by the Apostolic Church. And its model nature is shown by its division. Seven - three, the Deity, plus four, the world - that is, God in contact with Man; the number therefore stamped on all Scripture, stamps this prayer also: the first three petitions relate to God alone, and the last four solely to our human needs; the seven, together, of perfect contact between God and man in prayer.
The prayer's first words are an open door into the heart of God:- "Our Father, which art in heaven." In the words of Archbishop Trench:- "We must not conceive of prayer as an overcoming of God's reluctance, but as a laying hold of His highest willingness." It is all the regenerate on earth approaching, not the awful Creator of the universe before Whom we are as dust, but our Father in heaven: our appeal tells of love, tender care, deep concern on the one side; and of confiding affection, complete trust, and unhesitating approach on the other. And the marvel of this Fatherhood is in the words – "Our Father in heaven": it is a Fatherhood comprehending all knowledge, all power, all wonder, all eternity. And it is 'Our Father' not, My Father: it is a brief prayer in which every petition is offered by the whole Church: just as, on one occasion some years ago, nine men prayed in fifteen minutes in eight different languages.
Now the prayer, as petition, opens; and its opening is worship:- "Hallowed be thy name." We do not pray, Hallow thy name, for it is already absolutely holy; but, "Hallowed be thy name" - let it be sacred on every lip of angels and of men. Our first deep, strong note in prayer is to be the glory of God: our first petition, prompted by what we already know of God, is that God will not rest till all Heaven is filled with His love, and all the universe knows how spotless, how everlasting, how awful is the holiness of God. It is the Church's echo on earth of the cry that envelopes the Throne:- "Holy, holy, holy, Lord God Almighty, which was and which is and which is to come" (Rev. 4: 8).
The first petition thus concerns the glory of God; the second petition concerns the dominion of God, and covers all prophecy:- "Thy kingdom come". It is the only prayer (so far as we know) that God ever commanded Christ to pray:- "Ask of me, and I will give thee the uttermost parts of the earth for thy possession" (Ps. 2: 8). At this very moment we are probably entering the greatest war of all history, in which the whole world may yet be involved: never was there a moment more urgent for prayer invoking Christ's universal dominion. The fundamental denial of Scripture eschatology in the Churches requires what is, as a fact, almost universal - the change of 'the coming' of the Kingdom into 'the extension' of the Kingdom: but the [millennial] Kingdom has not come. It is very beautiful to observe that we do not pray for the Church to be taken to the Kingdom, but for the Kingdom to be brought to the world: it is not love of the world, but love for the world, that is to make us to pray the Bible's last prayer, - "Even so come, Lord Jesus" (Rev. 22: 20).
The third petition is missionary:- "Thy will be done on earth, as it is done in heaven." The first petition seeks the glory of the Father; the second, the glory of the Son; the third absorbs us in the present work of the Holy Ghost. For what is the will of God which can now be done? "God willeth that all men should be saved, and come to the knowledge of the truth" (1 Tim. 2: 4). So here we cover, in one brief sentence, the Holy Spirit's work throughout the world. And what a prayer of how God's will should be done at this moment! A Sunday school teacher once asked his class,- "How is the will of God done in heaven?" The first child replied, "Immediately"; The second, "Diligently"; the third, "Always"; the fourth, "With all their hearts" and the fifth, "All together." So we pray that God's will may be done, here and now, as the burning Seraphs do it - without ceasing, without doubting, without delaying, without sinning.
We now reach the human petitions; and the first is for bodily need:- "Give us this day our daily bread." We are so slow to realize the source of all our supplies. A minister in Edinburgh asked a children's class:- "Who gave you your bread?" Almost every voice answered,- "My mother." "But who gave it to your mother? " "The baker." "And who gave it to the baker?" "The miller." "And who gave it to the miller?" "The farmer." "And who gave it to the farmer?" "The ground." "Not," says the minister, "until I had asked,- 'And who gave it to the ground?' did I get the answer, - 'God'". It is startling that not only must we ask for support, and not assume it, but must ask daily – "Give us this day our daily bread." Ponder what we are to ask. We do not ask for property, or fortune, or wealth; nor even for to-morrow's loaf: 'bread', in Scripture simply expresses the necessaries of life (Gen. 49: 20), and these - no more - we beg of our heavenly Father day by day.
The second human petition - the only one that is dependent on a condition, and the only one which our Lord explains and enforces - is most gravely challenging. "Forgive its our debts, as we forgive" - as we have forgiven, in the Revised Version – "them that trespass against us"; or, still more emphatic in Luke (40: 4), - "for we ourselves also forgive every one that is indebted to us." Our pre-conversion sins were forgiven on the ground of Calvary alone, with no condition as to our attitude to others; known sin after conversion, confessed and abandoned, is instantly forgiven (1 John 1: 9); but our remaining sins, either unknown or unabandoned - and the Lord assumes sin in us all: the saint must confess sin as well as the sinner - actually depend for pardon on our forgiveness of others. Ours is to be what was the master-prayer of Calvary:- "Father, forgive them." Our Lord stresses this petition alone. "For if ye forgive not men their trespasses, neither will your Father forgive your trespasses." No statement could make it more fatally certain that there are un-forgiven sins of believers which will appear, for punishment and not pardon, at the judgment Seat of Christ. Such sins, Jesus says, God does not forgive: therefore, such sins He can only punish. How unutterably blessed that we can be forgiven by forgiving!
The third human petition strikes the keynote of wise and profound humility. "Lead us not into temptation" - testing, proving, sifting; trial in order to the discovery of character, which may be done by friend or foe. Satan - as job experienced - has no power to tempt except such as God allows him; but the deeper is our knowledge of our own hearts; the more passionate will be this prayer. We plead against, any severe trial of our fidelity: we do not covet martyrdom, lest we fail in the moment of crisis: we pray to escape the hour which is to come upon the whole world, to "try" - to test, to prove – "them that dwell upon the earth" (Rev. 3: 10).
Our final petition is for sanctification. "But" - if testing does occur - "deliver us from evil". This covers all forms of evil: physical pain, persecution, peril; but supremely spiritual evil - evil thoughts, evil ambitions, evil suspicions: all summed up in the Evil One. "Deliver us from evil" - from all the wretched fascination and all the miserable results of sin, from its blindness and insensibility, from its un-spirituality and rebellion, from its hardness and its punishment, from all that dishonours God and ruins the soul, from its guilt, its power, its shame, and its doom" (H. R. Reynolds, D.D.).
The power of prayer Dr. Samuel Chadwick has well summed up:- "Satan dreads nothing but prayer - the Church that lost its Christ was full of good works. Activities are multiplied that meditation may be ousted, and organizations are increased that prayer may have no chance. Souls may be lost in good works, as surely as in evil ways. The one concern of the devil is to keep the saints from praying. He fears nothing from prayerless studies, prayerless work, prayerless religion. He laughs at our toil, mocks at our wisdom, but trembles when we pray!"
* * *
THE LORD'S PRAYER
Analyzing more particularly the sentiments of the prayer, we observe that the model prayer gives a portraiture of a model man. (1) Filial faith. "Our Father." (2) Reverence. "Hallowed," etc. (3) Loyalty. "Thy kingdom come." (4) A conformed spirit. "Thy will be done." (5) Recognition of Providence. "Give us daily bread." (6) Dependence upon grace. "Forgive us our debts." (7) Sincere charity. "For we forgive." (8) Dependence upon the Holy Spirit. "Lead us not into temptation." - J. M. LUDLOW, D.D.
* * * * * * *
I used to think the Lord' Prayer was a short prayer; but as I live longer, and see more of life, I begin to believe there is no such thing as getting through it. f a man, in praying that prayer, were to be stopped by every word until he had thoroughly prayed it, it would take him a lifetime. "Our Father" - there would be a wall a hundred feet high in just those two words to most men. If they might say "Our Tyrant," or "Our Monarch," or even "Our Creator," they could get along with it; but "Our Father" - why, a man is almost a saint who can pray that. You read, "Thy will be done"; and say to yourself, "Oh! I can pray that"; and all the time your mind goes round and round in immense circuits and far-off distances: but God is continually bringing the circuits nearer to you, till He says, "How is it about your temper and your pride? how is it about your business and your daily life?" This is a revolutionary petition. It would make many a man's shop and store tumble to the ground to utter it. Who can stand at the end of the avenue along which all his pleasant thoughts and wishes are blossoming like flowers, and send these terrible words, "Thy will be done," crashing down through it? I think it is the most fearful prayer to pray in the world. - HENRY WARD BEECHER.
* * * * * * *
In the prayer our Lord taught His disciples, all the relationships in which we stand to God are taken up. The believer prays as – 1. A CHILD FROM HOME. "Our Father," etc. 2. A WORSHIPPER. "Hallowed," etc. 3. A SUBJECT. "Thy kingdom come." 4. A SERVANT. "Thy will be done." 5. A BEGGAR. "Give us," 6. A DEBTOR. "Forgive us." 7. A SINNER AMID TEMPTATION AND EVIL. "Lead us not into temptation."
* * * * * * *
Our Father. 1. Christ here teacheth us to call God "Our Father"; and by God's providence and fatherly goodness we are incorporated as it were and kneaded together, that by softness of disposition, by friendly communication, by mutual praying, we may transfuse ourselves one into another, and receive from others into ourselves. And in this we place the communion of saints. 2. In the participation of those privileges and characters which Christ hath granted and the Spirit scaled, calling us to the same faith, baptizing us in the same laver, leading us by the same rule, filling us with the same grace, sealing to us the same pardon, upholding us with the same hope. 3. In those offices and duties which Christ hath made common, which Christ requires of His Church: "Where my fear watcheth not only for myself, but stands sentinel for others; my sorrow drops not down for my own sins alone, but for the sins of my brethren; my joy is full with others' joy; and my devotion is importunate and restless for the whole Church." I cry aloud for my brother, and his prayers are the echo of my cry. We are all joined together in this word noster, when we call God "our Father." - A. FARINDON, D.D.
Give us this day our daily bread. Thomas Hownham, who lived in the North of England, a good many years ago, was once reduced to great, straits. Having tried in vain to get work, he went out in the moonlight to a spot some way from his cottage, and there poured out his soul in prayer, his wife and children having gone to bed supperless, the little ones crying themselves to sleep. In an hour or two he returned. To his surprise he found inside the door a joint of meat and a half-peck loaf. He woke his wife and children, and they had a hearty meal together. How it came there he could not find out till twelve years after, when a rich but very miserly farmer died. Then a respectable servant who had lived long in his employ spoke of his master as having done one act of charity in the course of his life, though he afterwards regretted it. On the night in question he dreamed three times over that Hownham, and his family were starving, and at last it had such an effect on him that he woke his two servants, and sent his man with bread and meat, which he left at the cottage. Next morning he was so vexed with himself at what he had done, that he charged both his servants never to say a word about it as long as he lived, or he would discharge them.
Lead us not into temptation. I have read in history that two men were condemned to die as martyrs in the burning days of Queen Mary. One of them boasted very loudly to his companion of his confidence that he should play the man at the stake. He did not mind the suffering, he was so grounded in the gospel that he knew he should never deny it. He said that he longed for the fatal morning even as a bride for the wedding. His companion in prison in the same chamber was a poor, trembling soul, who could not and would not deny his Master; but he told his companion that he was very much afraid of the fire. He said he had always been very sensitive of suffering, and he was in great dread that when he began to burn the pain might cause him to deny the truth. He besought his friend to pray for him, and he spent his time very much in weeping over his weakness and crying to God for strength. The other continually rebuked him, and chided him for being so unbelieving and weak. When they both came to the stake, he who had been so bold recanted at the sight of the fire and went back ignominiously to an apostate's life, while the poor trembling man whose prayer had been, "Lead me not into temptation," stood firm as a rock, praising and magnifying God as he was burnt to a cinder. ‑C. H. SPURGEON.
Forgive us our trespasses as we forgive them that trespass against us. A mediaeval Duke learned that an enemy of his was to pass unprotected near his domain. He determined to capture and murder him. His chaplain at prayer that evening, instead of the usual worship, repeated the Lord's Prayer with great earnestness, asking the Duke to repeat each sentence after him. When the chaplain said:- "Forgive us our trespasses as we forgive those who trespass against us," the Duke was silent. Then he said: "I will not forgive my enemy." "God cannot forgive you," answered the chaplain. "Go to your revenge, and meet your sins un-forgiven at the judgment." The Duke was silent for a long time. Then he was heard to pray:- "Forgive me as I desire to forgive the man who has wronged me." The chaplain responded, "Amen," knowing that the enemy was safe and the king was forgiven.
-------