THE MISSIONARY IN TIMES OF DANGER
BY
HUDSON TAYLOR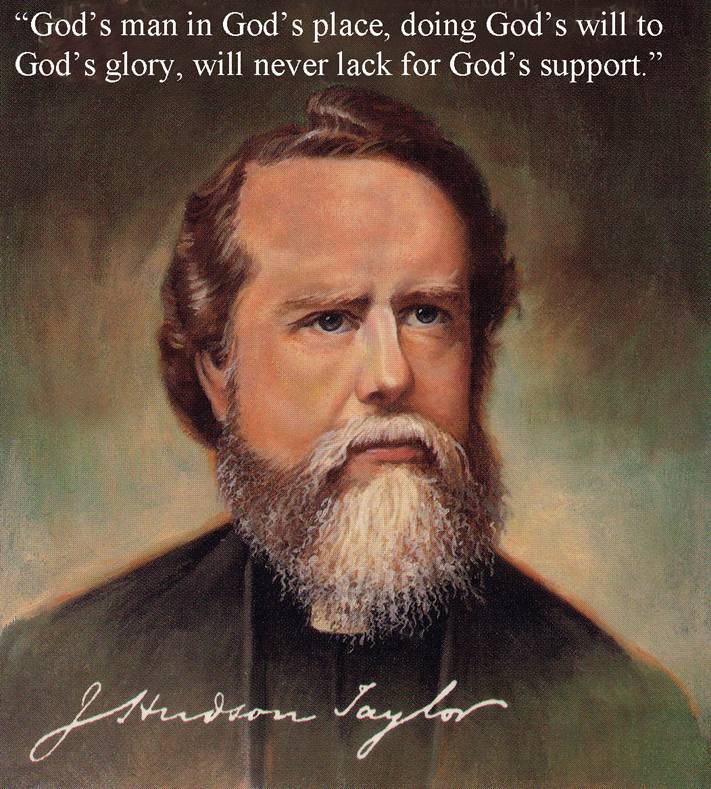 The present time seems opportune for considering the course that we as missionaries should adopt in times of excitement and danger.
First, let me remind you of the importance of the command not to speak evil of dignitaries, but on the contrary, to pray for those in authority. The rulers of this land have often a difficult path; it is not easy for them to take our part against their own people. We do well to pray that they may have courage and wisdom to act firmly and justly. Such prayers should be public as well as private. Much may depend on their finding that Christianity promotes loyalty to the powers that be, and the giving of honour to those to whom it is due.
Second, we do well to recognize that we are not here as, representatives of Western powers, and that our duties do not correspond with theirs. We are here as witnesses and representatives of the Lord Jesus Christ. "As my Father hath sent me, even so send I you." Once, disciples mistakenly would have called down fire from heaven to avenge the Master Himself; but He rebuked them and said, "Ye know not what manner of spirit ye are of. For the Son of man is not come to destroy men's lives, but to save them." Again when the soldiers would arrest our Lord, one of His disciples drew his sword in His defence, but our Saviour said, "Put up again thy sword into his place; for all they that take the sword shall perish with the sword. Thinkest thou that I cannot now pray to my Father, and he shall presently give me more than twelve legions of angels?" We may safely conclude that our use of any weapon of defence, whereby another might be injured, would misrepresent our Master, whose own distinct command to His disciples was, "Resist not evil; but whoso­ever shall smite thee on thy right cheek, turn to him the other also."
Third, if it would not be consistent for us to use weapons for our own defence, should we leave our stations for such places as are, or can be, defended by the officers of our respective governments? It seems to me that there are several important reasons against taking this course, unless absolutely compelled to do so.
(a). We are in our stations at God's command, and as His ambassadors, and therefore have both promise of, and claim to, His protection. Many of us have gone to places far removed from foreign protection on this very ground. Our risen Saviour has told us that all power has been committed unto Him; and that, because this is so, we are to go everywhere, reckoning His unfailing presence better defence than that which the arm of flesh can provide. We have a rare opportunity in times of danger of proving His promises for ourselves, and before our converts.
(b). We are continually encouraging our converts to brave persecution and to suffer loss for Christ's sake, and they are very apt to think that it is easy for us to speak in this way, seeing that, as far as they can tell, we are well-to-do and exposed to no danger or loss. When, then, we are in danger they will mark very closely our conduct, and judge for themselves how far we really believe that
Sufficient is His arm alone and our defence is sure.
What a loss it would be if any of them should think that we cared more for our property than for their souls, or relied more upon a gunboat or a band of soldiers than upon the living God! Years of teaching would not impress them as our conduct at such times may do. Moreover, their sympathy will be drawn out for us when they see us willing to suffer for the Gospel, as they so often have to do. A time of danger is a grand opportunity for being an object lesson to the native Christians.
(c). The moral effect of our action upon the heathen will, to a considerable extent, be the same as upon the converts. A calm and confident demeanour will go far to disarm suspicion. The people will not be slow to observe that we are not afraid, and to conclude that we have no reason to be. But if we flee, they are sure to conclude that we are guilty of some of the charges brought against us, and will be emboldened to attack and loot or destroy our premises. Even a dog will run after you if you run away from him!
Some of the older members of our Mission have through more serious times of excitement than the present. We have never at such times retired from a station; and though holding the fort has not always secured us against riot, it has often done so, and has proved abundantly fruitful in strengthening the faith of our native converts.
An objection may arise in some minds that we are directed, if persecuted in one city, to flee to another; to which we would reply that we are not to flee through fear of possible persecution. If the Lord suffers us to be driven away, as St. Paul so frequently was, the responsibility will then rest with Him; and He will surely work out His own purposes through the trial. But let us not retire from fear of loss or danger, and by so doing perhaps leave our Master's sheep just when they most need the shepherd's presence and care.
We conclude, then, that the right course, and the best policy alike, is to remain at our posts whenever this is possible. We may well rejoice that it is so, and that duty does not require the suspension of our work; for life is short, and, daily, people are dying without God. We have a glorious message to proclaim‑
Tell it out among the people that the Lord is King
- and never can we tell it so well as when our own hearts are resting and rejoicing in it in the midst of danger. At such times faces will witness unmistakably for our Master, and our Rock will be seen to be not as their rock, even our enemies being judges.
A holy joy in God is a far better protector than a revolver. The one might inspire fear and hate; the other will suggest innocence, and tend to inspire faith in us and in our message. It may not always bring deliverance - our Master was crucified and Stephen was stoned; but blessings infinitely greater than could otherwise have been achieved were the result.
There is something better than protection; but the martyr's crown is prepared for few, and such are prepared for it. To us is given the dignity of being ambassadors for the King of kings: all His power is at all times behind us. We may therefore boldly say, "The Lord is on my side; I will not fear; what man can man do unto me?" *
[* This letter to the C. I. missionaries was written in 1891 and appeared in China's Millions, April, 1932.]
-------