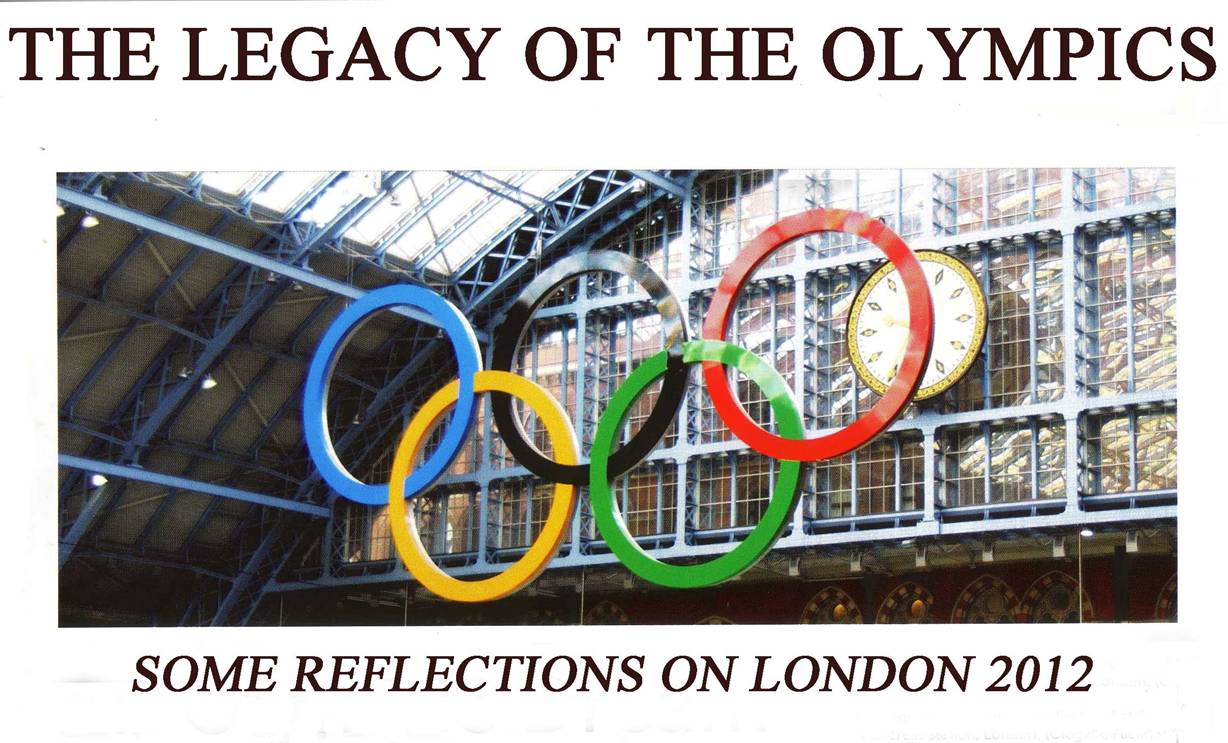 [* From Ulster Bulwark, The Magazine of the Evangelical Protestant Society, (October-December 2012.)]
The London Olympics and Paralympics 2012 have been heralded as a resounding success and a tremendous showcase for the UK. We can certainly take a number of positives from the Games. They will, presumably, have a beneficial effect on our struggling economy. The sense of national pride and patriotism was palpable, and it was good to see so many British medal winners, competitors and supporters draped in the Union Flag.
It was also encouraging to note the participation of several Christian competitors, from various nations, and many of them took the opportunity to witness to their Christian faith during the Games. Northern Ireland was particularly proud of its three Coleraine rowers Alan Campbell (bronze) and brothers Richard and Peter Chambers (silver). Alan Campbell is an Orangeman, and the Chambers brothers were also very clear about their faith. In words reminiscent of the attitude of a previous generation of Olympic athletes such as Eric Liddell, Richard said, "pray for us as Christians to honour God through the sport that we do, but also that we'd use it as an opportunity to show the world that there's something more to life than the Games". Katie Taylor from Co Wicklow won gold for Ireland in the women's boxing and she, too, is a born again Christian who was quick to speak of her faith and give praise to the Lord. She is well-known for pointing heavenward after a bout and her favourite Bible passage is Psalm 18. Katie's family are from a Roman Catholic background and her mother was converted first, followed by Katie, her two brothers and sister and her father. We also commend all faithful evangelical churches and organisations which witnessed during the Games. Many good conversations took place and we must pray that the seed will take root in many hearts.
But what do we make of the nation's seeming preoccupation with the London Olympics? For 17 days, from the opening ceremony on Friday 27 July to the closing ceremony on Lord's Day 12 August, nothing else seemed to be happening in the world. Non-Olympic news was either ignored or buried at the very end of bulletins as reporters excitedly informed us of the latest medals tally or we watched umpteen emotional athletes breaking down, for one reason or another, in floods of tears. A cartoon in the "Spectator" summed it up well. It featured a newsroom with two people working at computer screens which said, "Olympics" and "More Olympics", when their colleague rushed in and cried "Hold the 37th page!" as he waved a paper containing the words "The end of the world".
We might smile at this, but it does make a serious point. The media and public obsession with the Games lacked perspective and balance. It was a reminder that our nation is unwell, not only economically and politically, but morally and spiritually. The Protestant faith which, for centuries, was the solid foundation upon which Britain's greatness was built, is now largely forsaken and repudiated. This tremendous spiritual heritage was virtually ignored by Danny Boyle in his dramatic opening ceremony performance at the Games. The United Kingdom has rejected God, but, just as individuals have an inner need to worship someone or something, the nation now seeks to fill the spiritual void by worshipping at the altar of sport and idolising its sporting heroes. Sport has become one of the nation's main religions. Now, there is absolutely nothing wrong with sport in itself. On the contrary, it is a good and healthy pursuit and much to be encouraged and enjoyed. But it must be kept in perspective.
Nations and peoples are exhorted in the Bible to put the Lord first, for that is the way of true blessing. Psalm 19: 10 tells us that the Bible is to be desired more than gold, for in keeping God's law and His truth there is "great reward" (Ps 19: 11). But our nation has repudiated God's Word. The Government pursues an anti-Christian moral agenda. Shops, which were given extended hours during the Olympics, can probably look forward to this being made permanent. More and more sporting events take place on the Lord's Day. Church attendance continues to fall. The British people have coveted gold, silver and bronze, but have turned their back on "the pearl of great price" (Matthew 13: 46). And, until there is national repentance and revival, the slide downhill will continue to accelerate.
It is also worth noting that the Olympic Games are essentially pagan in origin and intended as veneration of the Olympian gods. The Olympic torch relay is the descendent of the sacred flame that burned during the ancient games on the altar of the goddess, Hera. The founder of the modern Olympics, Pierre de Coubertin (1863‑1937) asserted that "the primary, fundamental characteristic of ancient Olympism, and of modern Olympism as well, is that of a religion", and Avery Bundage, President of the International Olympic Committee 1952-72, said that Olympism is "a religion with universal appeal which incorporates all the basic values of other religions, a modern, exciting, virile, dynamic religion".
During the Olympics, much was also made of how the nations of the earth had come together, through sport, in peace and harmony. But the peace and harmony of a sporting occasion such as the Olympics, while it may exude a nice warm glow of happiness, largely serves as a form of escapism which masks the harsh reality that the world is a very divided, dangerous and unstable place which is hurtling towards judgement. Christ Himself, often heralded by the world as a man devoted to world peace, said, "Think not that I am come to send peace on earth: I came not to send peace, but a sword" (Matthew 10: 34). Christ also spoke of a time when the nations would indeed come together, not to celebrate a sporting occasion, but to stand before him as judge when He comes in His glory. Matthew 25: 32 states, "And before him shall be gathered all nations: and he shall separate them one from another, as a shepherd divideth his sheep from the goats".
The Bible also compares the Christian life to that of an athlete, and the apostle Paul, in particular, often uses sporting metaphors drawn, undoubtedly, from his knowledge of Greece. In 1 Corinthians 9: 24, he says, "Know ye not that they which run in a race run all, but one receiveth the prize? So run, that ye may obtain", and in verse 26 he states, "I therefore so run, not as uncertainly, so fight I, not as one that beateth the air". In Philippians 2: 16, Paul says, "I may rejoice in the day of Christ, that I have not run in vain, neither laboured in vain".
As believers, let us commit ourselves afresh to the service of our Lord. Our land is gripped by a spiritual famine and there is so much work for us to do. False religion flourishes and false gods are worshipped. What we need today is Christians who are dedicated and disciplined, and prepared to stand for God. Towards the end of his faithful life and ministry, Paul could say, "I have fought a good fight, I have finished my course, I have kept the faith" (2 Timothy 4: 7). May the same be said of us, and, as we "press toward the mark for the prize of the high calling of God in Christ Jesus" (Philippians 3: 14), let us heed the words of Hebrews 12: 1-2 - "Wherefore seeing we also are compassed about with so great a cloud of witnesses, let us lay aside every weight, and the sin which doth so easily beset us, and let us run with patience the race that is set before us, Looking unto Jesus the author and finisher of our faith".