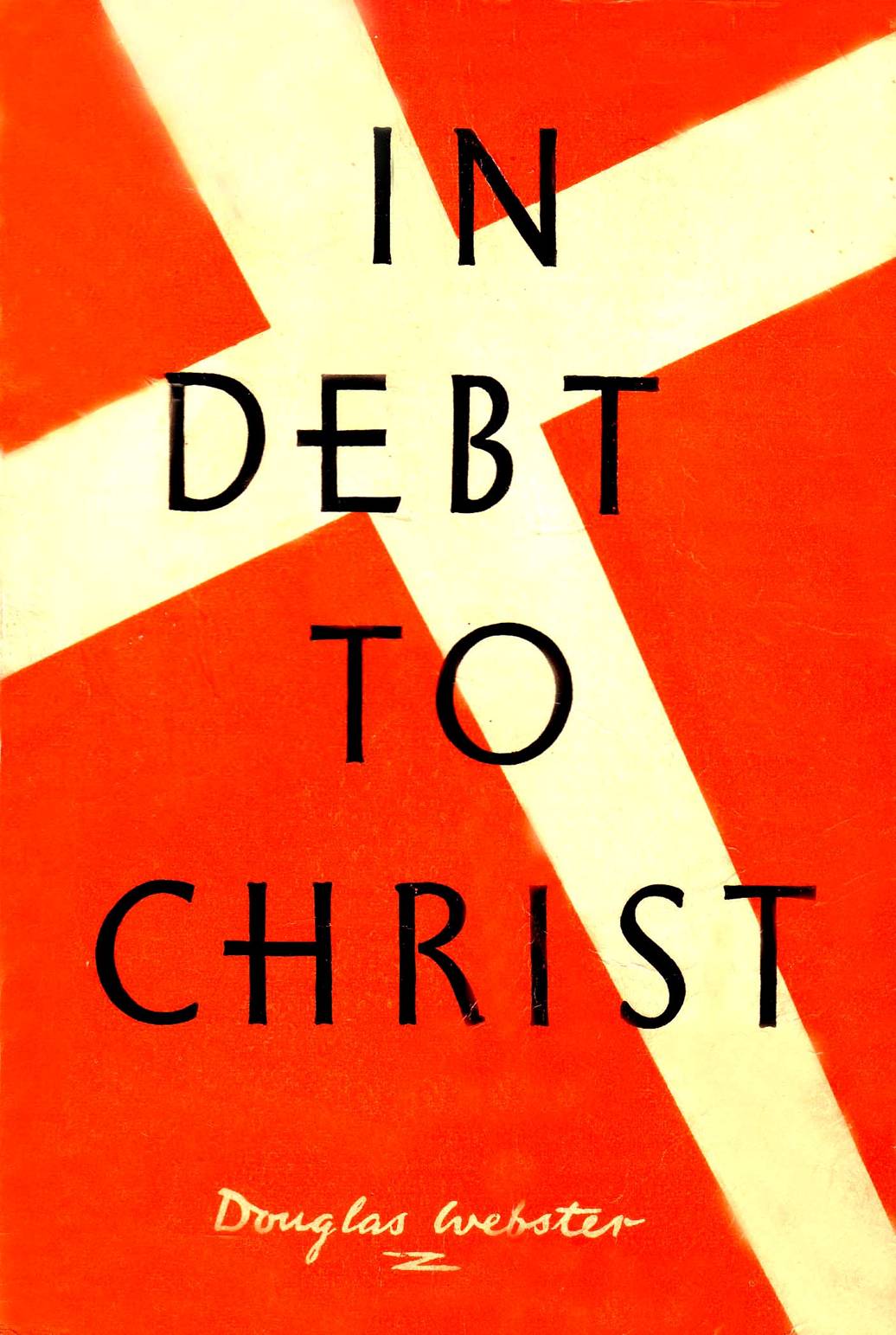 [The following is from chapter 4 of the author's book: 'IN DEBT TO CHRIST' pp. 100- 129. ]
All Biblical references are from the Revised Version unless otherwise stated.
"The Cross always presupposes both the Incarnation and the Resurrection
and would have no meaning for us otherwise.
though not discussed, these other
doctrines have not been
forgotten."
ABOUT THIS BOOK
Why is Christianity centered on a Cross? Has that Cross any meaning for the life of to-day? What did Jesus achieve by His death? Why is His Cross more important than His teaching? In what sense are Christians to bear the Cross?
These are some of the questions many people keep asking. This book attempts to answer them. The author believes the Cross of Christ casts a light on everything – personal problems, relationships, the race question, Christian Reunion, the missionary task. All these are examined in the light of the Cross.
There is a detailed treatment of the Seven Words and the opening chapter picking out points of real contact between our age and the Cross of Christ. This book explores various aspects of what Christ did for us on the Cross. Here is exciting theology for the layman in plain English.
-------
THE CROSS TRANSPOSED
- The Cross of the Christian
The Cross is generally associated with an early stage, if not the actual beginning, of our Christian life and experience. Although the vast majority of Christians in this country were baptized in infancy and have not had a sudden conversion, many of these have had moments, particularly in adolescence and early adult life, when their faith has become more real to them and they have become more consciously committed to our Lord. Almost invariably it is some vision of the Cross that has brought this about. We may illustrate this from two classic experiences.
The first is John Bunyan's Pilgrim. It was at an early stage of his journey that Christian encountered the Cross, and this is described in unforgettable words:
He ran thus till he came at a place somewhat ascending; and upon that place stood a Cross, and a little below in the bottom, a Sepulchre. So I saw in my Dream, that just as Christian came up with the Cross, his burden loosed from off his Shoulders, and fell from off his back, and began to tumble; and so continued to do, till it came to the mouth of the Sepulchre, where it fell in, and I saw it no more.
Then was Christian glad and lightsome, and said with a merry heart, He hath given me rest, by his sorrow; and life by his death. Then he stood still for a while to look and wonder; for it was very surprising to him, that the sight of the Cross should thus ease him of his burden. He looked therefore, and looked again, even till the springs that were in his head sent the waters down his cheeks. Now as he stood looking and weeping, behold three shining ones came to him, and saluted him, with Peace be to thee: so the first said to him Thy sins be forgiven. The second, stript him of his Rags, and cloathed him with change of Raiment. The third also set a mark in his forehead, and gave him a Roll with a Seal upon it, which he bid him look on as he ran, and that he should give it in at the Celestial Gate; so they went their way. Then Christian gave three leaps for joy, and went on singing.
Thus far did I come loaden with my sin;
Nor could ought ease the grief that I was in,
Till I came hither; What a place is this!
Must here be the beginning of my bliss?
Must here the burden fall from of my back?
Must here the strings that bound it crack?
Blest Cross! blest Sepulchre! blest rather be
The Man that there was put to shame for me.
Our other illustration is the famous extract from John Wesley's Journal, describing the meeting he attended in Aldersgate Street on May 24, 1738:
where one was reading Luther's preface to the Epistle to the Romans. About a quarter before nine, while he was describing the change which God works in the heart through faith in Christ, I felt my heart strangely warmed. I felt I did trust in Christ, Christ alone for salvation: And an assurance was given me, that he had taken away my sins, even mine, and saved me from the law of sin and death. I began to pray with all my might for those who had in a more especial manner despitefully used me and persecuted me. I then testified openly to all there, what I now first felt in my heart.
It is to be noted that in both these cases this experience of release is associated with the Cross; that it came to both after they were already set on the Christian pilgrimage, but at an early stage on the journey; and that in both cases this encounter with Christ's Cross was an immediate introduction to a life-long bearing of their own. Wesley, like Christian, was to the end assailed with doubt, temptation and opposition. In one of his sermons Dr. A. J. Gossip says that a soul is saved not by one Cross but by two, Christ's and its own. Directly a man becomes a consciously committed Christian he begins to experience the transposition of the Cross into his own life. Sooner or later, somewhere or other, he will discern the shape of the Cross. This is a spiritual law and it cannot be evaded if the Christian is to live "in the Spirit". It is not enough to associate the Cross merely with the beginning of our Christian life and to assume that we go on from there and leave it behind. On the contrary, we take it with us. We carry it through the rest of life, and if we do not, our witness never touches the real world of suffering and need. The Christian life is meant to be joyous but not light-hearted.
In the New Testament this theme of the Christian' cross is quite prominent.
"Whosoever doth not bear his own cross, and come
after me, cannot be my disciple:" (Luke 14: 25).
After a taste of flogging and imprisonment we find the first apostles
"rejoicing that they were counted worthy to suffer dishonour for the Name" (Acts 5: 41).
St. Paul can write:
"I have been crucified with Christ; yet I live; and yet no longer I,
but Christ liveth in me:" (Galatians 2: 20).
"They that are of Christ have crucified the flesh with
the passions and lusts thereof:" (Galations 5: 24).
"Far be it from me to glory, save in the cross of our Lord Jesus Christ,
through which the world hath been crucified unto me, and I unto the world?" (Galations 6: 14)
"That I may know him, and the power of his resurrection, and
the fellowship of his sufferings, becoming conformed unto his death:" (Philippians 3: 10).
"We share abundantly in Christ's sufferings:" (2 Corinthians 1: 5, R.S.V.).
"Always bearing about in the body the dying of Jesus:" (2 Corinthians 4: 10).
"Now I rejoice in my suflerings for your sake, and in my flesh I complete what remains of Christ's afflictions for the sake of his body, that is, the church:" (Colossians 1: 24, R.S.V.).
Dr. J. A. T. Robinson's comment on this last verse is both important and suggestive:
Paul is not saying that he is making up anything lacking in the sufferings of the head; rather, that, of the overflow of Christ's afflictions which is ever pouring into the Church, he is glad to absorb in his flesh what should be the share of his Colossian brethren and to fill up in their stead the tax of suffering still outstanding to them. The whole thing is done for the sake of the Body, in which his especial stewardship as an Apostle is to fill out the word of the Cross for them, to be the means of channelling to them the fulness of life-through-death by which Christians are "made full" in Christ (Colossians 2: 10) "up to the measure of all the fulness of God" (Ephesians 3: 19).*
* J. A. T. Robinson: The Body, pp. 70f.
In like manner every Christian has to discover the terms in which the Cross has to be transposed into his own life. What is to be the version of the Cross in my life? The answer will be different for everyone. It will be one thing for a Christian statesman, another for a Christian business man, and something else for a missionary. What follows is a consideration of four possible spheres of life in which the Cross may be transposed. We may call these: identification, failure, limitation and contentment.
Identification
The Cross, as many writers have noted, is made up of two straight lines meeting and intersecting. This in itself is a most striking symbol of what made up the Cross of Jesus and what makes up the cross of the Christian. In the ministry of Jesus there was a deliberate and double identification. He identified Himself with the will of God; He also identified Himself with the plight of men. These were the two lines, He followed. He accepted both till breaking point, and that was the Cross.
The will of God: this must always be the first concern of the man of God as of the Church of God. It was the first concern of the Son of God. The Church must be preoccupied with God before it turns its attention to men or it will be powerless to help them and speak to them effectively. "Have we a Word for the hour or only a cry?" asks Forsyth.* A Word can come only from God; to be preoccupied with man alone draws out a cry. So Jesus throughout those hidden years was occupying Himself with God. "Wist ye not that I must be in my Father's house?"** In every circumstance there was continual reference to His Father. Nowhere is this more evident than in St. John's Gospel. The Father is in the forefront of the Son's mind. The will of the Father was the food and goal of His life.*** It was by keeping Himself on the path of God's known will that Jesus discovered His Cross. It is always thus. We do not find the Cross by courting heroism or by seeking the unconventional or by being narrow-minded and making ourselves unpopular. Any cross on such a route is imaginary, for it bears no relation and no resemblance to the one true Cross. The cross for the Christian, as for Jesus, is accepted destiny. It is following an unknown path with a known Companion. More often than not the path will be quite unexciting. There will be no great audiences to applaud our sacrifices and our sufferings; most of them will be unnoticed. There was no applauding audience at Calvary. Only God and Mary and the angels knew what was happening. So it will often be with the Christian disciple if it is the cross he chooses and not the centre of the stage.
* P. T. Forsyth: The Principle of Authority, p. 266. ** St. Luke 2: 49. *** St. John 4: 44.
If we ask how Jesus discovered God's will, at least two answers may be given. He found God's will by discipline. There was an ordered pattern about His life. His whole life was a liturgy. Out of His constant communion with the Father came His sure insight and steady touch. Even He spent the whole night in prayer before choosing the twelve. *
* St. Luke 6: 12, 13.
Jesus also found God's will in circumstances. He was prepared to be interrupted. On His way to heal the daughter of Jairus He allows Himself to be interrupted by the woman with the issue of blood.* Entering into Capernaum one day He was willing to change His plans in order to go and heal a centurion's servant boy.** Much of His teaching was determined by the need of the moment, meeting ad hoc needs and ad hominem arguments.
*St. Mark .5. 24ff. ** St. Matthew 8: 5ff.
In finding the will of God He found also that it cut across the wills of those wielding power and put Him on the wrong side of them. Out of the will of God therefore the Cross began to form and He began to see what lay ahead. But it was the will of God, not the Cross as such, on which Jesus set His whole heart.
To-day one often hears devoted priests and missionaries talking about identifying themselves with their people. They are right in this only if first and foremost they are identifying themselves with the will of God. Only from this did Jesus go on to identify Himself with the plight of men.
Here is part of the mystery of His Baptism. John's baptism in Jordan was a baptism of repentance: it was for sinners only. He who knew no sin went down into the waters to be baptized alongside sinners. He was determined to be baptized:
to be totally immersed in the life of the world, in the human situation. As Saviour He would be identified with the people who were to be saved. He would enter our situation really, truly, wholly, not artificially, not in any kind of sham or pretence of sharing our life and our tragedy.*
* From a broadcast address by Canon E. S. Abbott, during Lent 1955.
We should notice that it was at this moment, when He identified Himself to this degree with the human situation, that He found the unmistakable assurance of His vocation and received the power to pursue it. "He had no sooner come up out of the water than He saw the heavens rent asunder and the Spirit descending like a dove towards Him. There was a voice too from the heavens: 'Thou art My son, the Beloved One. In thee I rejoice'."*
* St. Mark 1: 10, 11 (Rieu).
The first phrase, addressing Him as the beloved Son, comes from a Messianic psalm and thus confirmed His Messiahship.* The second phrase, expressing God's pleasure and joy in Him, comes from one of Isaiah's Songs of the Suffering Servant and indicates that His Messiahship is to be fulfilled in this way. His is a dual role: He will become the King only by being the Servant; He will enter upon His reign only by the path of suffering.*
* Psalm 2.7.
Other Jews came to Jordan to be baptized by John for their own sins. Jesus, on the contrary, at the very moment when he is baptized like other people, hears a voice which fundamentally declares: Thou art baptized not for thine own sins but for those of the whole people. For thou art he of whom Isaiah prophesied, that he must suffer representatively for the sins of the people. This means that Jesus is baptized in view of his death, which effects forgiveness of sins for all men?*
* O. Cullmann: Baptism in the New Testament, p. 18.
Jesus found His vocation, not in isolation, but as He immersed Himself into the people and their plight. He was baptized.
His Baptism was unique, but in our own baptism it is transposed into the clef and key of our life. It means an immersion into the life of the Church which must itself be an involvement in the life of the world. We can escape neither if we are to find a Christian vocation. Within that vocation there will be the conflict and tension out of which the Cross always eventually takes shape. "Immediately after, the Spirit drove him out into the desert. For forty days he stayed there and was tempted by Satan."*
*St. Mark 1: 12, 13 (Rieu).
The end of His Baptism and His temptation was the Cross. That is what identification led to; that was its cost. In the later part of His ministry He uttered that strange word: "I have a baptism to be baptized with; and how I am constrained until it is accomplished!"* He was beginning to feel in advance the pressures of the Cross. Having gone down into the waters of Jordan alongside sinners, He would soon be going down into the waters of death alongside two criminals. His determination to live close to sinful men to the point of identification led to His death. It was this which so outraged the Jewish authorities. "Now all the publicans and sinners were drawing near unto him for to hear him. And both the Pharisees and the scribes murmured, saying, This man receiveth sinners, and eateth with them."**
*St. Luke 12: 50. **St. Luke 15: 1, 2.
How deeply true those words of indignation were to prove through all the centuries, in a way undreamt of by those who spoke them! In all the millions of Christian baptisms that have been performed since, He has received sinners, and in every communion service in which those sinners have taken part He has eaten with them! It was His attitude to sinners, His mixing with them as their friend, His absolving them as their Saviour, which brought Him to the Cross.
St. Paul saw the Incarnation, the Baptism, the Ministry, the Passion and the Death of Jesus as one great downward movement of God, for Jesus "though he was in the form of God, did not count equality with God as a thing to be grasped, but emptied himself, taking the form of a servant, being born in the likeness of men. And being found in human form he humbled himself and became obedient unto death, even death on a cross".* In the brilliant phrase of Forsyth, "There was a Calvary above which was the mother of it all".**
* Philippians 2: 6-8 (R.S.V.). ** P. T. Forsyth: The Person and Place of Jesus Christ (1936 edition) p. 271.
A Calvary above; a Calvary on earth, once for all; and a transposed Calvary in the lives of those who are members of Christ's Body. St. Paul's great hymn of the Incarnation and the Cross is inserted at that point in his letter to illustrate the "mind" that Christians ought to have, the example that Christians ought to follow. "Let this mind be in you, which was also in Christ Jesus."*
* Philippians 2: 5 (A.V.).
If Christian witness is to be effective in the modern world we will have to travel much further along this path of identification both with the will of God and with the plight of men. It must be clear too that identification does not mean loss of distinction. Christians are to be the light of the world and the salt of the earth.* Salt has to be immersed in meat, and light has to shine in the midst of darkness: each is effective only in so far as it remains distinct as well as immersed. Here again is part of the meaning of the Cross transposed for us. We can accept people's privations, share their sorrows and drudgery, live their way of life, even enter into their feelings - like the worker-priests in France - but being Christians we can never identify ourselves with their attitudes because we are primarily identified with the will and attitude of God. Jesus went to the furthest length in identifying Himself with sinners; in His dying He even felt as sinners feel, forsaken by God, but He never shared the sinner's attitude. From the midst of the Cross He confessed the holiness of God. The transposition of the Cross into the witness of the Christian means that most of us have to go much further along this road of feeling as others feel and living truly in the midst of the non-Christian world, provided always we do not lose our own identity and our own distinctiveness.
* St. Matthew 5: 13, 14.
The path of identification will also mean a willingness to share the agonies and bewilderment of our own extraordinary age. We do well to heed the warning of Dr. J. H. Oldham:
Nothing is so irritating to those engaged in politics, administration and industry, who know the intractability of the problems with which they are wrestling, than the suggestion that the parson, as parson, has the answer all the time in his pocket, or what is practically the same thing, that all that is necessary is to "apply Christian principles!"*
* J. H. 0ldham: Life is Commitment, p. 86.
For parson read Christian and the point still holds. So far from having an easy answer to life's problems, the Christian of all men ought to recognize their complexity. "Christ the answer", a common enough evangelistic slogan, is far too glib. What does it mean? How much did the Cross answer the problems of the age which crucified Jesus? Could any of His contemporaries see an answer there? The Cross is no formula. It is a perpetual reminder that answers of the kind that most of us want lie on the other side of tragedy and suffering and that there are no short-cuts. Certainly the divine answer is in the Cross, and for that very reason it is so difficult to see. Christian history itself, the life of the Church, the witness of each individual Christian, are all part of the working out and clarification of that answer. The life of the Church is the exposition of the Cross. That is why the Church must get persecuted. As G. K. Chesterton once said: "Christianity has died many times and risen again, for it has a God who knew the way out of the grave". To take up the Cross means to encounter suffering, to immerse oneself in life and all its dimensions and depths, to remain identified with the will of God, and to be content with finding no answers save the Cross itself, transposed in order to be endured.
Failure
A very interesting Bible study is to examine the lives of the great men of God, to look at their failures and to see what they did with them. Every single one of them had at least one colossal failure, nearly always in mid-career. Abraham made a big mistake after going into Egypt; he told a lie about his wife in order to save himself. Isaac did the same thing on a later occasion. Jacob, though he was elect, was a rogue nevertheless; he stole [purchased] his brother's birthright and his blessing. The faith and patience of Moses failed at the height of his career. David, the sweet singer of Israel, was a man of unbridled lust and on occasion entirely unscrupulous. Elijah, after his supreme demonstration on Mount Carmel, fled from the anger of Jezebel and in sheer cowardice asked God to let him die. Elisha lost his temper and caused a group of naughty children to be torn by bears, so the story goes! The men of faith were also men of failure, and they failed after enlisting in the service of God. Failure is one of the ingredients of life. What matters is not the fact of failure but our use of it. Florence Allshorn kept drawing attention to this. "I believe our great trouble is that we won't stir up courage to look at failure."* We must view failure in the perspectives of the Cross, where it will take on a new light.
* Oldham: Florence Allshorn and the Story of St. Julian's, p. 51.
It will be helpful to consider the lives of the two outstanding apostles, St. Paul and St. Peter, each of which illustrates an aspect of failure, the one intellectual, the other moral.
In St. Paul's speech before King Agrippa, part of his Christian testimony is to acknowledge the character of the mistake he had made in his thinking before he had become a Christian.
I myself was convinced that I ought to do many things in opposing the name of Jesus of Nazareth. And I did so in Jerusalem; I not only shut up many of the saints in prison, by authority from the chief priests, but when they were put to death I cast my vote against them. And I punished them often in all the synagogues and tried to make them blaspheme; and in raging fury against them, I persecuted them even to foreign cities.*
* Acts 26: 9-11 (R.S.V.).
St. Paul's confessions in Romans 7 record other aspects of failure in his life. And yet, as Bishop Lightfoot once said to his clergy: "St. Paul's most magnificent career as a theological teacher was built on a theological failure - a failure so gigantic that hardly a parallel can be found".*
* Bishop Lightfoot: Ordination Addresses, p.128.
Certainly Paul had been a good man, deeply religious, earnest and sincere and zealous. But he had been completely wrong in his thinking. He needed an intellectual conversion as well as a moral one. Many Christians still need intellectual repentance and conversion and make the mistake of thinking of repentance solely in moral categories. Only when our minds, as well as our hearts, have turned wholly to God can the great thoughts of God find a wave-length to our minds and we can become transmitters of these thoughts to others. To live within the perspectives of the Cross gives an entirely new starting-point for our thinking.
St. Paul recognized in a flash his failure and its magnitude as soon as he heard the voice of Jesus saying, "Saul, Saul". It cannot have been the first time our Lord had tried to speak to him; it was the first time he happened to hear. Only then did he realize that his failure lay in his refusal to come to terms with the Cross. This has always been the easy danger that threatens the Church. The story of the Grand Inquisitor told by Dostoevsky and superbly retold by Archbishop William Temple* is the story of a Church which thinks it must correct Christ's work and imprison Christ Himself in a dungeon. How easily can the Church slip from the perspectives of the Cross! All of us in our failures are trying to improve on Christ, and find alternatives to His Cross. We do it in our preaching, in the organization of our Church life, in the way we raise money, in our standard of living, in our relationships, in our subconscious attitudes. That is why we must always be open to the voice of Jesus from the Cross and the terrible pain of realizing self and failure which is like a burning kiss. This was the experience the Church in Corinth once had to undergo for its purging.
* Christian Faith and Life, pp. 82-84.
Your pain induced you to repent. For you were pained as God meant you to be pained, and so you got no harm from what I did; the pain God is allowed to guide ends in a saving repentance never to be regretted, whereas the world's pain ends in death.*
* 2 Corinthians 7: 9, 10 (Moffatt).
The Cross spells pain for the Christian when it is transposed, for it compels him to see his failures and to recognize what his pride and prejudice have done to Christ. Can we face and carry this kind of cross? Only thus is failure redeemed.
In the life of St. Peter we trace a different kind of failure; but we need not catalogue all his moral lapses. His saving grace was that despite all his faults and falls he was receptive to Jesus. The touch of Jesus, the look of Jesus, the voice of Jesus always went home to him, straight to his conscience. He learnt not to mope and languish, not to linger in a welter of penitence and spiritual exhibitionism; he always rose and moved on to the next thing. His moral failures left no permanent scars. He could use them as stepping-stones to higher things, and he did. The same pattern has been repeated in the lives of countless Christians. In each case the failure itself was integrated into life and levered it up to a new level. So God's people are built up, not in spite of their failures, but through them and by means of them. "Thou feedest them with the bread of tears: and givest them plenteousness of tears to drink."*
*Psalm 80: 5 (P.B.V.).
Failures drive us back to the Cross and keep us there. We can never progress in such a way as to leave the Cross behind. We cannot undo our failures nor blot out their consequences. They remain part of us and of our record, part of the history of the Church. But once they are faced, confessed and forgiven, the power of the Crucified can redeem the very failures that put Him on the Gross and use them in His purpose. The memory of our own failures will serve to keep us close to Christ and to give us kindlier judgment of others.*
* Galatians 6: 1.
Recognition of failure is also the road to revival. It is the meaning of "brokenness". It is what we ask God to give us in the daily collect for Lent when we pray for a new and contrite heart. "God's sacrifice is a soul with its evil crushed: a heart broken with penitence, 0 God, never wilt thou despise."* The only power to crush evil is Love. The only place where we see Love like that is the Cross. At the Cross evil is always being crushed. Here is the perspective in which we see the kind and quality of the Cross's victory. Love can succeed only in these terms. And often it will look like failure. The Cross seemed to be failure to every eye but God's.
* Psalm 51: 17 (Moffatt)
Limitation
Most people are troubled in some way or other by the problem of time. Time is even spoken of as "the enemy". An even more curious use of words is to be found in two familiar expressions: "I'm just killing time" and "I've no time". The first implies boredom and the second implies pressure, but strictly speaking neither means anything. Time, like air, is a free commodity, meted out in equal quantities to everyone. All of us have all the time there is. The problem is not lack of time, but use of it and mastery of it. The Christian is a steward of time: one day each of us will have to give an account of our stewardship and hand in our small contribution to God's achievement in time - His purpose. Hence the prayer that we may "so pass through things temporal, that we finally lose not the things eternal".
In the perspective of the Cross a new understanding of time becomes possible. In the sight of God the primary significance of time is to be found not in measured length but in actual content. What fills our time always matters more than how much time we had. The Christian need never be frustrated because of time, for time is something that can be redeemed.* Time redeemed is opportunity used. The significance therefore of a man's life is never his length of years but his use of opportunity. Those who die young may well accomplish more than those who live to be twice their age. Jesus died in His early thirties, but His work was finished. He did all that He had to do. St. Paul, waiting in prison for his trial and execution, could write, "I have fought the good fight, I have finished the course".** Although so much of the world had still to be evangelized, he was at peace. He had used the time well.
* Ephesians 5: 16; Colossians 4: 5. ** 2 Timothy 4: 7.
The first principle to be grasped is that God is the Lord of time. He created time; it is entirely at His disposal. In the Bible there are two Greek words for time. There is chronos, which means time in the sense of duration, that which can be measured on the clock or in the calendar, utterly impersonal, unrelated to anything we are doing, ticking on remorselessly whether we are conscious of it or not. The clock goes on ticking and striking all through the night while we sleep. This is common time, the same for all. But the other word is kairos, which means the right time, time for action, time for love, season, the opportune moment. It is this which specially concerns the Christian, for it is time to be filled and bought up. Jesus thought of His own destiny in these terms. Throughout St. John's Gospel like a fugue we keep hearing the words "Mine hour is not yet come" (2: 4; 7: 30; 8: 20). He could not die until His hour came. Then at the beginning of the Passion narrative, He announces that "the hour is come that the Son of man should be glorified" (12: 23, 27, 28; 13: 1). This certainty of God's holding all the strings of time kept Jesus calm amidst all threats. St. Luke records some Pharisees coming to Him and saying,
Get away from here, for Herod wants to kill you. And he said to them, Go and tell that fox, Behold I cast out demons and perform cures to-day and to-morrow and the third day I finish my course. Nevertheless I must go on my way to-day and to-morrow and the day following; for it cannot be that a prophet should perish away from Jerusalem.*
* St. Luke 13: 31-33 (R.S.V.).
This is the doctrine of Providence, summed up in the psalmist's affirmation: "My times are in thy hand".* The Cross can only be because God allows it - at the right time. And so it is with the transposition of the Cross into the Christian's life. If time for us is simply chronos we are time's slaves and our manhood is degraded. But if we respond to time as kairos, waiting for the right moment and then seizing the opportunity, we are using time creatively like God and are sharing Christ's mastery of time.
* 2 Psalm 31: 15.
But this very concept of time will demand severe limitation, a deliberate and planned stream-lining of activity. One of the follies of so many Christians and so many churches is their superfluity of activities. They are always on the go, doing so many different things, thoroughly busy. But this is not a fruit of the Spirit. The New Testament pattern would suggest that Christian living is not something expansive which includes more and more activities, but rather something contracting which concentrates on less and less. We find this pattern in the life of our Lord Himself. Jesus deliberately limited Himself to the Jews. "I was not sent but unto the lost sheep of the house of Israel."* His ministry itself was limited to about three years, the length of an average curacy. In the second part of His ministry He deliberately concentrated on training twelve men, and He limited the number. His activity gradually became more and more confined. This was realism about time.
* St. Matthew 15: 24(R.S.V.).
We find the writers of the Gospels exercising a similar limitation. They do not attempt to say everything that could be said. They are not chroniclers. They are highly selective in the use of their material; they do not overcrowd the picture; that is why they write with such power and effectiveness. St. Paul also had a remarkable attitude to time. When he is warned by the elders of Ephesus of all the hardships that awaited him he can say:
And now, behold, I am going to Jerusalem, bound in the Spirit, not knowing what shall befall me there; except that the Holy Spirit testifies to me in every city that imprisonment and afflictions await me. But I do not account my life of any value nor as precious to myself, if only I may accomplish my course and the ministry which I received from the Lord Jesus, to testify to the gospel of the grace of God.*
* Acts 20: 21-24 (R.S.V.).
Quite calmly and resolutely he accepted the limitations of the situation; the principle of the Cross was being transposed into his life; he, like his Master, would fulfil his destiny.
The practical result of such an attitude to time will be a deliberate limitation of what we attempt, an assessment of our own priorities according to our own vocation and ministry and gifts, and a concentration on these priorities which will let nothing deflect us. Jesus set His face as a flint towards Jerusalem. We, whether clergy in a busy parish or overworked missionaries or laymen in some profession or commercial enterprise must likewise find our priorities in the light of the Cross and accept the limitations they impose. The Cross limited Jesus and it limited the apostles. It will limit us.
This Christian attitude to time with its discipline of limitation enables one to take in detail and to notice the individual in the crowd. This was the great art of Jesus in His human relations and it is consummately demonstrated in His Passion. He spotted Zacchaeus hiding in his tree, full of inhibitions and complexes. He spotted the widow making her offering and pointed out the vastness of her tiny gift. He had time to notice the withered fig-tree and draw attention to its lesson. He made time for an unhurried supper on the last night, so that each disciple could receive the wonderful gesture of the feet-washing. In the rush and confusion after His arrest He had time to heal Malchus's wounded ear. On the road to the Cross He had time to speak words of comfort to the daughters of Jerusalem as they wept. And on the Cross itself He could attend to a penitent thief, to His mother and His friend. He could move with such dignity because He knew He was fulfilling a divinely appointed destiny. He accepted the limitations that the Cross imposed and so was completely free within the time available to notice all the details and all the individuals who needed His care. Because time has such value it must not be wasted. One of the seven deadly sins is sloth, which is a wrong or careless or unintelligent use of time. There are varieties of sloth. Intellectual sloth is accepting readymade opinions instead of thinking for ourselves. Moral sloth is that unwillingness to make decisions, to accept personal responsibility, to commit ourselves. Spiritual sloth is that inertia and heaviness, that disinclination for the things of God which comes when we have frittered away our time. Punctuality is a corollary of the Christian attitude to time. Failure here is to show lack of consideration for another person's time and plans. Richard Cecil, one of the great and wise early Evangelicals, made an interesting contribution to a discussion on punctuality at a meeting of the Eclectic Society on January 27, 1806. He said:
The importance of punctuality is great as it is gaining time. It is like packing things in a box, where a good packer will get in half as much again as a bad one. The calmness of mind which it produces is another evidence of the importance of punctuality. A disorderly man is always in a hurry. He has no time to speak with you, because he is going elsewhere; and when he gets there he has no time, because he is coming away. An appointment is a debt. I owe you punctuality. I have therefore no right to throw away your time, if I do my own.*
* Eclectic Notes.
Because the Cross stamps time with such value it is a serious thing if we waste our own through sloth or another's through being unpunctual. Unpunctuality is only another variety of sloth. So is failure to answer letters or to pay bills!
Accepting the principle of limitation and recognizing God's control of all our time means that we can be set free from worry. Our Lord insists that we live in the present. "Therefore do not be anxious about to-morrow, for to-morrow will be anxious for itself. Let the day's own trouble be sufficient for the day."*
* St. Matthew 6: 34 (R.S.V.).
This is not a belittling of foresight or planning but a reminder that we must not cross our bridges before we get to them. The hardest time to live in is always the present. It is easier to live in the past through memory or in the future through ambition and desire. But the present moment is wholly ours to fill for God. Those who dwell in the perspectives of the Cross will always seek to hallow the present moment by their use of it, for it is the only moment we ever have.
Contentment
"I have learned, in whatsoever state I am, therein to be content:" (Philippians 4: 11).
"Godliness with contentment is great gain:" (1 Timothy 6: 6).
"Be free from the love of money, content with such things as ye have:" (Hebrews 13: 5).
This contentment comes from an attitude to God which the same Greek word also describes -sufficiency.
God is able to make all grace abound unto you; that ye, having always all sufficiency in everything, may abound unto every good work.*
* 2 Corinthians 9: 8.
My grace is sufficient for you, for my power is made perfect in weakness.*
* 2 Corinthians 12: 9.
Human contentment can come about only by recognition of the divine sufficiency. Jesus could become content with His Gross because He knew the sufficiency of God.
It is usual to reach contentment when we accept things as they come. But there is a problem here. How much are we to accept life and how much are we to resist and fight? For instance, in what sense am I to accept myself? How far am I entitled to expect other people to accept me? This is not easy. There are certain things we have to accept about ourselves - our stature. It is not in our power to do anything about our size, our shape, our features. We have to make the best of what was given. But although we must accept our stature, we need not accept the psychological consequences of our stature. The small person need not for ever be bumptious and pushing, and the large person need not always be shy and awkward. It is one thing to accept ourselves and learn to live with ourselves, within our limitations. We'd better! But as Christians we are not to accept the sinful consequences which derive from our being made in a certain physical pattern.
Again, how far are we to accept our temperament, that we are the highly-strung type, tense, nervous? It seems that we must begin by accepting the facts about our temperament but not so completely as to assume there is nothing to be done about it and that we cannot control or restrain ourselves. Likewise the phlegmatic person, who never gets stirred or enthusiastic, must accept the consequences of being made on those lines but not the indifference or lack of feeling that can so easily result. The only thing we can do is to offer it - our temperament - back to the God who knew what He was doing when He made us. The way of contentment is the way of offering. The Cross is transposed into the Christian life as we learn continually to offer ourselves to God. Character and temperament can be redeemed by the Cross of Christ, if only they are offered there.
We do well to remember that here also we are limited. Not all experiences are open to us: each can only have some. From his prison Dietrich Bonhoeffer gave some sound advice:
We ought to find God and love him in the blessings he sends us. If he pleases to grant us some overwhelming earthly bliss, we ought not to try and be more religious than God himself. ... But everything in its season, and the important thing is to keep step with God, and not get a step or two in front of him (nor for that matter, a step or two behind him either). It is arrogant to want to have everything at once - matrimonial bliss, and the cross, and the heavenly Jerusalem where there is no longer marriage, nor giving in marriage.*
* Dietrich Bonhoeffer: Letters and Papers from Prison, p. 86.
This, of course, is why we all need the Church and its fellowship, to correct our own experiences and to supplement them with those of others. Each one of us can for the most part only have one type of experience. We may be a Paul, a Peter, a John, a Timothy. There are many types, many gifts, many wave-lengths of the Spirit of God, and we need to share in all, even though we can mediate only one.
A further question to be asked is, in what sense are we to accept our circumstances? If they include an un-Christian home, an unhappy atmosphere at work and an unjust social situation, do we lie down under all this and accept it? The perspectives of the Cross would seem to suggest that we accept the conditions as starting-points, but we are not meant to accept them as inevitable and unchangeable. If that were so, why should we ever pray or work for reform and progress? If Luther had accepted medieval Christendom and left it as it was; if Wesley had accepted the religious sleep of eighteenth century England and left it as it was; if Wilberforce had accepted the slave-trade, and if the founders of the great missionary societies had accepted the pagan world in the sense of leaving things as they were - how different and dismal history would have been! The mission and attitude of Jesus would surely teach us that we accept circumstances in order to change them, we accept life in order to consecrate it and battle through to victory. Jesus did not accept the Cross as something good in itself
He accepted its cruelty as part of the inevitable circumstances of the age in which He lived, and in His acceptance of it He changed not only it but us and the whole course of history. It is in this spirit that we are to accept things as they come in order to offer them to God and have them transformed by His grace. The Cross transposed means the constant offering of ourselves and our circumstances, our happiness and our unhappiness, our plans and our problems to God, in union with the offering of His Son in whose Body we have been incorporated. This is the way of contentment. The Christian can find it only in the Cross.
We may apply this to some of the things which may often cause us to be discontented: boredom, pain, tiredness.
Whatever our job there will always be a certain amount of routine and some things which are sheer drudgery. Are we to go under or rise above them? Our course of action will depend very largely on our understanding of the Cross and our willingness for its transposition in ourselves. Some years ago a book appeared giving an account of the life of a priest-workman in England. The writer describes the life of a factory and the monotony of much of the work. How could the boredom of machine-tending be turned to the glory of God? he asks. And he gives the answer that he discovered the hard way:
by offering it to God for what it is - a cross. Machinery has become man's cross: some accept the wine mixed with myrrh in the form of money incentives, drugged intelligence, thoughtless existence; but a Christian can say, "0 God, accept this unutterable boredom as a cross for our sins and for the world's redemption".*
* Priest-Workman in England; S.P.C.K., p. 50.
And he learned the value of the Russian "Jesus Prayer", repeating over and over again to the rhythm of the machine or even his own breathing the phrase "0 Lord Jesus Christ, have mercy upon us".
There must have been an element of boredom in Calvary. We know it too. The only worthy thing we can do is to offer it to God, and through this transposed Cross find contentment.
All of us are likely to have our share of pain, physical, mental or emotional. How are we going to take it when it comes? How have we reacted to the pain we have already had? At the end of Professor Hodgson's book on the Atonement he describes an elderly woman whom he once knew in New York. For years she had been crippled in almost every joint by rheumatoid arthritis.
In constant pain, unable to move head or arms, she could not look round to see who came into the room, and when she came to the bottom of the right-hand page of her book she had to wait till someone should come in to turn it over. Yet such was the spirit and sparkle of her conversation, the radiant brightness of her personality, that for those who came to see her those visits were among the brightest spots of their life. To a priest who was privileged to hear her speak of the deep things of experience she revealed one day the inner secret of it. So far as she knew, she said, her disease had come from a germ she had picked up years before while travelling in South Africa. Vigorous and alert as she had been in body and mind, it had been a long time before she had found inward peace. It had only come when she had learned to make a daily offering of her sufferings to the Lord who ever liveth to make intercession for us, asking Him to accept it, to unite it with His passion and death upon the Cross, and with His intercession, for the land and peoples of South Africa.*
* L. Hodgson: Doctrine of the Atonement, p. 153.
No comment is needed. Pain was accepted as a transposed Cross. The way of offering became the way of contentment.
And there is tiredness! There are times when the Christian is not only too tired to work but too tired even to pray. This has been beautifully expressed in a poem by Father Andrew, Vigil.
Lord, I am tired. I can bring to Thee
Only a heavy weight of tiredness.
I kneel, but all my mind's a vacancy
And conscious only of its weariness -
Can it be prayer, this dragging dreariness?
"The effectual fervent prayer avails,"
Wrote downright James; and here inert kneel I;
I would feel fervent but the effort fails;
Like some starved mendicant, too weak to cry
His need, I wait - perchance Thou wilt pass by. *
* Poems, P. 73.
The same principle is at work here. The only thing to do with tiredness is to offer it back to the God who made our bodies and understands their workings. We can but be ourselves, and we have to go on offering ourselves, whether tired or fresh.
This for the Christian is the meaning of the Cross. It is the way of contentment.
We could go on applying this principle to the way we accept sorrow, disappointment, rebuke, misunderstanding and the rest of those things which add to life's difficulties. The transposed Cross means that none of them will be accepted passively with an air of reluctance or resignation, nor with a "grin and bear it" philosophy, merely making the best of things. The Cross means an active and positive and creative acceptance of those thwarting and frustrating elements of life, its battles, its muddles, its handicaps. We are to embrace the Cross as part of God's glorious will; we, like our Lord, must learn to say, "Thy will be done", and to say it not with a murmur of submission but with the gladness of surrender.
The capacity for allowing and accepting the transposition of the Cross into our lives can come and grow only by prayer before the Crucified and meditation upon His Cross. Here we gradually see that the whole of life is an offering to God. "I am already being offered," wrote St. Paul, and the nature of his offering was a pouring out of himself as a libation to God.* The whole of his life had been a dying in order that it might be truly Christian living. His baptism, in which he had died with Christ, was a daily reality. He had been crucified to the world and it could have no power over him; the world had been crucified to him and therefore could retain no alien appeal. He was bearing about in his body the dying of Jesus. This is no highly advanced mysticism. It is the simple and complete offering of the whole of daily life, accepting it creatively so that through our obedience God may hallow and transform it. In one of his letters Father Andrew wrote: "Christian contentment is the silent adoration of the will of God." In our prayers of self-offering before the Cross we shall find that will and so find also that contentment.
* 2 Timothy 4: 6.
-------
Lord help me live from day to day,
In such a self-forgetful way;
And when I kneel to pray,
My prayers will be for others.
Others Lord. Yes others,
Let this my motto be;
Help me to live for others,
That I may live like Thee.
*"Therefore, cast not away your CONFIDENCE, which has a GREAT REWARD. For we have need of Patience, so that having done the will of God, you may receive the PROMISE:"
(Heb. 10: 35, 36).
Lord, Help me to see it more clearly.