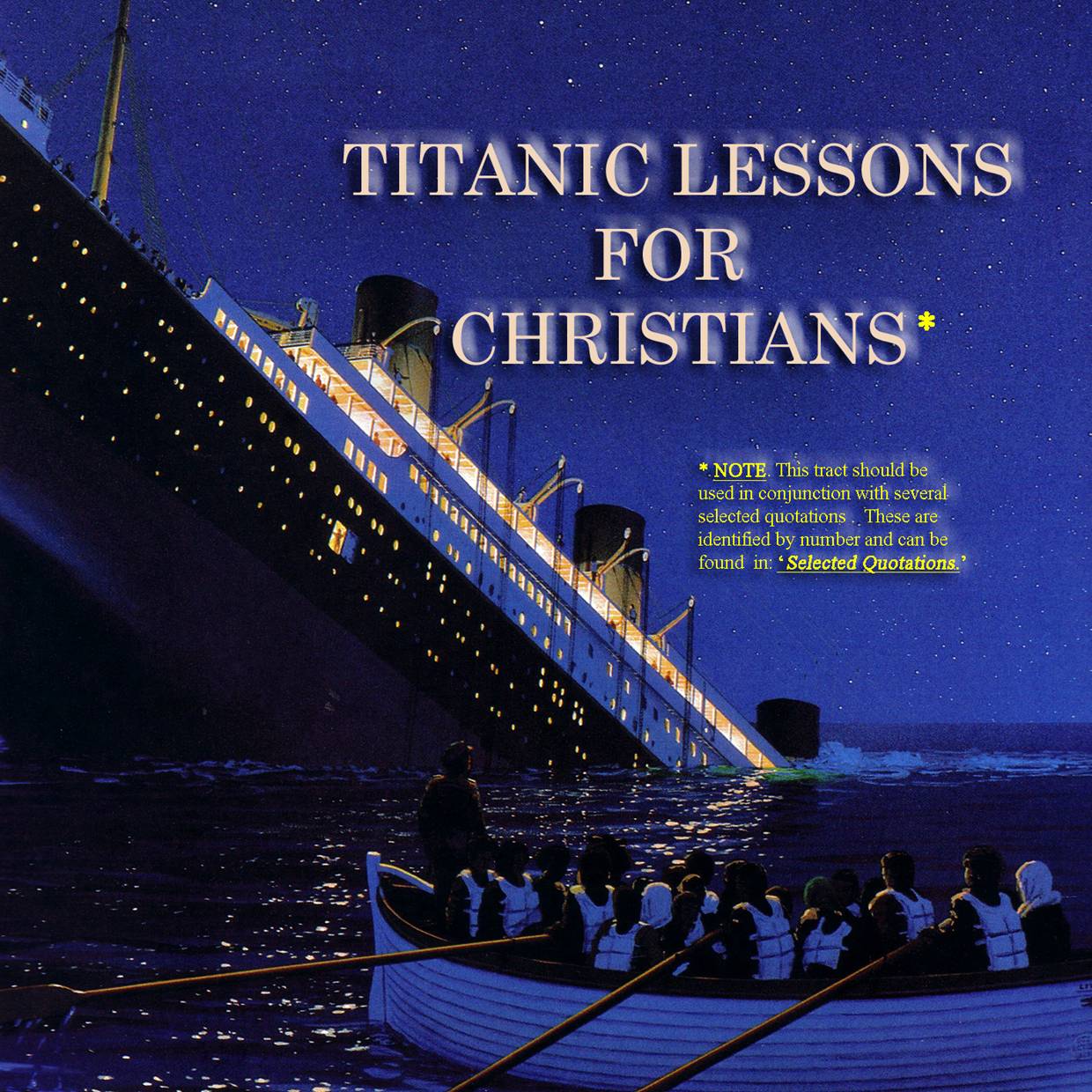 It may be of interest to know that his tract was being prepared at the time of the 'Costa Concordia' disaster off the coast of Isola del Giglio.
INTRODUCTION
"IT WAS A SPLENDID SHIP! Everything a ship designer could imagine was built into it. It was beautiful, magnificent, TITANIC! Not only was it the biggest, it was sleek, fast, and absolutely unsinkable. Did not the designers guarantee it? Every proven safety feature and several new ones went into its construction. It slid out to sea from Liverpool, England, on a serene April morning. Gleaming against the sky, it was majestic. The pride of Britannia rode out to sea. New York was its next harbour. The notables of society were its passengers and they basked in the splendour of its luxury. Elegance was the word for Titanic's interior. Lavish in its decor, menus, and entertainment, it surpassed the highest expectations of its passengers. Three-quarters into its maiden voyage - on the fringe of Newfoundland's frigid banks - the Titanic became a catastrophic nightmare. A deceptively large iceberg, detached from the polar ice fields, was drifting into the North Atlantic shipping lanes, destined to keep a predetermined encounter with the fabulous Titanic."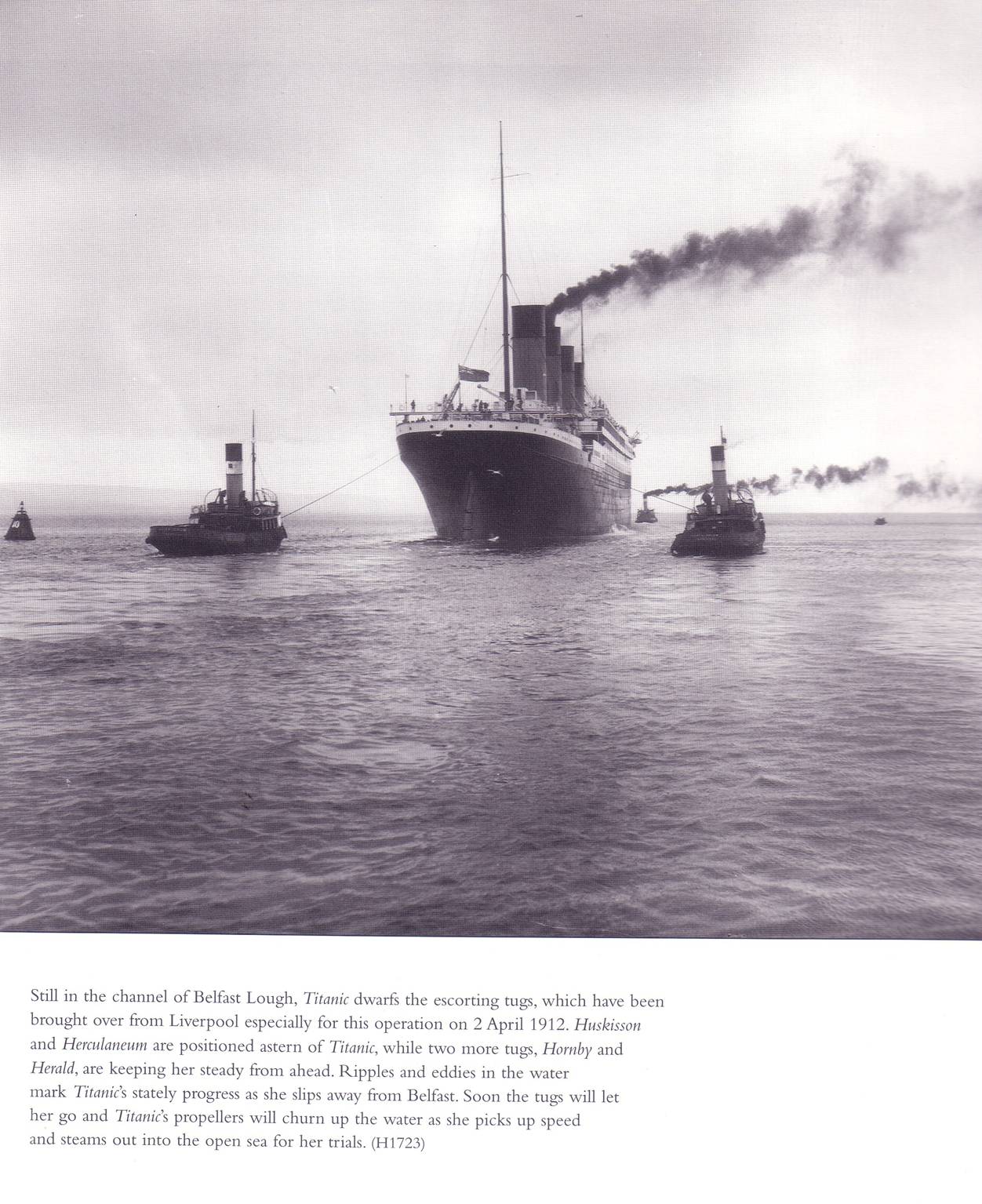 PEARL OF THE SEA
Plunged in the depths of humanity's sea,
Meeting the depths of the being that's me,
Right at the heart of the truth of the world
JESUS – immortal, enthron'd, and impearl'd.
Wisper'd within the deep dread of the sea,
Held by the certainty - centered in me –
Right at the heart of the truth of my world
JESUS – immortal, enthron'd, and impearl'd
Doing and dying and sink of the sea,
Never to take or to terrify me,
Right at the heart of the truth of the world
JESUS – immortal, enthron'd, and impearl'd!
- HAZEL POTTER.
The word "TITANIC" has been defined as: "relating to the giants of mythology, enormous in size and strength: gigantic, huge generally." Now almost a century ago, the word 'titanic' was associated with the world's largest moving sea-object afloat - the luxury passenger cruise liner - Royal Mail Ship, TITANIC.*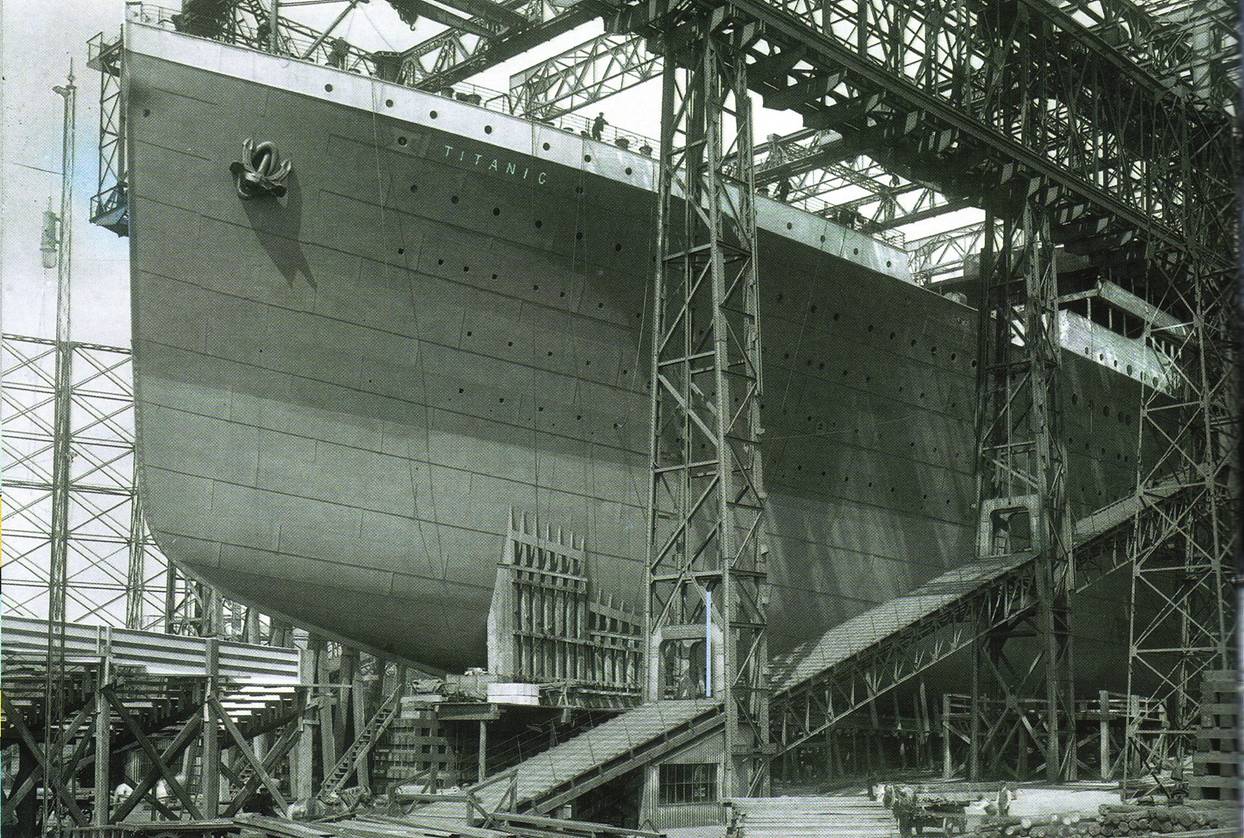 * "Tonnage, - 46,328 gross register tons (G.R.T.); Displacement, - 52,310 tons; Length 882 ft. 9 in. (269.1 m); Beam, - 92 ft. (28 m); Height, - 175 ft. (53.3 m); Draught, - 34 ft. 7 in. (10.5 m); Depth, - 64 ft. 6 in. (19.7 m); Decks, - 9 (Lettered A through G)".
"The World's Biggest Graving Dock – Belfast has now the honour of having built the largest ship ever launched, and it will soon have the distinction of being in possession of the biggest dock ever constructed. The work in connection with this necessary adjunct to modern and successful shipbuilding enterprise is now in its final stages and it is expected that the dock will be ready for the admission of vessels in December, or in January at the very latest, but the formal opening will not take place until the spring or summer."
Belfast News-Letter, 21st October 1910.
BELFAST TODAY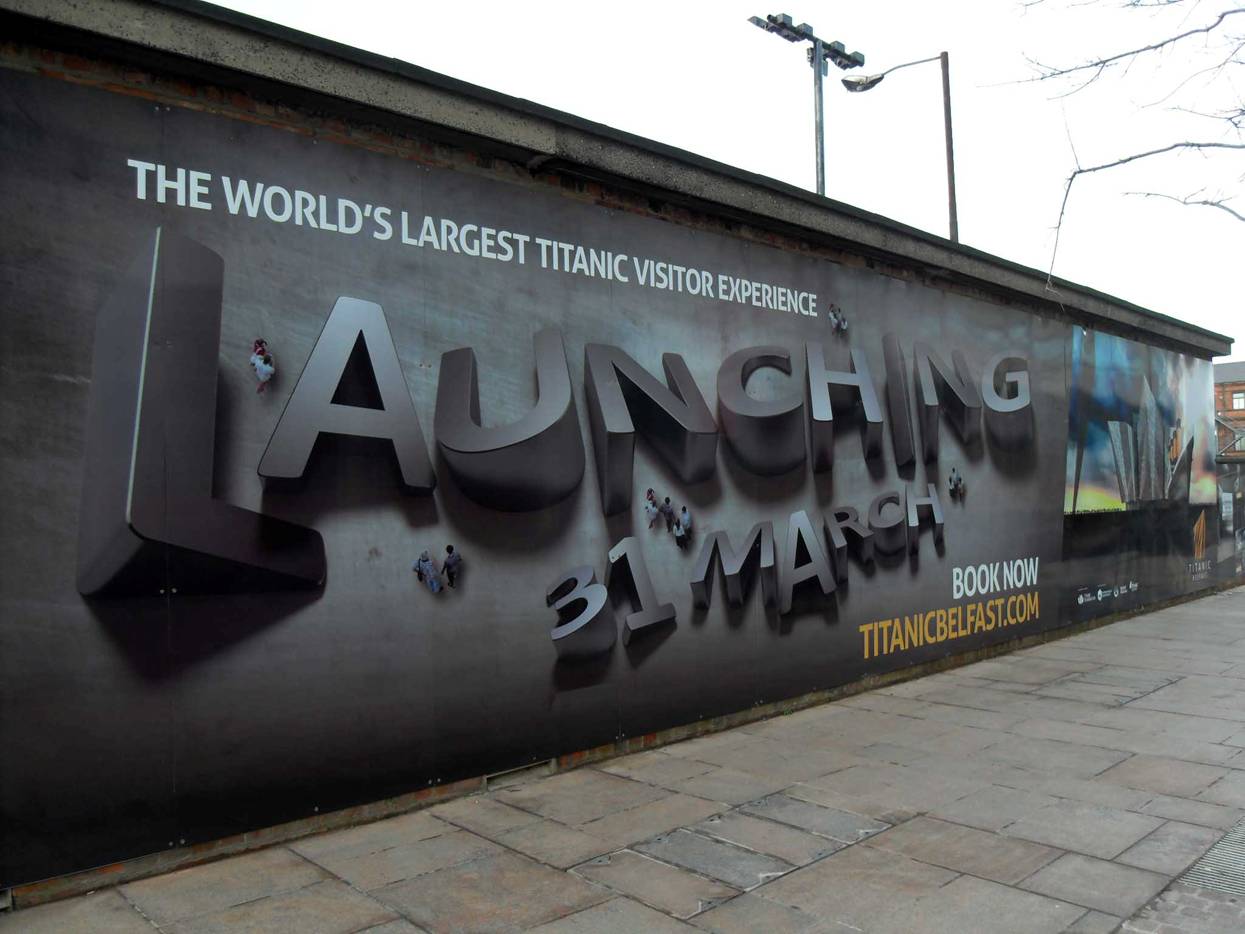 Visit Belfast today and you will discover numerous objects of memorabilia for sale - all designed to remind visitors of "TITANIC"! Go to "Titanic Quarter" - an area of new development which embraces the site where the great ocean liners were built - and you will find a 97 million-pound Visitor Centre, constructed specially to accommodate the thousands of expected overseas visitors to Belfast - all wanting to be there to commemorate the sea-disaster's centenary anniversary. No doubt here will be a host of various items of interest on display - all with an enthusiastic desire to educate and introduce foreign visitors to Northern Ireland. During April of this year (D.V), Belfast city will be saturated with thousands of people wanting to explore the site where the majestic vessel was built and to learn more about the city's history; and in particular, the famous Harland and Wolff Shipyard. Royal Avenue, a busy area leading into the City Centre, now has images of several Great Ocean Liners on display; and the City Hall, with its recently renovated interior, will be an open attraction (free of charge I presume) to one and all alike!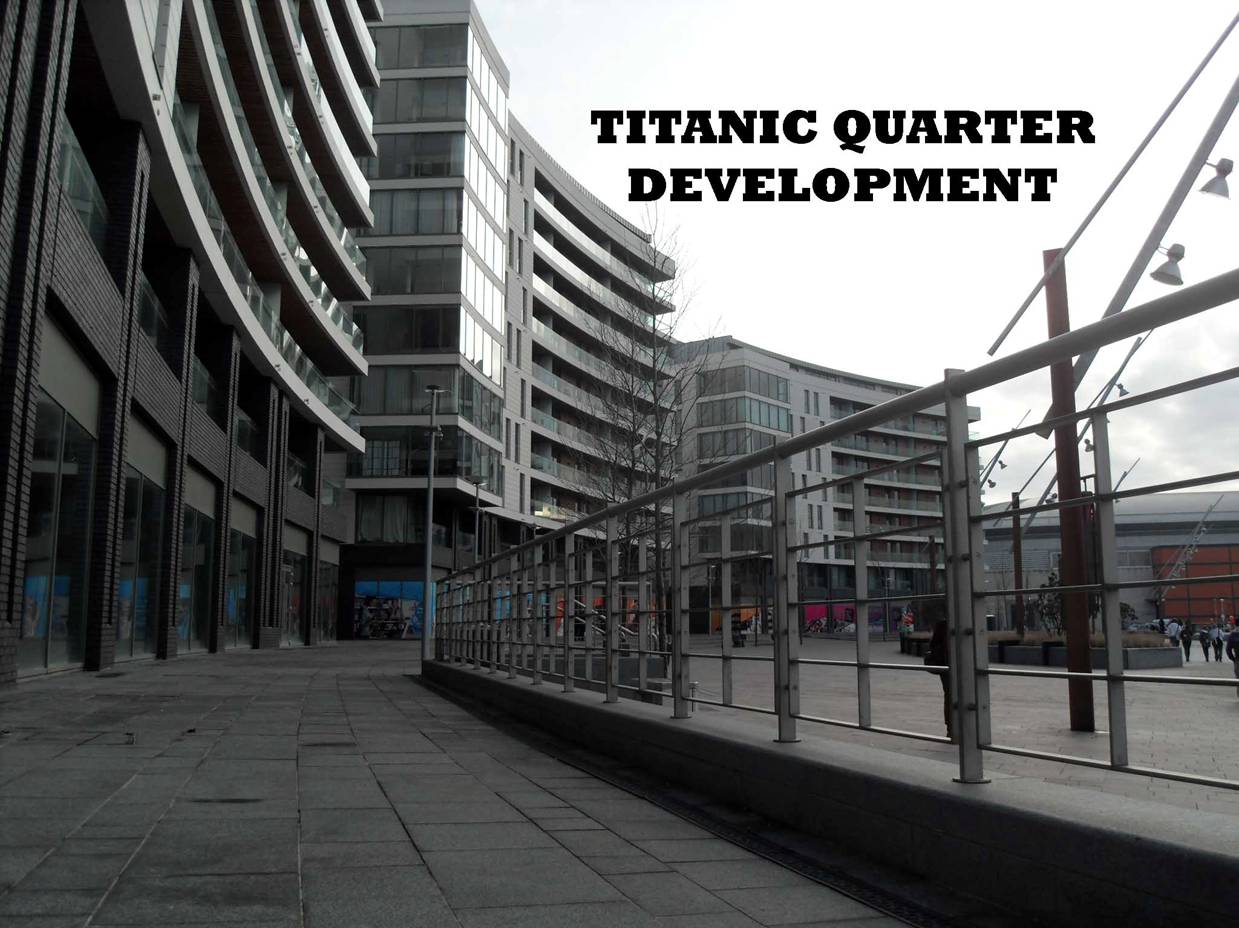 'Titanic Quarter,' is an area of 75 hectare and described as: "Home to one of Europe's most spectacular waterfront developments." Once the world's busiest port, where 35.000 people were employed there - the vast majority being Protestants! - when Harland and Wolff Shipyards were building some of the world's largest ships: Belfast's wealth in those days came from its 'pivotal point in the empire,' but as long as 60 years ago it started to decline.
This building - [see picture below] - has been described as the, - "Showpiece of Northern Ireland's Tourist Industry" – and is on schedule to be delivered on time and on budget. It is expected to "attract 400.000 visitors a year, with 100,000 to be expected to be out of state including 50,000 unique visitors who have not been here before." Mr. Husband revealed that the 20,000 visitors were already booked in through Tour Groups, six months ahead of its scheduled opening on March, 31, 2012. Mr. Husbands also revealed that 70 events and conferences had already been booked, for the building's unique suite, around a quarter of which are from out of state. The Building Suite can accommodate up to 5,000 people, and its stage will be "a replica of the grand staircase on the ship".
NOTE: "It is arresting that our Lord, in linking the days of judgment on Sodom with the era immediately before His return, singles out 'building' as one of the characteristics common to both." "They ate, they drank, they bought, they sold, they planted, THEY BUILDED: after the same manner shall it be in the day that the Son of man is revealed" (Luke 17: 28). (Panton.)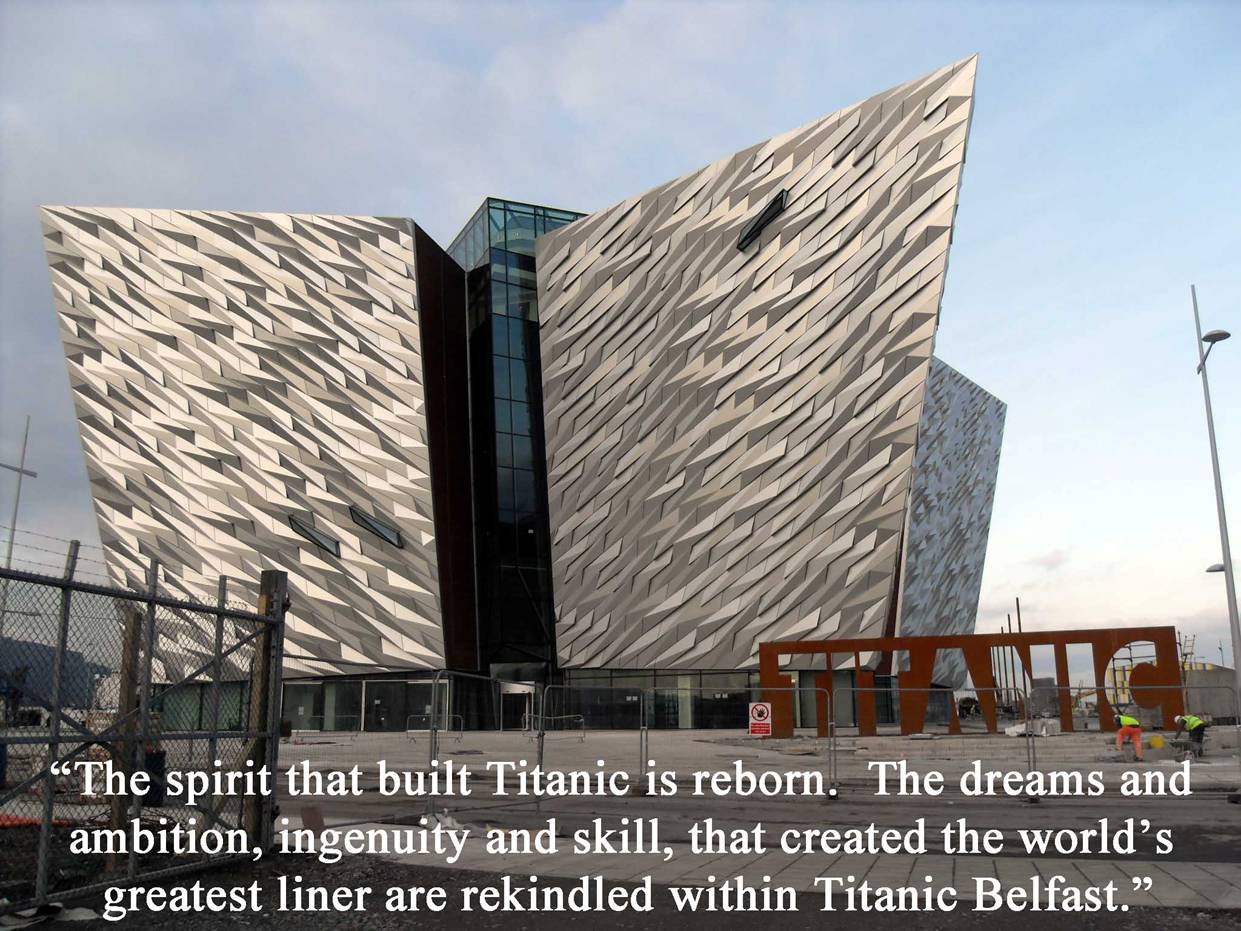 All the world must know by now the story of how the supposedly "unsinkable" R. M. S. TITANIC plunged to her watery grave at 2. 20 A. M. on the morning of 15th April, 1912. There it lies today at the bottom of the ocean with the cold waters of the North Atlantic obscuring the wreck from sight to all but a selected few explorers.
Over the past number of years there has been much speculation as to the cause of the disaster. Questions have been asked about the quality of the rivets which held the huge metal plates of the ship's hull together; the standard of workmanship in the shipyard has also been questioned, and the apparent rush to complete the project as soon as possible; the speed at which Captain Smith sailed Titanic through the ice fields of the North Atlantic; the inadequate number of lifeboats on deck: all of these and many more so-called 'mistakes' were made; and each in turn had their small part to play which contributed to the disaster.
The unforgettable number of people who lost their lives, on board the vessel and in the ice-cold waters of the North Atlantic, was a shock to the world and in particular to the men of Harland and Wolff Shipyard, where it has been said that many of the employees - proud of their achievement and high standard of workmanship - wept bitterly.
We must keep in mind, that many of the passengers on board Titanic were on their way to begin a new life in America – a land described at that time as: "the new world."
"Nothing on earth," we are told, "can rival the epic spectacle and breathtaking grandeur of Titanic." The movie, based on the tragedy, is of a "sweeping love story" which "sailed into the hearts of moviegoers around the globe, ultimately emerging as the most popular motion picture of all time."
The cause of the unforgettable tragedy was discovered before the ship sank – an iceberg floating in its path which the ship's lookouts failed to see until it was too late to avoid a collision. Five of the watertight compartments on the starboard side were punctured below the waterline; and because it was a known fact that the ship was designed to remain afloat with only four of its watertight compartments flooded, in a relatively short time the broken remains of the 'unsinkable Titanic' would come to rest on the ocean floor. The following is an account of what took place:-
A RECORD OF SOME KNOWN FACTS
"At 12.05A.M., Captain Smith ordered all the lifeboats uncovered; five minutes later at 12.10, he ordered them to be swung out; then at 12.25, he ordered them to be loaded with women and children and then lowered away.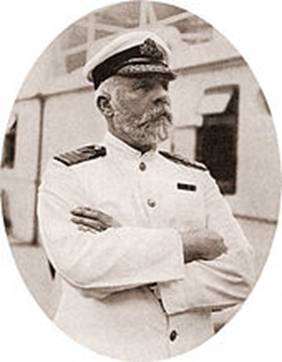 At 12.50, 4th Officer Joseph Boxhall fired the first white distress rocket. By 12.05 A. M., the entire bow was under water, and all the lifeboats, except two, had been launched. Around 2.10 A. M., the stern rose out of the water, exposing the propellers, and by 2.17 A. M., the waterline had reached the boat deck. The last two lifeboats floated off the deck. … On deck people were scrambling towards the stern or jumping overboard in hopes of reaching a lifeboat. The ship's stern slowly rose into the air, and everything unsecured crashed into the water. … Shortly afterward, the stress on the hull caused Titanic to break apart between the last two funnels, and the bow section went completely under. The stern section righted itself slightly and then rose vertically. After a few minutes, at 2.20 A.M., it also sank. …
"Of a total of 2,201 people aboard only 711, less than a third survived and 1,514 perished. The majority of the deaths were caused by hypothermia in water believed to be 28 degrees F. (-2 degrees C.), where death could occur in as little as 15 minutes."
"It is not good to have zeal without knowledge,
Nor to be hasty and miss the way:" (Prov. 19: 2).*
* See 'SELECTED QUOTATIONS' – No. 167. TO OPEN CLICK HERE.
Sketch above shows the Route and Location of Titanic.
We can only imagine how the ship's crew and passengers reacted at the time* of the collision. How could such a thing be possible! They were told by White Stat Line - the ship's owners - and Harland and Wolff - its designers and builders - that such a thing could never happen! But as is usually the case - (and especially so in the spiritual realm) - it is not a question of what the passengers were told at the beginning of their journey, but their discovery of facts and details which the owners and builders refused to disclose to them; all of which suddenly came to their attention, only after they were well into the journey!
* When Titanic struck the iceberg some passengers may have been fast asleep - probably dreaming of a new life in America – 'the new world'! Much excitement, coupled with entertainment on board ship, always has a tendency to bring on physical tiredness!
It was said that after the collision the band members 'played on' throughout the panic and commotion! This was indeed a brave act of loyalty to their employers, and a last desperate effort to help soothe the apprehension and terror of the passengers and crew. Surely there are 'titanic lessons for Christians' in all of this today; Christians who believe or who are being told that all is secure and nothing can be lost!
"There is a way that seems right to man but in the end it leads to death:"
(Prov. 16: 25. cf. Rev. 2: 23; Acts 5: 1-10; 1 Cor. 6: 8, 9. Eph. 5: 3-5.).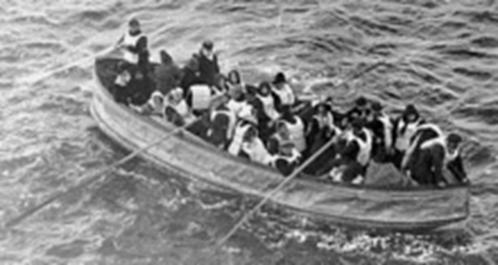 Picture above: "Survivors aboard a collapsible lifeboat, viewed from Carpathia."
LOOKING FORWARD WITH EXPECTANCY
"Listen, my son, and be wise, and keep your heart on the right path:"
(Prov. 23: 19).
" 'The kingdom of God'
Is challenge and choice,
Believing the good news,
Repent and rejoice!
His love for us sinners
Brought Christ to His cross,
Our crisis of judgment
For gain or for loss."*
* We are well aware of the need to be careful not to teach out of we find written in our Hymn Books! Many of the words in our best hymns have now been altered, and many others can be misleading! However, throughout this tract we can find truths from the Holy Scriptures:-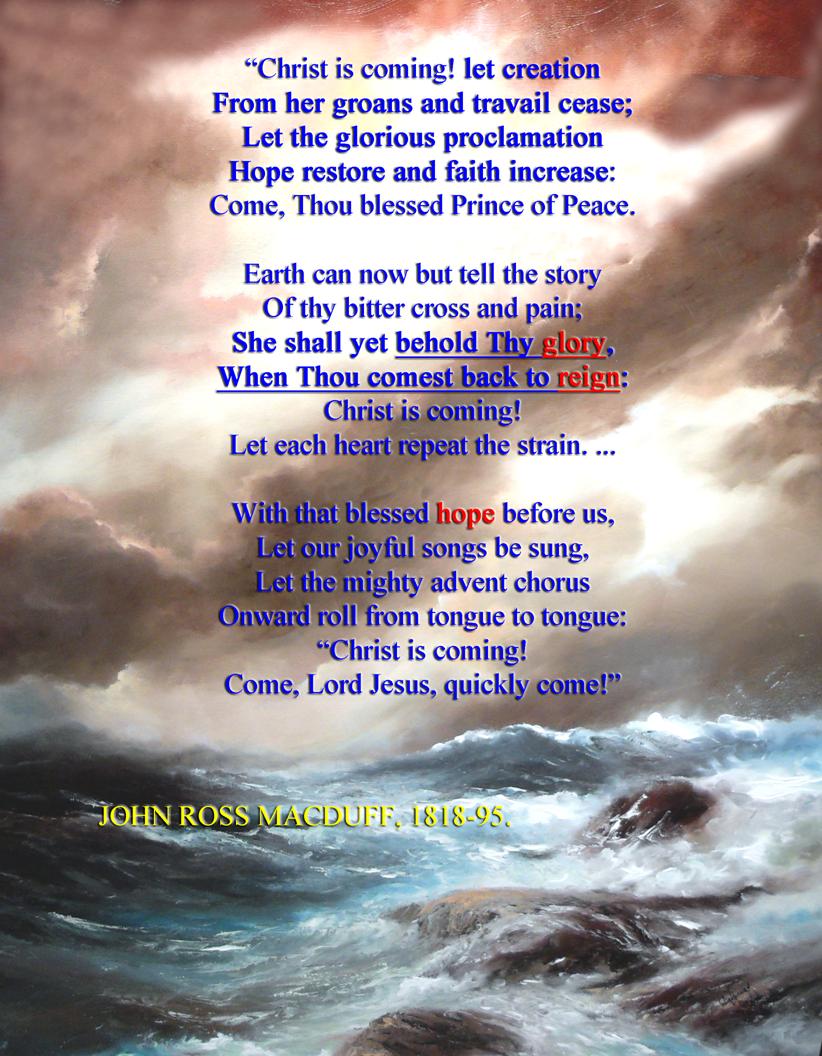 "What lies ahead might seem uncertain and overwhelming – human nature seems to have a need to see the whole picture," says the General Director's Desk of the Slavic Gospel Association (Jan-Mar. 2012). Writing of a 'hope,' he says:- "2012 will bring a new beginning! The nation is waiting in anticipation of a kick-start in the economy that will produce another period of prosperity."
On the front cover of the Association's Newsletter are the words: 'I will do a new thing.'
The words are from Isaiah 43: 19, R.V., and will introduce the final part of this small tract; but they have nothing whatsoever to do with any 'hope' or 'up-turn' in today's greedy and sinful world, or of its rapidly failing economy!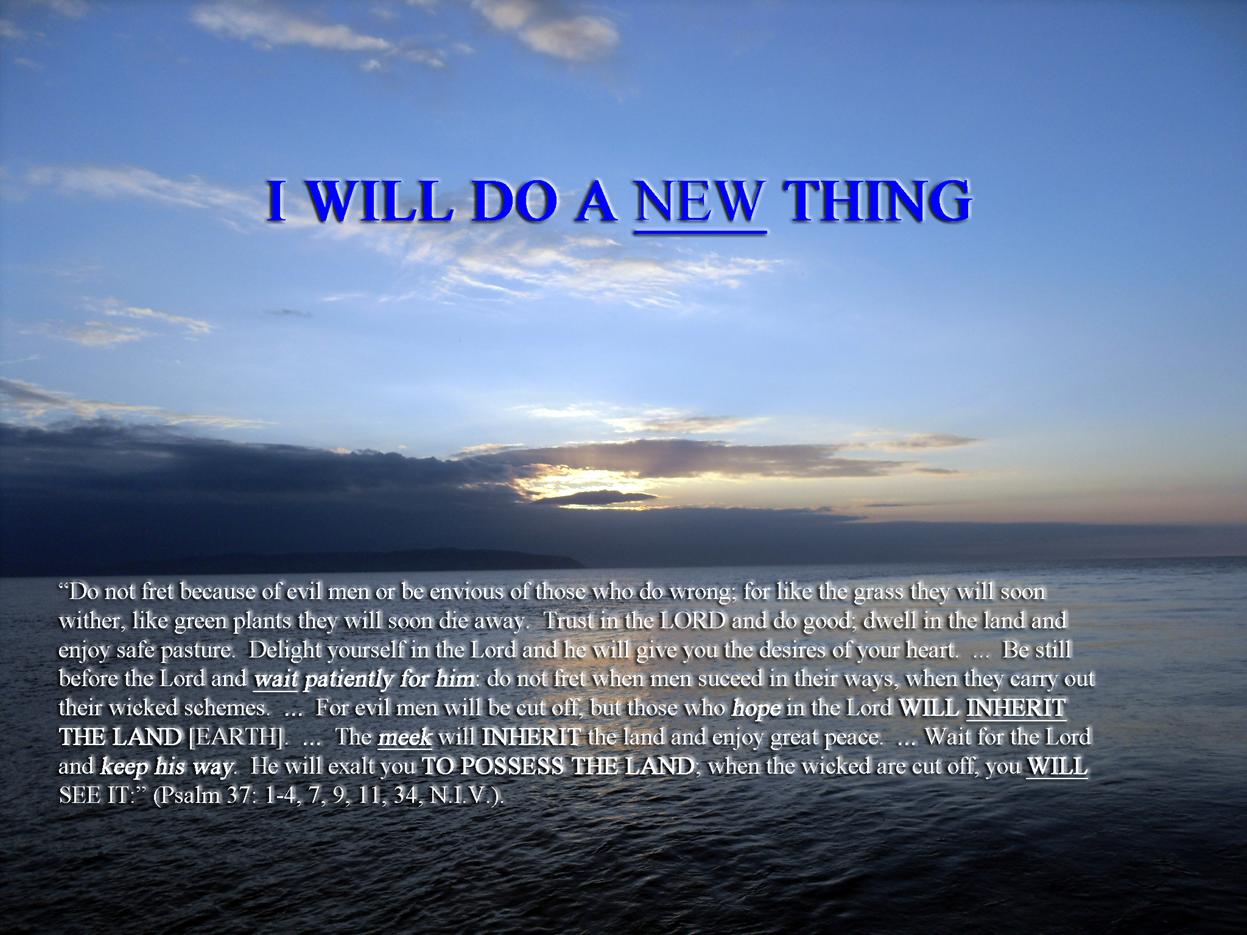 There are a number of selected sermons in a small book entitled: "The Sat Nav Gospel". On page 95 and under the heading: "The Purpose of Preaching" we read the following:-
"The purpose of preaching is made clear … 'Repent and believe the gospel'. … It's a changed lifestyle we are preaching for. There are many who will profess belief - James wrote about devils who professed their belief - but the ultimate proof of belief is repentance and a changed lifestyle. As John Calvin wrote, 'To know God is to be changed by God'.
* * *
THE GOSPEL
Now much of what we hear today from the pulpit has in one way or another to do with the 'Gospel'; and Paul writing to 'the churches in Galatia' says:-
"I am astonished that you are so quickly deserting the one who called you by the grace of Christ and are turning to a different gospel - which is really no gospel at all. Evidently some people are throwing you into confusion and are trying to pervert the gospel of Christ. But even if we or an angel from heaven should preach a gospel other than the one we preached to you, let him be eternally condemned! As we have already said, so now I say again: if anybody is preaching to you a gospel other than what you accepted, let him be eternally condemned!" (Gal. 1: 2, 6-9).
Here the 'gospel of Christ,' has to do of God's 'grace' and the truth of how Jesus Christ (Who had no sin) was made sin, in order that we who believe are made the righteousness of God in Him! Yes, it is possible for sinners to be saved eternally and justified - (i.e., declared righteous by the Judge of all the earth!) – through 'faith' alone in the impeccable and finished work of Jesus Christ, and by His substitutionary death for us on Calvary's cross!
"Consider Abraham: 'He believed God, and it" - [his faith] - "was credited to him as righteousness.' Understand, then, that those who believe are children of Abraham. The Scripture foresaw that God would justify the Gentiles by faith, and announced the gospel in advance to Abraham: 'All nations will be blessed through you.' So those who have faith are blessed along with Abraham, the man of faith:" (Gal. 3: 6-9).
But this is not the whole truth contained in the Paul's 'Gospel'! There is so much more attached to the word 'gospel' - ('good news') - than being justified by faith.
Christians today are so accustomed to hearing this part of the gospel that they appear to have completely lost sight of the other! There is also good news about Messiah's coming Millennial Kingdom upon this earth; and there are numerous scriptural exhortations throughout God's Word for us to grow in grace, knowledge and progressive sanctification so as to be "considered worthy" of having an "inheritance" in that Kingdom.
"I consider my life worth nothing to me, if only I may finish the race and complete the task the Lord Jesus has given me – the task of testifying (1) the GOSPEL OF GOD'S GRACE. Now I know that none of you among whom I have gone about preaching (2) THE KINGDOM will ever see me again. Therefore, I declare to you today that I am innocent of the blood of all men. For I have not hesitated to proclaim to you THE WHOLE WILL OF GOD:" (Acts 20: 24-27).
(1) "Jesus went through all the towns and villages, teaching in their synagogues, and preaching the good news [i.e., the 'gospel'] of the KINGDOM and healing every kind of sickness:"* (Matt 9: 35).
* Christ's 'miracles' were 'signs' of what conditions will one day be like upon this earth! See Isaiah 65: 18-25.
(2) "When anyone hears the message (or 'word' R.V.) about the KINGDOM and does not understand it, the evil one comes and snatches away what was sown in his heart:" (Matt. 13: 19).
(3) "Do you not know that the wicked" - [and Paul has just described one of their own number 'inside' the church as a "wicked man" (5: 13)] - "will not inherit the KINGDOM of God?" (1 Cor. 6: 9).
(4) "For two whole years Paul stayed there in his own house and welcomed all who came to see him. Boldly and without hindrance he (1) preached the KINGDOM of God and (2) taught about Jesus Christ:" (Acts 28: 30, 31).
(5) "I warn you as I did before, that those that live like this will not" - [referring to some time in the future] – "INHERIT the KINGDOM of God:" (Gal. 5: 21).
(6) "Whatever you do, work at it with all your heart, as working for the Lord, not for men, since you know that you will – [i.e., as a result of working for Christ] - receive an INHERITANCE from the Lord as a REWARD:" (Col.3: 23, 24).
(7) "For you know that we dealt with each of you as a father deals with his children, encouraging, comforting and urging you TO LIVE LIVES WORTHY OF GOD who calls - [i.e., is presently calling] - you into his KINGDOM and GLORY": (1 Thess. 1: 6).
(8) "…Among God's churches we boast about your perseverance and faith in all the persecutions and trials you are enduring. All this is evidence that God's judgment is right, and as a result" - [for your suffering for Christ, for kingdom truth, and for righteousness sake] - "you WILL be COUNTED WORTHY of the KINGDOM of God, for which you are suffering:" (2 Thess. 4, 5).
(9) "In the presence of God and of Christ Jesus, who will judge the living and the dead, and in view of his appearing and of his KINGDOM, I give you charge: Preach the Word; be prepared in season and out of season; correct, rebuke and encourage – with great patience and careful instruction. For the time will come" - [that 'time' has now arrived!] - "when men will not put up with sound doctrine. Instead, to suit their own desires, they will gather around them a great number of teachers to say what their itching ears want to hear. They will turn their ears away from the truth and turn aside to myths:" (2 Tim. 4: 1-4).
Finally, and to a church described as "pitiful, poor, blind and naked", we read our Lord's encouraging words of mercy, love and forgiveness:-
(10) "Be earnest and REPENT. Here I am! I stand at the door and knock. If ANYONE" - [that word 'anyone' embraces the greatest of all backsliders] - "hears MY voice and opens the door, I will go in and eat with him, and he with me. To him who OVERCOMES, I will give THE RIGHT TO SIT WITH ME ON MY THRONE …" (Rev. 3: 20, 21).*
*NOTE. The Word of God speaks to us of TWO manifested Kingdoms to be revealed: - (1) the millennial kingdom of Messiah (Rev. 20: 4) upon this earth (Rom. 8: 19-21); and (2) His eternal kingdom - (after He "hands over the [millennial] kingdom to God the Father after he has destroyed all dominion, authority and power:" 1 Cor. 15: 24) - in "a new heaven and a new earth" (Rev. 21: 1). TWO Justifications, - (1) by grace through faith (Rom. 4.); and (2) justification by works: "Was not our ancestor Abraham considered" - [judged by God to be] – "righteous for what he did when he offered his son Isaac on the altar? … "A person is justified by what he does and not by faith alone:" (James 2: 21, 24). TWO general resurrections of the dead, (1) a selective resurrection of reward for those 'considered worthy' (Luke 14: 14; Luke 20: 35; Phil. 2: 11; Heb. 11: 35; Rev. 20:4); and (2) the other,- 'when the thousand years are over' (Rev. 20: 7). TWO general judgments of the regenerate - based upon their works after receiving the "free gift" - to find (1) 'overcomers' from amongst the redeemed - (or the 'Bride' taken out from the 'Body' of the redeemed) - who will rule (as consort queen with Christ) during the Messianic Era; and (2) at the end of that era at the 'Great White Throne', when 'death and Hades gave up the [remaining] dead' and when 'names' will be 'found' written in 'the book of life' (Rev. 3: 21; 20: 11- 15.) See also 1 Cor. 15: 58; Jas. 1: 12; Heb. 10: 35-39; 12: 15-17.*
* See 'SELECTED QUOTATIONS' – No. 576. CLICK HERE.
"The Bible," says R. Govett, "contains the whole truth, the whole counsel of God, His full character. But God's character is two-fold. God is the Just Governor, requiring obedience from His subjects. But He is also a merciful Sovereign, dispensing benefits to His creatures. …
"… But these views are distinct: both broadly true. Scripture maintains them both. Man is ACTIVE. Man is PASSIVE. Man is active, as related to the JUSTICE of God. Man is passive, as related to the SOVEREIGNTY of God.
"How insuperable, without the Gospel view of the cross of Christ, would be the contrary demands of the justice and mercy of God! There, in infinite harmony, appear the perfect justice and the perfect mercy of God. Each attribute shall in the future judgment and award of men, be in as harmonious exercise, as in that wondrous event. But, man could not, without the revelation of the Gospel, have discovered how the antagonist claims of these two attributes should be met, in regard to the sin of men. It is not wonderful then, if, with regard to the harmonious action of those two attributes now, in relation to the conduct and destiny of mankind, we should find difficulty in the attempt to balance and adjust their demands. In attempting it, we have stepped out of our providence. …
"He who will receive but half the truth, is ever liable to revulsions: and these are the most vehement, the more unmingled and one-sided they are. The vehement Arminian, who, by some potent antagonist, or by the force of truth, is convinced of the sovereignty of God, not unfrequently passes into the hard and rigid Cavalinist: and he who begins by making too much of good works, may end, denouncing and reprobating them. The Lord give us a single eye, and the teaching of the Holy Spirit; that each part of His Word may leave its due impression on our judgments, our hearts, and our conduct."
'To know God is to be changed by God.'
All who have experienced conversion in their life know this is true. When the Holy Spirit comes into one's live He gives the believer a new nature with its attendant desires, and strength to live a holy life pleasing to God.
But, like the passengers on board Titanic who heard the ship was 'unsinkable,' this is not the whole truth! The whole truth concerning those who presently have eternal salvation – (through faith alone in the finished work of their Saviour Jesus Christ) - is that some of them, by wilful sin and disobedience, have fallen into a 'lifestyle' even worse than what they had before their conversion! Hence our urgent need not to compromise* with the truth of the gospel; and to be ever mindful of impending judgment and punishment from a holy and righteous God when dealing with unrepentant, disobedient, and regenerate members of His redeemed family:-
* There are pressures to compromise all around us – through our work, family, close friends and in the media. What can keep us strong and enable us to continue in a life of integrity and victory? Belief in the promises and threats of a Holy God; a determination to exercise ourselves in loving obedience to Him; the One who is mindful of our frame and patient and long-suffering with our weaknesses and ignorance; and a desire to grow in the experience and knowledge of His ways, being ever mindful of 'a just recompense of reward'. At what points in your life do you feel pressure to compromise with the truths you now know? Ask God to remind you of the eternal security you have in Him, and the responsible actions He expects to see daily from us throughout your pilgrimage. FOR:-
"We must obey God rather than men. We are witnesses of these things and so is the Holy Spirit, whom God has given to those who OBEY HIM:" (Acts 5: 29, 32). For: "The Son of Man will send out his angels and they will weed out of his kingdom everything that causes sin and all who do evil:" (Matt. 13: 41).
"That servant who knows his master's will and does not get ready or does not DO what his master wants WILL be beaten with many blows." … "From EVERYONE who has been given much, much will be demanded; and from the one who has been entrusted with much, much more will be asked:" (Luke 12: 47, 48).
Addressing Ephesian elders, Paul said: "Be shepherds of the church of God which he bought with his own blood. I know that after I leave, savage wolves will come in among you and will not spare the flock. Even from your own number men will arise and distort the truth in order to draw away disciples" - [i.e., 'Christians' (Acts 11: 26)] - "after them:" (Acts 20: 28-30).
"The acts of the sinful nature are obvious: sexual immorality, impurity and debauchery; idolatry and witchcraft; hatred, discord, jealousy, fits of rage, selfish ambition, dissensions, factions and envy; drunkenness, orgies, and the like. I warn you as I did before, that those who live like this will not inherit the kingdom of God." (Gal. 5: 19-21).
To blunt God's warnings to them, Christians will say:-
"It's a question of interpretation!"
A Calvanistic type of theology has the tendency to 'draw away disciples' from some of God's teachings and many of His threats! This theology is constantly focused on one main object and truth taught throughout the Scriptures – the eternal security of all the regenerate and the 'free gift' of 'eternal life' – made possible by the finished work of Christ: but we read as frequently of another, - the doctrine of reward (Rev. 22: 12) in an 'age' yet to come (Luke 20 35), which depends upon the nature of "our works"!*
*See 'SELECTED QUOTATIONS' No. 5. CLICK HERE.
Truths which God was pleased to bring to light, after being buried for centuries before the 'Reformation', were appropriate for the spiritual life of His Church living in the 'Dark Ages'! Four centuries later, Dr. Clarke, on the last day of his ministry at Terrace Row, stated another true fact when he quoted John Robinson's charge to his congregation:-
"I charge you before God and his blessed angels that you follow me no further than you have seen me follow Christ. If God reveal anything to you by any other instrument of His, be as ready to receive it as you were to receive any truth from my ministry, for I am verily persuaded the Lord hath more truth and light yet to break forth from his holy word."
If we believe what many Christians are teaching today, - that one's failure to maintain good works at some stage after conversion is evidence that, (1) initial and eternal salvation can be lost! Or (2), that eternal salvation was never found in the first instance! – then we must question the position and standing in grace of many great men of faith; even that of one described in Scripture as having followed God with "all his heart" (1 Kings 14: 8)! Was his 'changed lifestyle' 'the ultimate proof of belief'?
"Watch your life and doctrine closely:" (1 Tim. 4: 16, N. I. V.).
Multitudes of the Lord's redeemed people are convinced that their interpretations, beliefs, and practices are all biblical; but the truth of the matter is that some of their beliefs and practices may be BIBLICALLY WRONG! Satan will always feather his arrows with some truth; but the points are coated with deadly doctrinal poison! Poison that has a tendency to rock us into a deep sleep - dreaming that all is secure, and nothing can be lost! If he is not able take from us what God has freely given to us, he will try his utmost to (1) use us to corrupt the gospel of grace by adding our works to it; or (2) prevent us from running in the 'race' to win the 'prize' – where our good works are an essential ingredient for success.
Passengers on board Titanic were certain (in their own minds), that they were on a journey to 'the new world'! But well into it; and at a time when all seemed to be going well - ('Full steam ahead,' Captain's order from the bridge; probably wanting to establish as short a journey time as possible - and after ignoring numerous warnings of icebergs!) - their hopes and dreams of getting there lay scattered on the ocean floor! Is there not a 'titanic lesson' here for us?
It's absolutely true that all who are regenerate are predestined to 'eternal life' – the eternal salvation we presently have, guarantees us an eternal inheritance in "a new heaven and a new earth" (Rev. 21: 1): but that is not synonymous with an 'inheritance' upon this earth – a future 'rest' which we must "take hold of" if it is to be enjoyed "a thousand years" beforehand: Heb. 4: 11; 1 Tim.6: 19, R.V.; Rev. 20: 4!
Very seldom do we hear much about God's encouragements coupled with His warnings relative to 'the Gospel of the Kingdom'! Why? Because Christians usually equate being in 'the kingdom' with being saved by grace! 'Christ is now reigning in our hearts' they might say, 'and therefore we are now His subjects in His kingdom in a spiritual sense: that's what is meant when we read everywhere in the scriptures about 'the kingdom of God'!
Now this interpretation is partly true because when the Holy Spirit comes into our life, He gives us the desire and strength to live to please Christ: we are, in a spiritual sense, subjects in His Kingdom now; but Messiah is not bodily present upon this earth now; nor is He reigning on David's throne now!
"He will be great and will be called the Son of the Most High. The Lord God will give him the throne of his father David, and he will reign over the house of Jacob:" (Luke 1: 32).
This cannot possibly happen until the time comes for Jesus to return to this earth, establish His millennial kingdom, and rule personally upon this earth in righteousness and peace!
"He will judge* between the nations and will settle disputes for many peoples. They will beat their swords into ploughshares and their spears into pruning hooks. Nation will not take up sword against nation, nor will they train for war any more:" (Isa. 2: 4).
* Contrast this future judgment of Messiah/Christ with His attitude in Luke 12: 14.
Today we have an increasing numbers of Anti-Millennialists. They are all adamant that there will never be a millennial reign of Messiah upon this earth! If we interpret the Scriptures as they do, we must neglect the Lord's warnings to His 'disciples' at our peril! and accept their false interpretation – one which will transfer all of Christ's warnings to 'disciples' upon someone else - probably unto Jews! The Jews - the privileged people of God, who fulfilled Divine prophecies when they crucified their Messiah (John 1: 11)! They must be the people who are being addressed and threatened by God!
Blinded by a system of false interpretation, and coupled to a theology which ignores truths having to do with an 'entrance' into Christ's Millennial Kingdom, the A-millennialists tell us that God is completely finished in His dealings with Israel and the Jews! The Apostle Paul must have been mistaken when writing his epistle to the Romans (Rom. Ch.11)!
How popular this spiritializing and allegorizing method of interpretation has become amongst all classes of Christians today! It is getting multitudes 'hooked line and sinker' by what it teaches: 'Resurrection' is really 'Regeneration'!
"For I tell you" - ['disciples' vv. 1, 2] - "that unless YOUR RIGHTEOUSNESS surpasses that of the Pharisees and the teachers of the law, you will certainly not ENTER* the kingdom of heaven:" (Matt. 5: 20, N.I.V.).
* See 'SELECTED QUOTATIONS' no. 318, - 'Exclusion from the Kingdom.' CLICK HERE.
"Not everyone who says to me, 'Lord, Lord,' will enter the kingdom of heaven, but only he who does the will of my Father who is in heaven. Many will say to me on that day, 'Lord, Lord, did we not prophesy in your name, and in your name drive out demons and perform many miracles?' Then I will tell them plainly, 'I never knew you. Away from me, you EVILDOERS':" (Matt. 7: 21-23).*
* The word 'evildoers' may appear to many Christians as not an appropriate description of 'disciples' of Christ; but an unbiased reading of the Scriptures, and a conscious awareness of our sinful nature – (still very much active and remaining with us; and which needs to be put to death daily) - should be evidence and proof enough of an accurate description of our fallen human nature! A humble believer, very much aware of his sinful nature and the possibility of falling foul through the weakness of sinful flesh and blood, once looked at the pitiful condition of another and said: "But for the grace of God there go I". Satan spoke through Peter immediately after Peter uttered the truth concerning who our Lord Jesus was; and Jesus rebuked Satan for speaking through Peter shortly afterwards! At the Supper, Satan entered into Judas, and Jesus called him "a devil"! And "A changed lifestyle" occurred in the lives of all the apostles of Christ when they forsook Him and fled! Let us therefore:-
"Make every effort to live in peace with all men and to be holy; without holiness no-one will see the Lord:" (Heb. 12: 14). "Do not be carried away by all kinds of strange teachings" (verse 9). "Brothers, I urge you to bear with my word of exhortation:" (verse 22).
Again: "I have forgiven them [apostate Israel], as you asked. Nevertheless, as surely as I live and as surely as the glory of the Lord FILLS THE WHOLE EARTH, not one of the men who saw my glory and the miraculous signs I performed in Egypt and in the desert but who disobeyed me and tested me ten times – not one of them will ever see the land I promised on oath to their forefathers. No one who has treated me with contempt will ever see it." … "I, the LORD have spoken, and I will surely do these things to this whole WICKED community, which has banded together against me. They will meet their end in this desert; here they will die:" (Num. 14: 20-23, 35, N.I.V.)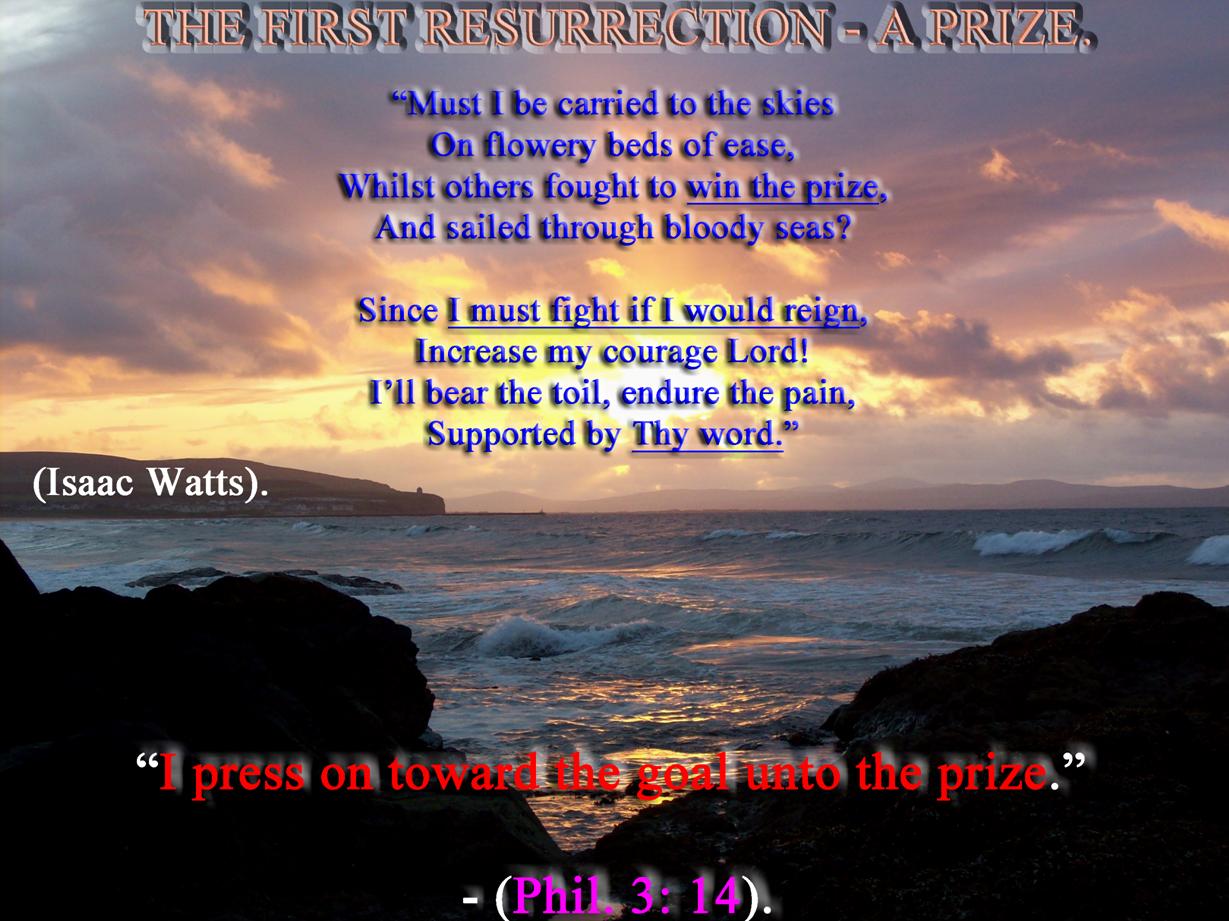 "Those who are CONSIDERED WORTHY OF TAKING PART IN THAT AGE and IN THE RESURRECTION [OUT] FROM THE DEAD" – [i.e., from the underworld of 'Hades' where the souls of the dead are presently waiting for our Lord's return and the time of resurrection, when they will be reunited to immortal bodies from the grave, (Luke 16: 23; Matt. 16: 18; 1 Thess. 4: 16.)] – "… can no longer die; for they are like the angels:" (Luke 20: 35, 36). cf. Rev. 6: 9-11.
And again:- "To him who OVERCOMES, I will give the right to sit with me on my throne, just as I overcame and sat down with my Father on his throne. He who has an ear, let him hear what the Spirit says TO THE CHURCHES:" (Rev. 3: 21).
"Others were tortured" - [lit. Greek, – 'beaten to death'] – "and refused to be released, so that they might gain" - [be considered worthy of] - "a better resurrection:" (Heb. 11: 35b). cf. Phil. 3: 10, 11. "Co-heirs with Christ if indeed we share in his sufferings in order that we may also share in his glory:" (Rom. 8: 17b).
A Spiritual Resurrection
"The work of the pulpit is a desperately serious business, twenty minutes to raise the dead, and demands the best that is in us." Truer words were never spoken from the lips of Dr. Clarke! But what does he mean by the words: "twenty minutes to raise the dead"? Obviously must refer to: (1) those who attend his ministry regularly but remain spiritually dead! Or (2) – (as I am inclined to believe) - he is probably addressing some regenerate believers who have no spiritual energy or growth in their lives! Being either in a backslidden state, immature, forgetful, unbelieving, or totally ignorant of the Scriptural doctrine of REWARD (Acts 8: 12, 18-23; 2 Tim. 4: 14)!
"The SPIRIT gives life; the flesh counts for nothing." … "Yet there are some of YOU - [i.e., 'disciples' (v. 61)] - who do not believe. For Jesus had known from the beginning which of them did not believe and who would betray him:" (John 6: 63, 64).
Israel believed Moses – God's spokesman - in Egypt at Passover time; but at Kadesh Barena on the edge of the 'Promised Land,' their faith failed and they lost their earthly inheritance! Is there not a 'titanic lesson' in all of this for us: (1 Cor. 10: 6-11)?*
* God will render to each of us a "just recompense of reward"(Rev. 2: 24)! All believers not indwelt by the Holy Spirit (Acts 5: 32; John 15: 1, 6, 10), can be described as 'Dead' (Rev. 3: 1)! If we become disobedient and unwatchful, each and every one of us can fall into this death–state–category! When this occurs – and I can assure you from my personal experience it does happen – we are desperately in need of the Holy Spirit to energise us and arouse our interest in (1) our responsibilities before God "as servants," (1 Cor. 4: 1, 2); (2) to His encouragements, (Heb. 10: 35; Jas. 1: 12, 18); and (3) to fear His severe threats, which must be hanging over all who are content to remain unrepentant, lethargic and disobedient, (Rev. Rev. 2: 14-16; Rev. 2: 22, 23; 3: 16, 19.)!
"I am the vine and my Father is the gardener. He CUTTS OFF EVERY BRANCH IN ME that bears no fruit, while every branch that does bear fruit he trims clean so that it will be even more fruitful." … "Remain in me and I will remain in you:" (John 15: 1, 4).
"He who is not with me is against me, and he who does not gather with me scatters. When an evil spirit comes out of a man, it goes through arid places seeking rest and does not find it. Then it says, 'I will return to the house I left.' When it arrives, it finds the house swept clean and put in order. Then it goes and takes seven other spirits more wicked than itself, and they go in and live there. And the final condition of that man is worse than the first:" (Luke 11: 23-26).
"Anyone who lives on milk, being still an infant, is not acquainted with the teaching of righteousness. But solid food is for the mature, who by constant use have trained themselves to distinguish good from evil. Therefore let us leave the elementary teachings about Christ and go on to maturity: …" (Heb. 5: 13-6: 1).
"Whatever you do, work at it with all your heart, as working for the Lord, not for men, since you know that you will receive an INHERITANCE from the Lord as a REWARD. It is the Lord Christ you are serving. Anyone who does wrong will be REPAID FOR THE WRONG" - [Can we expect a just Judge to act any other way!] - "and there is no favouritism: *" (Col. 3: 23, 24).
*See 'SELECTED QUOTATIONS' No. 460, - 'The Danger of an Exasperated Spirit.' CLICK HERE.
* * *
2. OUR 'HOPE' OF ATTAINING
MILLENNIAL 'GLORY'
"For the grace of God that brings salvation has appeared to all men. It teaches us" - [who are regenerate] - "to say 'No' to ungodliness and worldly passions, and to live self-controlled, upright and godly lives in this present age, while we WAIT for the blessed HOPE – the glorious appearing" - [i.e., "the appearing of the glory" R.V.] - "of our great God and Saviour, Jesus Christ who gave himself for us to redeem us from all wickedness and to purify for himself a people that are his very own, eager to do what is good. These are the things you should teach. Encourage and rebuke with all authority. Do not let anyone despise you:" (Titus 2: 11-15).
In other words, instead of continually looking back at the death of Christ and all the benefits we receive daily from faith in Him, we should be living holy lives pleasing to God, and looking forward to the time when His GLORY will be revealed throughout the whole world, (Isa. 55: 11-13; Jer. 30: 8, 9; Luke 22: 28, 29; Rom. 8: 19-21; Rev. 20: 4, etc.). For us to hope for something which God says we presently have - (i.e., eternal life, justification by faith, redemption by blood, etc.) - is unbelief; and to assume the prize, the inheritance and the crown will be given to all who are regenerate is unbelief:-
"Do you not know that in a race all the runners run, but only one gets the prize? Run in such a way as to get the prize. … Therefore I do not run like a man running aimlessly; I do not fight like a man beating the air. No, I beat my body and make it my slave so that after I have preached to others, I myself will not be disqualified for the prize:" (1 Cor. 9: 24, 26, 27).
"I am coming soon. Hold on to what you have, so that no-one will take your crown:" (Rev. 3:11).
"So do not throw away your confidence; it will be richly rewarded. You need to persevere so that when you have done the will of God, you will receive what he has promised. For in just a very little while, 'He who is coming will come and will not delay. But my righteous one will live by faith. And if he shrinks back, I will not be pleased with him. But we are not of those who shrink back and are destroyed, but of those who believe and are saved*:" (Heb. 10: 35-39).
*NOTE. Lit. Greek reads, - "but of faith to possession of soul"; the A. V. reads, - "That believe to the saving of the soul"; the R. V. reads, - "of them that have faith unto the saving of the soul."
Many Christians do not understand what is involved in the words, - "receiving the goal of your faith, the salvation of your souls" and "the glories that would follow" (1 Pet. 1: 9, 11): and those who do, doggedly refuse to expound them even when requested to do so! The fear of man would appear to be greater than the fear of God! But would it not be prudent for us to fear God and obey Him instead of seeking to please man? We need to be asking God for grace, courage and a better understanding of what the above Scriptures teach!
'The ultimate proof of belief is Repentance.'
How true this is relative to receiving initial and eternal salvation though 'faith' (= 'belief') in Jesus Christ - God's one and only means whereby anyone can find and receive eternal salvation: and God gives 'Repentance' to all who have this salvation, (Acts 11: 17, 18)!
Much error is being taught today about the eternal 'salvation,' and the benefits Christians receive from having received it! For example, the gospel of grace is constantly being corrupted by some who say 'good works,'+'perseverance'+'repentance' are all necessary for us to keep hold of it!
But the word 'salvation' does not always refer to what Christians presently have! That purchased salvation - "the salvation we share" or the "common salvation" (Jude 3) - cannot be lost: but there is (2) a present aspect to salvation also – being saved daily from the power of sin in our lives; and (3) a future aspect to salvation described at the time of resurrection as: "the salvation of the soul" (1 Pet. 1: 9. cf. Matt. 16:18; Acts 2: 27, 34; Rev. 6: 9-11; Heb. 10: 39, etc ).*
* Most Christians appear to have forgotten these last two realities - one present and the other future. The present reality is the power of Jesus among them today - the same Jesus who is always willing to fellowship with those walking in obedience to His precepts (Matt. 5: 3-11); and the future reality – of eating and drinking with Him at His table in His Kingdom, and sitting on thrones: Luke 22: 30.
"Produce fruit in keeping with repentance … and every tree that does not produce fruit , will be cut down and thrown into the fire:" (Luke. 3: 8, 9).
"I preached that they should repent and turn to God and prove their repentance by their deeds:" (Acts 26: 20).
"I see that my letter hurt you but only for a little while – yet now I am happy, not because you were made sorry, but because your sorrow led you to repentance. … Godly sorrow brings repentance that leads to salvation" - [i.e., a future salvation, - 'the goal of your faith, the salvation of the souls.' (1 Pet. 1: 9.)] - "and leaves no regret:" (2 Cor. 8-10).
"Flee the evil desires of youth and pursue righteousness, faith, love and peace, along with those who call on the Lord out of a pure heart. … The Lord's servant must not quarrel, instead, he must be kind to everyone, able to teach, not resentful. Those who oppose him" – [like 'Hymenaeus and Philetus, who have wandered away from the truth,' by teaching others that the resurrection has already taken place! (verse 18)] – "he must gently instruct, in the hope that God will grant them repentance* leading them to a knowledge of the truth, and they will come to their senses and escape from the trap of the devil, who has taken them captive to do his will:" (2 Tim. 2: 22-26).
* Note. Peter was granted 'repentance'; others were not! (See Acts 5: 1-11; Heb. 12: 17, 25).
"It is impossible for those who have once been enlightened, who have tasted the heavenly gift, who have shared in the Holy Spirit, who have tasted the goodness of the word of Gad and the powers of the coming age, if they fall away, to be brought back to repentance, because ('while') to their loss they are crucifying the Son of God all over again and subjecting him to public disgrace. Land that drinks in the rain often falling on it and that produces a crop useful to those for whom it is farmed receives a blessing from God. But land that produces thorns and thistles is worthless and in danger of being cursed. In the end it will be burned." … "We want each of you to show this same diligence to the very end, in order to make your hope sure. We do not want you to become lazy, but to imitate those who through faith and patience [patient endurance] INHERIT what has been promised:" (Heb. 6: 4-8, 11, 12).
THE INHERITANCE BELONGING TO
FIRSTBORN SONS CAN BE LOST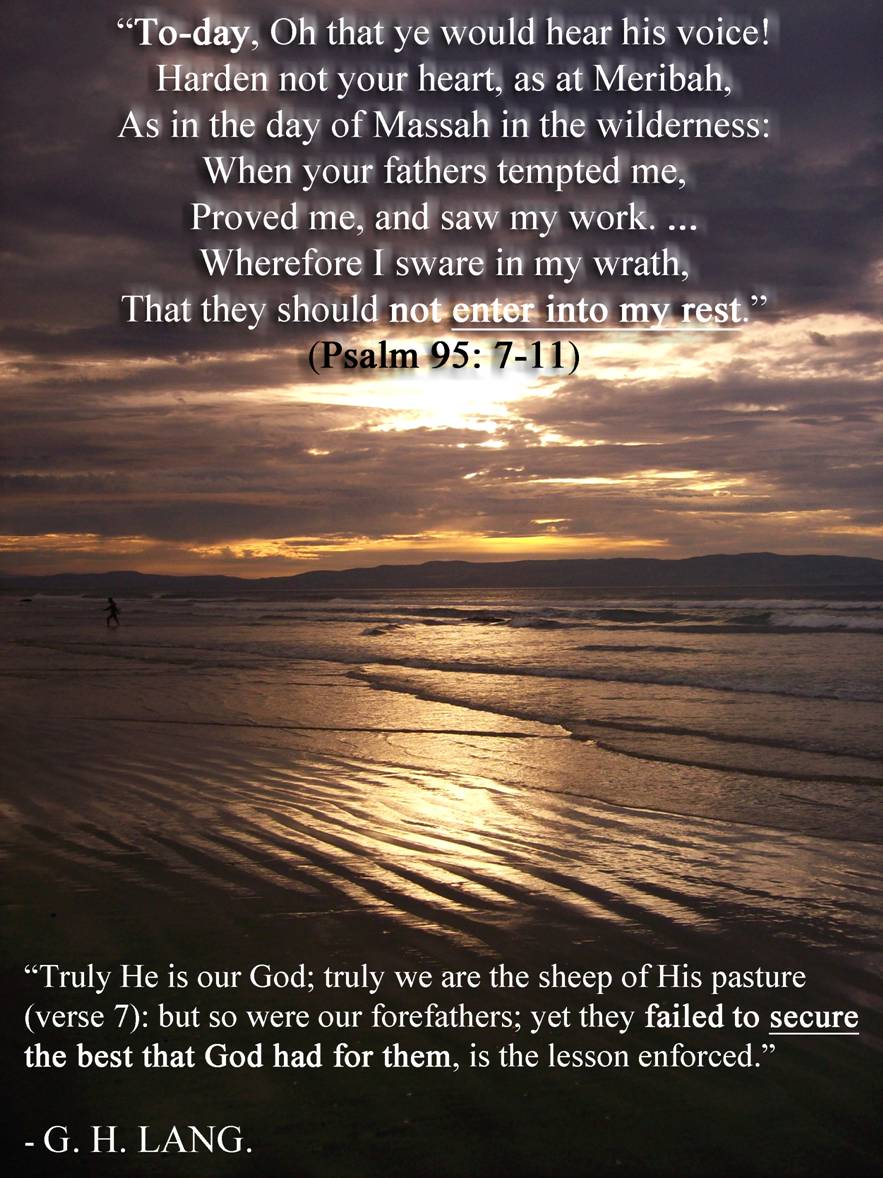 "It will hardly be denied that all Christians are not 'overcomers', says W. P. Clarke. 'Even the Apostle Paul had to run, fight, and buffet his body lest that by any means after being a herald he himself should be rejected – disqualified for the Prize; and so, "forgetting those things that are behind", he "pressed towards the mark for the Prize of the high calling of God in Christ Jesus". If the chief Apostle was in danger of losing his Crown, how much more we! A gift once received from God is certain, and so eternal life: not so a prize – as the Millennial Kingdom – which can never be assured until won.' "*
* See 'SELECTED QUOTATIONS' No. 318. CLICK HERE.
One thousand five hundred and seventeen passengers lost their lives on a ship "designed by experienced engineers, using some of the most advanced technologies and extensive safety features of the time." They believed Titanic was 'unsinkable'! A host of circumstances - all of which were brought about by human decisions which were outside of their control - contributed to the unforgettable disaster! The following is an account of four selected ones:-
"On the night of Sunday, 14th April 1912, (1) the moon was not visible in the clear sky being two* days before new moon; the temperature** had dropped to near freezing, and the ocean was flat. Captin Smith, in response to iceberg warnings received via wireless over the preceding few days, (2) had drawn up a new course which took the ship slightly further southward. That Sunday at 1.45 P.M., a message from the steamer AMERIKA warned that large icebergs lay in TITANIC'S path, (3) but because wireless radio operators Jack Phillips and Harold Bride were employed by Marconi, and paid primarily to relay messages to and from the passengers, they were not focused*** on relaying 'non-essential'**** ice messages to the bridge. Later that evening, another report of numerous large icebergs, this time from MESABA, also (4) failed to reach the bridge."
* "Two" - Hosea 6: 2. cf. John 11: 6; 2 Pet. 3: 8; Luke 11: 35; Acts 28: 30, 31.
** "Temperature" - cf. Rev. 3: 15.
*** "Not focused" – cf. 1 Cor. 1: 12, 13.
**** "Non-essential messages" – cf . 2 Tim. 2: 17, 18; 1 Tim. 4: 1; 2 Pet. 3: 3, 4; 2 John 9, 10; Jude 4.
* * *
3. CONCLUDING REMARKS
In Philip Mauro' book 'God's Pilgrims,' he wrote:-
"Another 'Day' is soon coming; indeed we can clearly see it approaching. In that day it will be too late to give heed to the exhortations found in this portion of God's Word, and to gain the recompense of the reward that depends upon the heed given thereto. …
"It may be of interest to the reader to learn that the writing of this book was begun and finished on the memorable voyage of the Steamship Carpathia which was interrupted by the rescue of the survivors of the Titanic, and by the return with them to the port of New York. This is not the place to speak of the harrowing scenes and distressing incidents of the four days of that return trip. But that event – the sudden and dramatic overthrow of the largest and greatest human achievement of its kind, the most conspicuous object in the world – which stirred all Christendom to an unprecedented degree, served to impress powerfully upon the writer's mind the truth that the day is at hand for the shaking of all things, when the loftiness of man shall be bowed down, and the haughtiness of men shall be made low; and they shall go into the holes of the rocks, and into the caves of the earth for fear of the LORD and for the glory of His majesty, when He ariseth to shake terribly the earth. The destruction of the Titanic is a foreshadowing of what is about to happen to the great 'civilization' upon which man has expended his energies, and in which he puts his confidence. For the unconverted, the obvious lesson of this tragic event is to inquire concerning the lifeboat. But there is also solemn and important lessons in it for the saints of God. Some of these lessons the writer has endeavoured to set forth ...
SS. Carpathia, May 2, 1912."
"AND THERE WAS NO MORE SEA"*
*"The Ocean, God's instrument of wrath at the flood – 'the un-plumb'd, salt, estranging sea' – disappears from the new earth. These lines, written by Capt. A. S. Hare of H.M.S. Eurydice, have an unutterable pathos lent to them by the fact that, on March 24, 1878, their author himself went down in the Eurydice with three hundred of his men. Capt. Hare coupled together Jeremiah 49: 23 – "There is sorrow on the sea; it cannot be quiet" – with Revelation 21: 1 – "And there was no more sea." – D. M. P.
I stood on the shore of the beautiful sea,
As the billows were roaming wild and free;
Onward they came with unfading force,
Then backward turned in their restless course;
Ever and ever sounded their roar,
Foaming and dashing against the shore;
Ever and ever they rose and fell
With heaving and sighing and mighty swell;
And deep seemed calling aloud and deep,
Lest the murmuring waves should drop to sleep,
In summer and winter, by night and by day,
Through clouds and sunshine holding their way.
Oh! when shall the Ocean's troubled breast
Calmly and quietly sink to rest?
Oh! when shall the waves' wild murmuring cease
And the mighty waters be hushed to peace?
It cannot be quiet, it cannot rest;
There must be heaving on Ocean's breast;
The tide must ebb, and the tide must flow,
Whilst the changing seasons come and go!
Still from the depths of that hidden store
There are treasures cast up along the shore,
Tossed by the billows, then seized again,
Carried away by the rushing main.
Oh! strangely glorious the beautiful sea,
Sounding forever mysteriously,
Why are the billows still rolling on,
With their wild and sad and musical tone?
Why is there never repose for thee?
Why slumberest thou not, thou mighty sea?
Then the Ocean's voice I seemed to hear
Mournfully, solemnly, sounding near,
Like a wail sent up from the caves below,
Fraught with the sound of human woe;
Telling of loved ones buried there,
Of the dying shriek, of the dying prayer;
Telling of hearts still watching in vain
For those who shall never come again;
Of the widow's groan, the orphan's cry,
And the mother's speechless agony.
With such secrets hidden within its breast:
There is sorrow written upon the sea,
And dark and stormy its waves must be,
It cannot be quiet, it cannot sleep,
That dark, relentless, and stormy deep.
But a 'DAY' will come – a blessed day,
When earthly sorrow shall pass away,
When the hour of anguish shall turn to peace,
And when the roar of the waves shall cease;
Then out from its depths and darkest bed
Old Ocean shall render up her dead,
And freed from the weight of human woes
Shall quickly sink in her last repose.
No sorrow shall ever be written then
On the depths of the sea or the heart of men,
But heaven and earth renewed shall shine,
Still clothed in glory and light Divine.
Then where shall the billows of Ocean be?
Gone! for in 'Heaven' shall be "no more sea."
'Tis a bright and beautiful thing of earth,
That cannot SHARE IN THE SOUL'S NEW BIRTH,
'Tis a life of murmur and tossing and spray,
And at resting time it must pass away.*
But oh! thou glorious and beautiful sea,
There is health and joy and blessing in thee;
Solemnly, sweetly, I hear thy voice,
Bidding me weep and yet rejoice.
Weep for the loved ones buried beneath,
Rejoice in Him who has conquered death;
Weep for the sorrowing and tempest-tossed,
Rejoice in Him who has saved the lost;
Weep for the sin, the sorrow and strife,
And rejoice in the hope of eternal [age-lasting] life.
* "Then I saw" - (after 'the thousand years') – "a new heaven and a new earth, for the first heaven and first earth had passed away, AND THERE WAS NO LONGER ANY SEA:" Revelation 21: 1, N.I.V.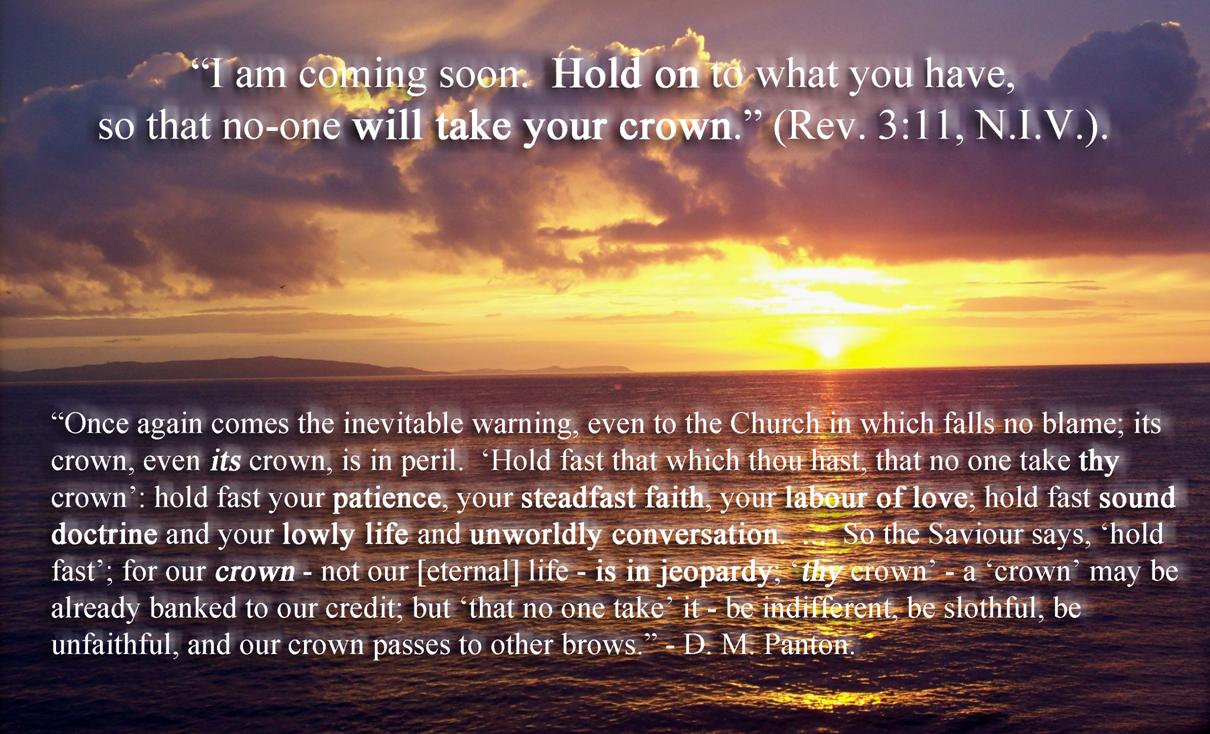 "This is the most glorious of all times for the preacher to magnify his ministry. The preacher of to-day needs the courage of a Luther, the compassionate spirit of a Phillips Brooks, the tireless industry of a John Wesley, the missionary passion of an Adoniram Judson, the force and fire of a Savonarola. And there can be no fire in the pulpit unless the preacher starts it and is willing to be consumed by the conflagration."
- EDGAR D. JONES.
"If the church is at bay, it is not because she has no gospel, but because she has whittled out of it every disquieting and warning element, and has preached a 'God of love' who is little more than an everlasting amiable stream of tendency. Yet that is not the God of the Bible, and it is certainly not the God of Calvary. Whenever the New Testament thinks of the Cross, it is as something that intervenes, in the Divine mercy, for all who will accept it, between men and something too terrible for words."
- Dr. G. STANLEY RUSSELL.
"After a wild youth at sea,"* W. P. Nicholson was converted and subsequently studied at the Bible Training Institute in Glasgow. Throughout his ministry, it was said that thousands were converted and "the moral tone of Northern Ireland and in particular Belfast, was raised." In the foreword in his book, 'To Win the Prize' he wrote the following:-
[* Note. On the following picture of W. P. Nicholson's book are added the words, 'IS ESSENTIAL.' This is because the 'Spirit-filled life' is NOT the Prize! It most certainly is needed to win the Prize; but the Prize is the 'Crown', the 'Kingdom of God', - the Millennial 'inheritance' of the saints – all of which can be lost by the unbelieving and disobedient Christian!]
"We are truly living in 'Perilous times.' These are the 'Last days,' the 'Love of many waxing cold,' sinners deceived and deluded by a gospel which is not 'The Gospel' into a false security. … I believe messages … are needed to sound a note of warning alarm. Their language is clear, plain and not easily misunderstood. … These are messages here for spirit-born, blood-washed believers, declaring the urgent necessity for a sanctified, spirit baptized experience, if we are to live holy, happy, useful soul-saving lives, worthy of the Lord unto all pleasing. There is no substitute for this blessing. It is the birthright privilege of every believer. Just as truly as regeneration is a necessity to a justified saved life, so sanctification is just as necessary for a victorious, holy life."
- W. P. Nicholson.
That Christians are to be lovers of pleasure rather than lovers of God is foretold, and already experienced, as the sure sign of a dying age.
"Jenny Lind, appearing as an actress in 1847, created a profound sensation; but suddenly she renounced the stage for the concert, to sing for charity. Years afterwards a friend ventured to ask her the reason. 'Why did you leave the stage?' she enquired. Jenny Lind was sitting with her Bible on her knee. 'Because,' she said, touching the Bible, 'it left me so little time for this.' And then, looking at the sunset, she added, 'and none for that.'"
The Bible says there's a 'race' to run and a 'crown' to be won; the Bible says that if you and I lose our life for Christ's sake we'll find it again! But if we're trying to make ourselves happy outside of the will of God, we'll one 'day' be amongst the most miserable people of God; but if we'll lose our life now – lose it in a godly cause – we'll find it again when Jesus returns; and - (in that "day", 2 Pet. 3: 8) - we'll be amongst the happiest people in heaven and on earth!* I know we can't be any happier than when we're in the perfect will of God. That's where I want to be; I haven't got there yet, but that's where I want to be. I know what the 'prize' is; I know what the Bible says it is; I know what I must do to win it, and by God's grace that's my goal: but for now I'm working on the mile I'm on! How about you? You and I haven't arrived yet, so let's keep our eyes fixed on the ultimate, and be asking Jesus for the grace and strength to run according to the rules, and to be allowed to successfully finish the 'race' we're on step by step.
* That is, after resurrection - never before – Jesus says of those who are to be resurrected, that they will be 'like the angels'! That is, able to ascend into the heavens and descend to earth! This has not yet happened; but is this not what our Lord said will and must happen when expounding for us Jacob's dream? Compare Gen. 28: 12-15 with Luke 20: 35. *
*See 'SELECTED QUOTATIONS' No. 336, - 'Run for the Prize' CLICK HERE.
Oh! I almost forgot to mention this: If anyone reading this tract hasn't yet found eternal salvation through faith in the Lord Jesus Christ they're still on the losing team! They're not even at the starting line! Ask Jesus Christ to be your personal Saviour, and then start running in the race of the faith - not to keep hold of 'eternal life' - but to 'win' the 'prize' - an 'inheritance' in the 'age' to come.
"One ship drives East,
And one drives West,
With the self-same winds that blow;
'Tis the set of the sail
And not the gale
That determines the way they go.
Like the winds of the sea
Are the winds that blow
As we journey along through life;
'Tis the set of the soul
That determines the goal
And not the storms and strife."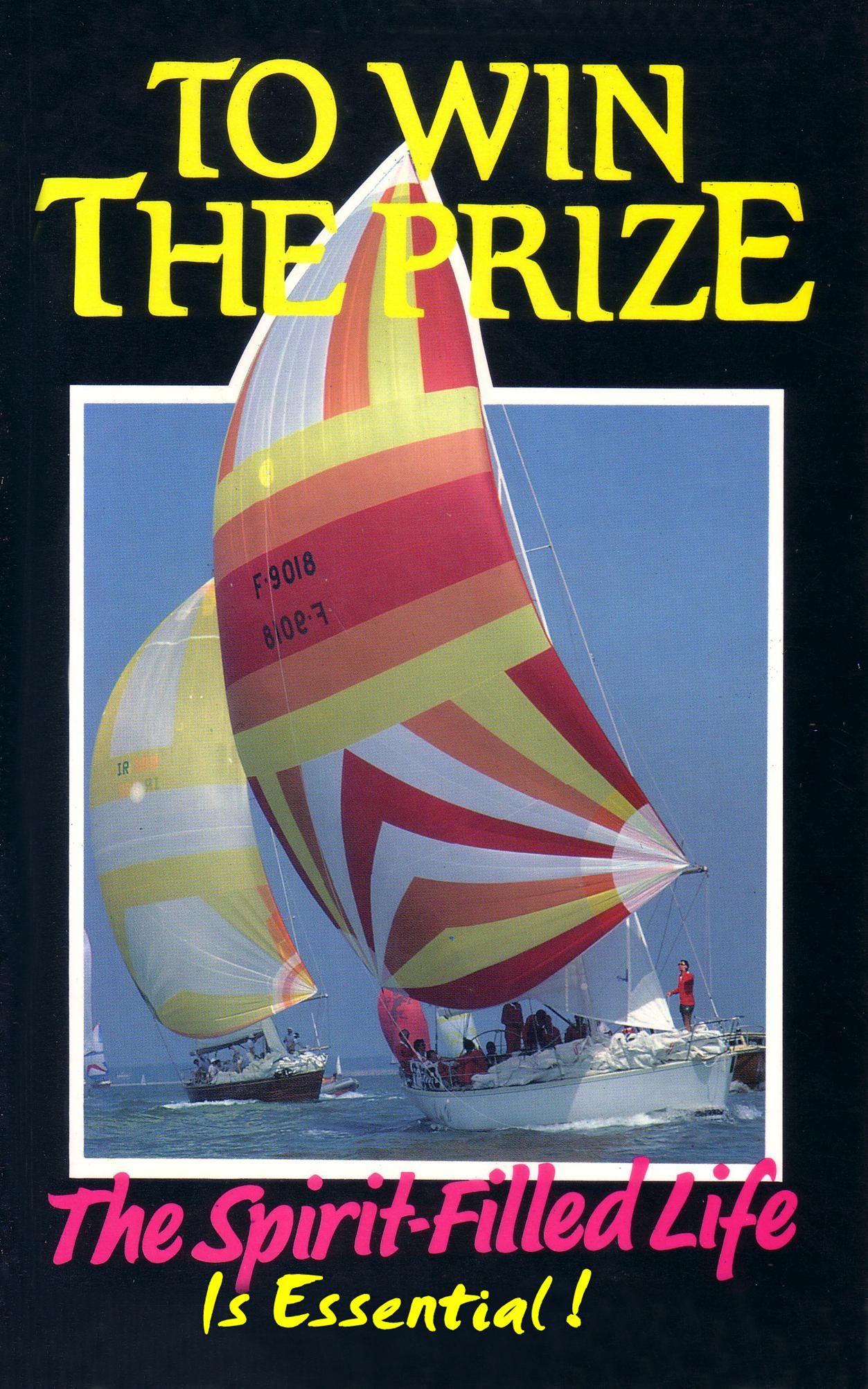 "… We have seen no recent study so exhaustive and so Scriptural of the searching investigation that awaits us all as believers. The opposition to this truth is excessively unwise because the denial or neglect of a fact ahead can involve a lifelong tragedy of un-preparedness. 'If a man contend in the games, he is not crowned, except he have contended LAWFULLY' (2 Tim. 2: 5) - that is, according to the rules prescribed and it is obvious that a doubt if there be any race-track at all, or a denial that we should be running for a prize, must jeopardize every condition of coronation, and is quite likely to reduce our running to zero. We are glad that Mr. Francis includes the supreme prize:- The 'authority over ten cities (Luke 19: 17) refers to the millennial period when the true and faithful steward will receive divine authority and power, and will be called to that honoured position of assisting Christ in the government of the world.' "
"Blessed partakers in this consummation!
Throughout life's race they did eager contend,
Aye pressing on in 'the hope of salvation,'
On toward the Mark for the Prize at the end.
Lord! grant us grace, through Thy Spirit of Power,
Constant to dwell in Thee through life's short day.
With 'fear and trembling,' until its last hour,
Steadfastly watching in prayer, that we may." -
"… throw off every weight that hinders and the sin that so easily entangles, and let us run with perseverance the race marked out for us. Let us fix our eyes on Jesus, the author and perfector of our faith, who for the joy set before him endured the cross, scorning its shame, and sat down at the right hand of the throne of God. Consider him who endured such opposition from sinful men, so that you will not grow weary and lose heart:" (Hebrews 12: 1-3, N.I.V.)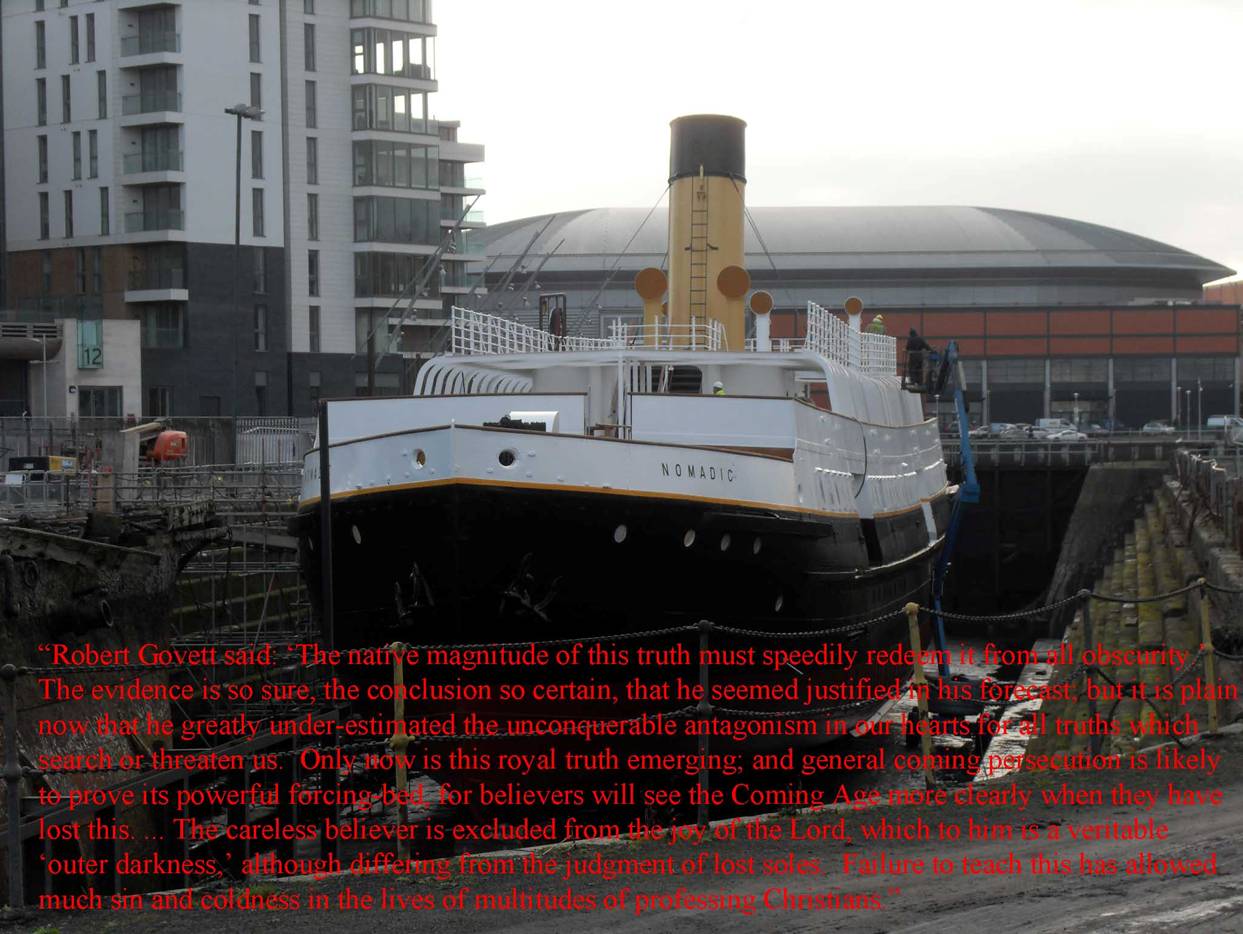 "A vessel named the Thetis was cruising in the Mediterranean in search of an uncharted shoal. The captain, having failed to locate it, abandoned the enterprise, but an officer on board, who formed a different judgment, afterwards discovered a reef of rocks, which he reported at the Admiralty, and it was inserted in the charts. The intelligence came to the captain's ears. 'The whole thing is a falsehood,' he exclaimed; adding, 'If ever I have the keel of the Thetis under me in those waters again, if I don't carry her clean over where the chart marks a rock, call me a liar, and no seaman.' Two years after, he was conveying, in the same vessel, the British Ambassador to Naples. One windy night he and the master were examining the chart on deck by the light of a lantern, when the latter pointed out the sunken rock on the map. 'What,' exclaimed the old seaman, 'is this invention to meet me in the teeth again? I swore I would sail over the spot the first chance I had, and I'll do it.' He went down into the cabin, merrily related the story to the company, and said,- 'Within five minutes we shall have passed the spot.' There was a pause. Then, taking out his watch, he said, 'The time is past! We have gone over the wonderful reef.' But, a moment after, a grating touch was felt on the ship's keel; then a sudden shock - a tremendous crash - the ship had foundered. The captain was last seen a white figure, bareheaded, and in his shirt, on the dark hull of the Thetis, as the foam burst round her sinking bows. He perished, a victim of unbelief." (Panton.)