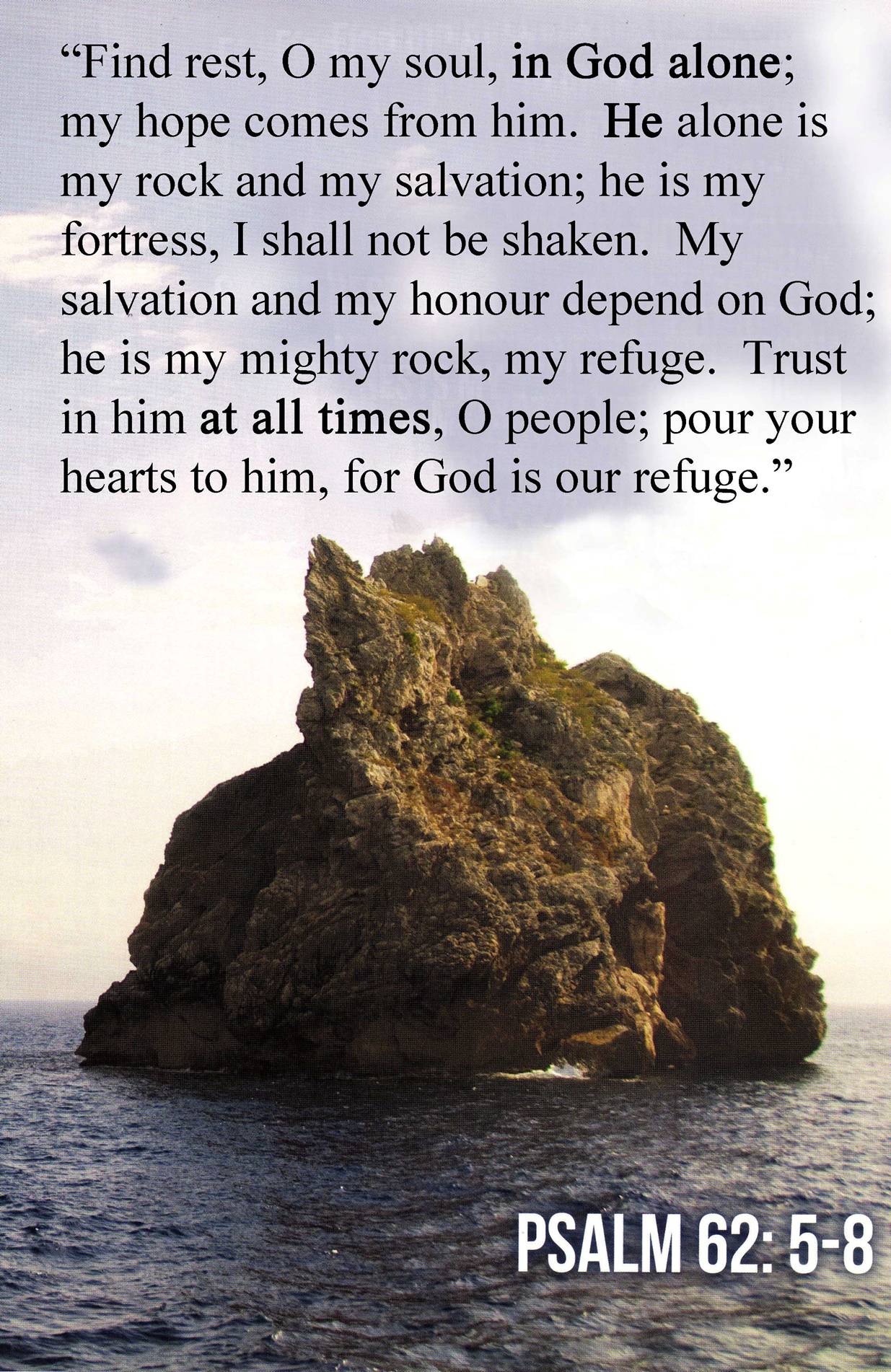 THE SIXTY-SECOND PSALM
By
ARNO C. GAEBELEIN
INTRODICTION
Who is the king, whose vows are heard, who has received an inheritance, whose days are prolonged and who dwells in God's presence for ever? Most Christian expositors say the king is David. Though David speaks, yet prophetically another king is meant. According to the Targum, the ancient Jewish comment, the king is "King Messiah," and this is the correct interpretation. Here [in Psalm 61] we read that God heard His vows. He came to redeem. He came for that one great purpose, to devote Himself to the work of redemption. This was His vow, "to do His will," the eternal salvation will of God, to make purification of sins by the sacrifice of Himself. And so "in the days of His flesh when He had offered up prayers and supplications with strong crying and tears unto Him that was able to save Him out of death, and was heard in that He feared" (Heb. 5: 7). He was heard when God raised Him [out] from among the dead and gave Him the heritage, making Him heir of all things, which also belongs to those that fear His Name. And therefore His days are prolonged, His years, as the glorified Man, from generation unto generation. It corresponds to Isaiah 53:10: "When Thou shalt make His soul an offering for sin, He shall see His seed, He shall prolong His days, and the pleasure of Jehovah shall prosper in His hand."
He dwells, and [all] the redeemed ones [will be] with Him, in God's presence forever. It reminds us of the last verse of the sixteenth Psalm: "Thou wilt show Me (Christ) the path of life; in Thy presence is fullness of joy; at Thy right hand there are pleasures forevermore."
And the King will reign in glory over [and upon] the [this] earth. The sentence "Loving-kindness and truth do Thou appoint to preserve Him" has been rendered differently. It may be interpreted as the prayer of the redeemed Israel for their King. The last verse seems to give the same statement as Psalm 22: 25: "My praise shall be of Thee in the great congregation; I will pay my vows before them that fear Him."
-------
PSALM 62
The inscription of this Psalm is the word "Jeduthun." As a Psalm of David it reveals unto us the faith and confidence the king had in God. This faith life and dependence upon God, that he constantly sought His face and trusted in Him, made him the man after God's own heart. And so can we be men and women after God's own heart by living the life of faith and of dependence. "Scarcely anywhere do we find faith in God more nobly asserted, more victoriously triumphant; the vanity of man, of human strength and riches, more clearly confessed; courage in the midst of peril more calm and more unshaken, than in this Psalm, which is as forcible in its conception, and its language, as it is remarkable for the vigorous and cheerful piety it breathes" (Perowne). For this reason it is one of the most beloved of the Psalms by Christian believers. And how many have learned to say with David, looking away from man, "My expectation is from Him" and again "He only is my rock."
Prophetically this Psalm also reveals again the faith and trust of the godly remnant during the end days of the age, when they wait amidst the scenes of the great tribulation for the deliverance and the glory promised, and which will come with the manifestation of the King.
1. Waiting on God in the Midst of Strife. (Verses 1-4.)
Only upon God my soul waiteth,
From Him cometh my salvation.
He only is my rock and my salvation:
He is my high tower; I shall not be moved.
How long will ye attack a man?
All of you to break him down –
As (if he were) a bowing wall, a tottering fence?
Only from his exalted place they wish to thrust him down,
They who delight in lies,
For with their mouth they bless, but inwardly they curse.
The emphasis must be put upon the word "Only." It is used thrice in this Psalm. The soul is to wait only upon God; He only is the rock, and then once more in the fifth verse. "Only upon God wait thou my soul." Many trust in the Lord, or profess to trust Him; many wait on God and confess that He is the rock, but not all can say - I wait only upon God and He only is my rock. Besides trusting the Lord they trust in something else. It sometimes takes a long time for a believer to learn the meaning of this little word only. Some have to learn it through deep and bitter experiences. But it is a sweet little word for all who have learned it and can truly say "Only upon God my soul waiteth." It gives assurance and it brings deep and lasting peace, the peace of God, the peace of Christ, which passes all understanding.
Here is revealed the antagonism of the man of the world, the world which lieth in the wicked one. The world cannot understand the simple faith and trust in God; they know nothing of it and they hate those who walk not with them but who walk in faith. The hatred of the world aims at the man of faith and trust. The world did not know Him, who lived on earth such an "only" life - only trusting God. Therefore the world does not know us, who belong to Him (1 John 3: 1). The world hated Him and it hateth us (John 17:14). If Christians today know nothing of all this, it is because their lives are lived according to the standard of the world and not in separation from the world. When our Lord was here they attacked Him, they tried to thrust Him down. But He lived in constant fellowship with God and looked to Him only. He is our pattern.
Here too, is the picture of the Jewish remnant in their experience, when men universally are against them and hate them for His Name's sake (Matt. 24: 9).
2. He Only. (Verses 5-8)
Only upon God wait thou, my soul;
For my expectation is from Him.
He only is my rock and my salvation;
He is my fortress, I shall not be moved.
With God is my salvation, and my glory –
The Rock of my strength –
My refuge is in God.
Trust in Him at all times, ye people;
Pour out your heart before Him;
God is a refuge for us. Selah.
Here we find the fullest realization of the faith of the trusting, believing soul. Only God, God only, is the heart cry of David, the author of this Psalm. And so after him thousands of Jewish and Christian Saints have expressed themselves and found their joy and comfort in the fact of "God only." It is a great thing to be able to say "My expectation is from Him." It means not to expect anything of man nor of one's self. It means looking to the Lord in all things and under all circumstances. Though the way and the future looks dark, yet faith can maintain such an attitude, pleasing to God, looking to Him only and expecting from Him only: and He never disappoints the patient waiting of His children.
Then these blessed expressions, He only is my rock, my salvation, my fortress, my glory, my strength and my refuge. Because it is so and in God only these things are true and assured, faith can add with supreme confidence, "I shall not be moved." Whatever man may try to do against the godly, trusting soul, or Satan's power, the believer knows how safe and secure the rock foundation is upon which he stands; there is no reason to fear or to be troubled about anything. I shall not be moved is faith's victorious song. Even though in coming days the godly in Israel will be surrounded by the terrible waves of the final storm, before the day dawns and the shadows flee away, they can say in full assurance "I shall not be moved." Their faith will be honoured by their deliverance.
Then having encouraged himself he turns to encourage others by exhorting to trust in Him at all times.
The great English preacher, Donne, living several centuries ago, commented most beautifully on this Psalm. We quote His words:-
"Twice in the Psalm he has repeated this, in the second and sixth verse. He is my rock, and my salvation, and my defence, and my refuge and my glory. If my refuge, what enemy can pursue me? If my defense, what temptation shall wound me? If my rock, what storm shall shake me? If my salvation, what melancholy shall deject me? If my glory, what calumny shall defame me? Let him that is pursued with any particular temptation, invoke God, as God is his refuge and his sanctuary. Let him that is buffeted by the messengers of Satan, battered with his own concupiscence, receive God, as God is his defence. Let him that is shaken with perplexities, lay hold upon God, as God is his rock and his anchor. Let him that has any diffident suspicion of the free and full mercy of God, apprehend God, as God is his salvation, and him that walks in the ingloriousness and contempt of the world, contemplate God as his glory."
3. The Vanity of Man. (Verses 9-12.)
Surely men of low degree are but breath,
And men of high degree are a lie;
Going up in the balances
They are altogether even lighter than breath.
Trust not in oppression;
Do not become vain in robbery;
When wealth increases, set not your heart upon it.
God hath spoken once;
Twice have I heard –
That power is God's,
Unto Thee 0 Lord belongeth mercy;
For Thou recompensest every man according to his works.
Here is a contrast. Man in himself is helpless; he is but a breath; they are vanity, nothing but vanity. "All alike are vanity-breath; emptier, when weighed in truthful balances, than the breath they spend so freely in their boasting and defiance 0 God" (Numerical Bible). Therefore trust not in man nor what man does. And God in whom man can trust and find in Him salvation, glory, defence and refuge, is both a God of power and a God of mercy, a God of loving-kindness. Power without love is brutality, and love without power is weakness. Power is the strong foundation of love, and love is the crown and beauty of power. Greatness of power and greatness of love belongeth to God. What a song of praise and faith this blessed Psalm is! May every reader learn its great lesson in practical experience, in the walk of faith.
-------