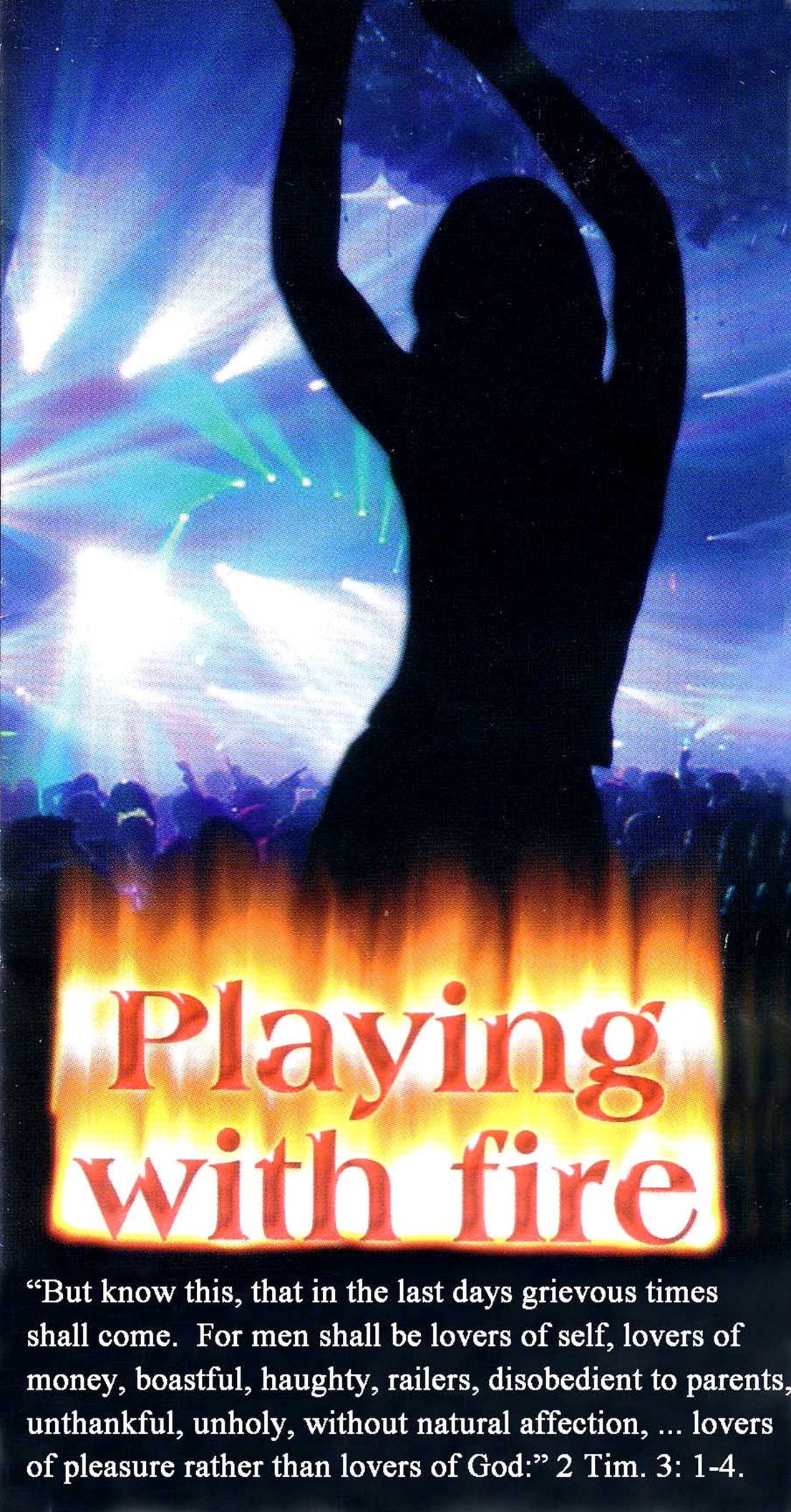 A TRACT SUITABLE FOR NON-CHRISTIANS
AND
WORLDLY CHRISTIANS
-------
One reason why people take drugs is because of the "hit" or "buzz" they get from them. Drugs like 'E's,' 'Tabs,' 'Speed' and 'Charlie' are as much a part of the club culture today as the strobe lights and dance music, so popular only a few years ago. These 'mind-bending' drugs create feelings of great joy which soon turn sour. They create artificial feelings of happiness. It is sad to think that this generation of clubbers are risking sudden death, paranoia or psychological problems all because of their selfish desire for worldly PLEASURE.
Perhaps you have taken drugs and enjoyed the "buzz", or you are simply one seeking pleasure at the clubs, beware, THOSE PLEASURES LAST ONLY FOR A SHORT TIME. Endless pleasure in that environment is an illusion. When the lights go down, the "trip" is finished, and the thrill is gone, you are left craving for more and more of this kind of satisfaction; and unless something miraculous happens,* your "trip" upon this earth will eventually finish, the pleasures of sin will have ceased and you will have lost your soul!
* Our Lord Jesus Christ said: "I came that they may have life, and may have it abundantly:" (John 10: 10, R.V.). "If therefore the Son shall make you free, ye shall be free indeed:" (John 8: 36).
"Boils and abscesses plague the skin; gnawing pain racks the body. Nerves snap; vicious twitching develops. Imaginary and fantastic fears blight the mind, and sometimes complete insanity results. Often times, too, death comes – much too early in life. … Such is the torment of being a drug addict, such is the plague of being one of the walking dead!" - (A quotation taken from U.S. Supreme Court.)
It has always the devil's intention to get young people so occupied with sinful pleasures and worldly amusements that they have no time to look forward to the future, or for the "eternal salvation" found through faith in our Lord and Saviour, Jesus Christ. The following incident happened some years ago in London:-
"In London there lived a man who was worried about his sins. He wanted to be saved. He thought he could be saved by being good and kind. One day, on his way home, he passed a corner where there sat a blind man. The blind man was reading out loud from a Bible written in Braille. The blind man could read this Bible, because the letters were raised, and he could feel them with his fingers. He could not read with his eyes. But he could read with his fingers. The blind man was reading from this Bible these words:- 'Neither is there salvation in any other: for there is none other name under Heaven given among men, whereby we must be saved.' The blind man came to the words, 'There is none other name.' Then he lost his place. He kept saying over and over, 'None other name'; 'none other name'; 'none other name.' Some of the people who were passing by, laughed. The man who was worried about his sins, passed on. But he kept hearing the words, 'None other name.' Finally, he said, 'Thank You, Lord, for that blind man. Thank you for his mistake. I see now that there is none other name but Jesus. He alone can save me.' "
The Lord Jesus Christ said: "I am come that they might have life, and that they might have it more abundantly:" (John 10: 10). The Life that the Lord Jesus offers you is a new life overflowing with pardon for sin, peace and everlasting joy in 'A new heaven and a new earth' (Rev. 21: 1). It is Life with a capital L.
Canon Hay Aitken tells the story of a young lady, fashionable and worldly, who was persuaded to attend one of the services he was conducting in the West End of London. Apparently the preacher's earnest pleading did not move her in the least, and as soon as the sermon was ended she rose to leave the church before the after-meeting. But the church was crowded with people, so that her progress towards the door was very slow, and as she moved along she became very interested in the appealing Hymn with its constant refrain, - 'Even me, even me'.
The Hymn was new to her and just as she reached the door the choir were singing the last verse:-
Pass me not! Thy lost one bringing,
Bind ny heart, O Lord, to Thee!
While the streams of life are springing,
Blessing others, O bless me, even me.
Suddenly her lost condition was borne in upon her. All along her homeward road the words rang in her heart – 'Pass me not! Thy lost one bringing.' Presently she was alone in her bedroom, lying on her bed sobbing from the depths of her soul the pleading prayer, 'Pass me not, Thy lost one bringing!' and the Holy Spirit brought to her mind the Saviour's words, 'The Son of Man is come to seek and to save that which was lost' and ere she slept that night her soul had found rest in the Saviour's love and her new life in Christ had begun.
There is only one Saviour, the Lord Jesus Christ. The way to obtain eternal salvation is to believe in Him, and ask Him to be your personal Saviour, (Acts 16: 31). Cf. Acts 4: 11, 12; John 3: 16.
-------
On the other hand, there are many of the Lord's redeemed people who received the "free gift" (Rom. 6: 23, R.V.) of eternal life, but are blinded by Satan to the doctrine of REWARD and the coming GLORY of Jesus Christ, (2 Cor. 4: 4). These believers are mostly 'Anti-Millennialists,' because they doggedly refuse to believe that Messiah Jesus will one day come to reign UPON THIS EARTH for "a thousand years" (Rev. 20: 4, 6).*
* Jer. 23: 5, 6; Ezek. 34: 23-31; Isa. 9: 6, 7; Hos. 2: 18; Joel 2: 27; Amos 9: 11-15; Hab. 2: 14; Zech. 14: 8, 9; Matt. 2: 6; Luke 1: 32; Rom. 8: 18-23; 1 Cor. 15: 24, 25;
"He that sitteth in the heavens shall laugh: the Lord shall have them in derision.
Then shall he speak to them in his wrath, and vex them in his sore displeasure: Yet I have set my king upon my holy hill of Zion. I will tell of the decree: the Lord said unto me, Thou art my son; this day I have begotten thee. Ask of me, and I will give thee the nations for thine inheritance, and the uttermost parts of the earth for thy possession. …
Serve the Lord with fear, and rejoice with trembling. Kiss the son, lest he be angry, and ye perish in the way, for HIS WRATH will soon be kindled. Blessed are all they who put their trust in HIM:" (Psalm 2: 4-8, 11, 12).
SILENCE IN THE CHURCHES
OF A FUTURE JUDGMENT
Dr. William Smith once stressed the iniquitous silence (with which we are all too familiar) on the dark side of the truth:-
"I think in orthodox circles today there are some great subjects in the Word of God that are almost never talked about. Twenty-seven times the Apostle Paul, e.g., mentions good works as something to be practised, but you and I can live in institutions of the reformed faith for fifty years and never hear good works mentioned. That is not 'rightly dividing the word of truth.' I remember a few years ago looking carefully into the Greek text of 2 Timothy 2 (Paul's terrible delineation of the character of men at the end of the age), and I was astonished to find that not in any single book, in our language at least, on the eschatology of Paul, was there a single page of treatment of this great chapter. I fear in many circles today the New Testament teaching on sin is almost wholly ignored, and a vital conviction concerning the wrath of God and a judgment to come is tragically omitted. If we are to teach the word of God, we should teach it in its entirety." The righteous Judge must deal with sin in believers equally with sin in unbelievers.
His judgment begins at the House of God (1 Pet. 4: 17): for "after a long time the lord of those servants cometh and maketh a reckoning with them" (Matt. 25: 19).
"I would rather go through the Great Tribulation," said Dr. Graham Scroggie to his friend Earnest J. Lang, "than endure what I believe some Christians will go through at the Judgment Seat of Christ."
"Be not deceived; God is not mocked: for whatsoever a man - [any man, Christian or non-Christian] - soweth, that shall he also reap." (Galatians 6: 7). The farmer who plants barley in his ground, will not come back at harvest time and reap a crop of potatoes. No! If you sow barley then you will reap barley. This is the unchanging law of the harvest - You reap what you SOW. The devil wants to deceive Christians into believing God won't punish them for wilful sin.* This is why God through His written Word warns His redeemed people, - "Be not deceived." "Vengeance belongeth unto me, I will recompense. And again, The Lord will judge HIS PEOPLE. It is a fearful thing to fall into the hands of the living God:" (Heb. 10: 30, 31).
* Hebrews 10: 26.
OUR NEED TO STOP
AND CONSIDER WHAT GOD SAYS
"It is appointed unto men once to die, and after this [death] cometh judgment; so Christ also, having been once offered to bear the sins of many, shall appear a second time, apart from sin, to them that wait for him, UNTO SALVATION:" (Heb. 9: 27, 28). That is, unto a future salvation - at the time of Resurrection and Messiah's Second Advent, which will "be revealed in the last time": this salvation is described as: -"the salvation of your SOULS:" (1 Pet. 1: 5, 9). This is not initial - (that is, the 'eternal' or 'first') salvation, which all true regenerate believers have receive "by grace through faith" in our Lord Jesus Christ - the 'salvation' which is "the gift of God," (Eph. 2: 8, 9. cf. Rom. 6: 23.) a salvation which He purchased in full at Calvary. This future 'salvation' of which Peter speaks is associated with "the sufferings of Christ" and His disciples* "and the GLORIES THAT SHOULD FOLLOW THEM" (1 Pet. 1: 11).
* Rom. 8: 17b; 2 Tim. 2: 12; 2 Thess. 1: 4, 5.
Yes! We all need to stop and consider what God says – worldly Christians as well as non-Christians – because we all possess a 'soul' which awaits the time of that future salvation; and the ultimate question is, - 'Tell me, (1) HOW CAN I ATTAIN THIS FUTURE SALVATION OF THE SOUL'? and (2) 'WHERE DOES THE SOUL GO IMMEDIATELY AFTER DEATH?'
For those who accept the teaching of Christ and His Apostles, and who believe we cannot ascend into Heaven until the 'Body' and 'Soul' are united at the time of 'Resurrection', the Scriptural answer to the above questions is not too difficult to find: –
"And he," - [the rich man after his death, in the underworld where all the souls of the dead presently are, (Rev. 6: 9-11, cf. Acts 2: 37; Psa. 16: 10)] – "said, I pray thee therefore, father, that thou wouldst send him" - ['Lazarus'] –"to my father's house; for I have five brethren; that he may testify unto them, lest they also come into this place of torment. But Abraham - [in 'Hades,' on the other side of the 'great gulf' (verse 26)] – "saith, They have Moses* and the prophets; let them hear them. And he said, Nay, father Abraham: but if one go to them FROM THE DEAD,** they will repent. And he said unto him, If they hear not Moses and the prophets, neither will be they be persuaded, IF ONE RISE FROM THE DEAD:" (Luke 16: 27-31).***
* Gen. 37: 35: "I will go down to Sheol - [the place of the dead, translated 'Hades' in the LXX] - to my son mourning," said Jacob believing Joseph was dead and his body devoured by an evil beast and "torn in pieces:" (Verse 34). Again, "If the Lord make a new thing, and the ground open her mouth, and swallow them up … and they go down alive into Sheol: then ye shall understand that these men have despised the Lord:" (Num. 16: 30).
** "And Samuel said to Saul, Why hast thou disquieted me, to bring me up - [from Sheol, the place of the dead.]. … "Because thou obeyest not the voice of the Lord … the Lord will deliver Israel also with thee into the hand of the Philistines: and tomorrow shalt thou and thy sons BE WITH ME:" (1 Sam. 28: 18, 19).
*** Commenting on the above Scripture, Mr. G. H. Lang wrote: "The state of death and the place called Hades are not the lake of fire, for ultimately the two former are to be cast into the latter (Rev. 20: 13, 14). … "It is not warranted to preach eternal destiny from what Scripture here says Hades. Dives may be an utterly lost soul, but on one can rightly assert this. If his concern for his brothers was sincere, he was not yet utterly hardened. Nor does he make complaint as to his sufferings, like those who blaspheme God because of their pains (Rev. 16: 9, 11). And Abraham acknowledges relationship with Dives by answering his appeal 'Father' with the term 'Child.'…
"Eternal consequences have indeed been cancelled for the repentant by the sufferings of Christ on the cross; but temporal consequences prevail in the period between death and resurrection. (M.I)
"It is also denied that at death the saved go to heaven and the lost to hell. They all go to the realm of the dead, where Christ went, but some to the portion called of old, "Abraham's Bosom" and now given the nobler description 'with Christ' (Phil. 1: 23), for now He fills, or occupies, all things (Eph. 4: 9, 10).
"When the A.V. was made 'hell' meant what the Greek Hades means, a vast covered region out of ken of our bodily senses, reached after death. Today 'hell' has come to mean the place of final judgment, the 'lake of fire,' which misleads the present reader of the A.V." – Pictures and Parables, pp266, 267.
We can all live recklessly, believing there is nothing more to Christianity than the receiving of a "Free Gift" (Rom. 6: 21, R.V.): but God and His Apostles have much to say to Christians about a "race" to run, a "prize"* to be won (1 Cor. 9: 24), an inheritance which they can forfeit, (Gal. 5: 21; Eph. 5: 5) and a "crown" which can be lost through neglect and disobedience, (Rev. 3: 11. cf. 2 Sam. 1: 10.).
* "One supreme and final Revelation has a messages challenging and bright with promise as an earlier section was with inky blackness of despair. It is the message of the faithful servants, so called in Matt. 24: 42-47; the overcomers (Rev. 2 and 3, 7: 14, 12: 11, 21: 7), 'the undefiled in the way,' here described as 'the first fruits unto God and to the Lamb' (14: 4-5). Listen to our Lord's words in the epilogue:- 'Behold I come quickly; and My REWARD is with Me, to give to every man according as his work shall be' (22: 12). Chapters 2 and 3 tell us about these rewards. Chapter 14 is the Harvest chapter. It begins with the privileged first fruits who must be carefully distinguished from the 144,000 sealed Jews in chapter 7. Then follows the main Harvest (vv 15-16), when the wheat and tares are sifted. Finally comes the Vintage of the wicked at the time of Armageddon. We read of throned saints, of the crowned saints, of those who share in the victory of the Lamb and reign with Him a thousand years (20: 4). 'The world (man's artificial civilisation deep dyed in sin) passeth away, and the lust thereof: but he that doeth the will of God abideth forever.' We are called to the heavenly citizenship of Philippians 3: 20-21. To be an overcomer means being a good soldier of Jesus Christ. There is a race to run; a prize to be won. 'Look to yourselves.' Writes John in his second epistle, 'that we lose none of the those things which we have wrought, but that we receive a full reward.'" - SAMUEL F. HURNARD.
* * *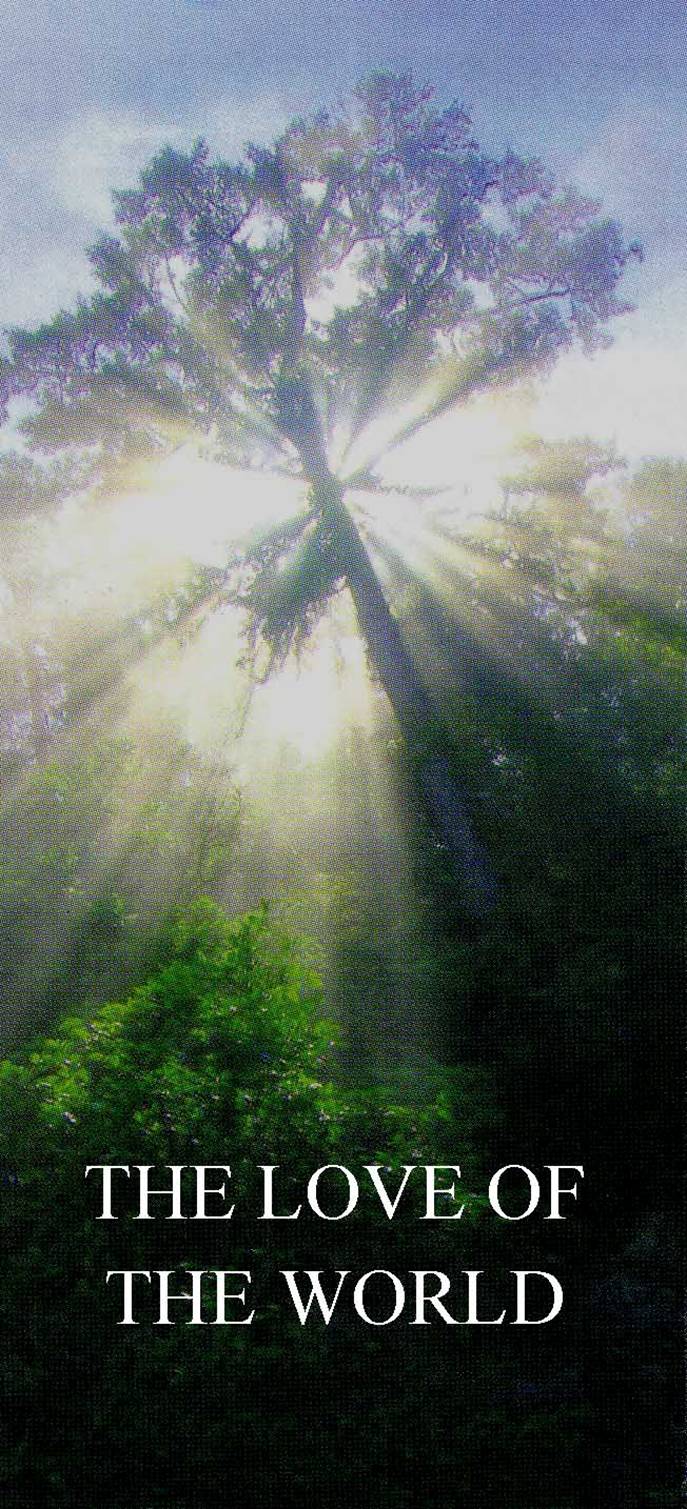 "The cost of loving the world is enormous,
but vaster still is the wealth of rejecting it."
She was young (says the writer in Our Hope), she was married to a husband devoted to her, she was beautiful, she possessed wealth, she occupied a high social position, and she easily gained access to all the sources of amusement and pleasure opened to her in an ungodly world; still she was not happy. She came to her own accord one day to the study, confessing her conviction of sin and her need of a Saviour.
She was willing to be a Christian, but she was unwilling to give up the world. She was very fond of dancing, card parties and the theatre, and wished to know whether she could not retain these delights, and at the same time be enrolled among the followers of the Saviour?
She was asked, "Can you sincerely seek the blessing and guidance of the Holy Spirit, as you go to the theatre, the card party or the dance, and can you honestly say, 'Lord Jesus, I do this to please thee'?" "No," she replied, "I cannot." She was warned of her fearful peril, and the words were read to her, "Whosoever therefore will be a friend of the world, is the enemy of God" (James 4: 4): "Love not the world, neither the things that are in the world. If any man love the world, the love of the Father is not in him" (1 John 2: 15). But in the face of all that could be said, she deliberately rejected the Lord Jesus Christ, saying that she could not and would not give up the world.
Within a month after that interview she was stricken down even in the flush and pride of her health, and was called to die. She sent for me, and, on entering her room, she was found to be perfectly conscious, and so calm and collected that it was a great surprise. "I have sent for you," she said coolly and slowly, "not to pray, nor to read the Bible to me, nor to utter one word about salvation. That is all past, and now it is too late. But I only desire that at my funeral you will speak freely of my fatal decision, and implore others not to do as I have done." She was entreated to listen once more to the invitation and promises of a loving and long-suffering Saviour, but she persistently declined; and when prayer was offered, notwithstanding her protest, she quietly said, "I paid no attention to you; it does me no good." It was a sad funeral, and there kept ringing through my head and heart the solemn declarations of God, "My Spirit shall not always strive with man" (Gen. 6: 3).
Now we see what the rejection of the world can bring.
More than half a century ago a young girl was preparing for a grand ball to be given in her native town. Full of gay anticipation, she started out one day to her dressmaker to have her fine dress fitted for the occasion. On her way she met her pastor, an earnest, soulful man, and in the greeting that passed between them he learned her errand. He reasoned and expostulated, and finally pleaded with her to stay away from the ball. Greatly vexed, she answered, "I wish you would mind your own business!" and went on her wayward course.
In due time the ball came off and this young girl was the gayest of the gay. She was flattered and caressed; but, after dancing all night, laying her head upon her pillow only with the returning light, she was far from happy. In all the pleasures there had been a thorn, and now conscience made her wretched. The pastor had always been a cherished friend, and her rudeness to him rankled in her breast.
More than all, the truth of his words came to her heart and would give her no rest. After three days of misery, during which life became almost insupportable, she went to the minister with her trouble, saying:- "For three days I have been the most wretched girl in the world, and now, oh, that I were a Christian! I want to be happy. What must I do?" The pastor freely forgave her rudeness to himself. He joyfully directed her to the true source of peace. "Give yourself, my child, to the Lamb of God, just as you are." This was a new Gospel to her, she had never comprehended it before.
"What? Just as I am?" she asked. "Do you know I am one of the worst sinners in the world? How can He accept me just as I am?" "That is exactly what you must believe." Was the answer. "You must come to Him just as you are." The simple truth took possession of her mind. She went to her room, knelt down, and offered God her heart, as it was, to be cleansed and made fit for His own dwelling.
As she knelt, peaceful, overflowing joy filled her soul. Inspired by the rapturous experience, she then and there wrote the hymn beginning:
"Just as I am, without one plea,
But that Thy Blood was shed for me;
And that Thou bid'st me come to Thee,
O, Lamb of God, I come!"
So Charlotte Elliott wrote the first of her 150 hymns, with which she enriched the whole Church of God.
-------