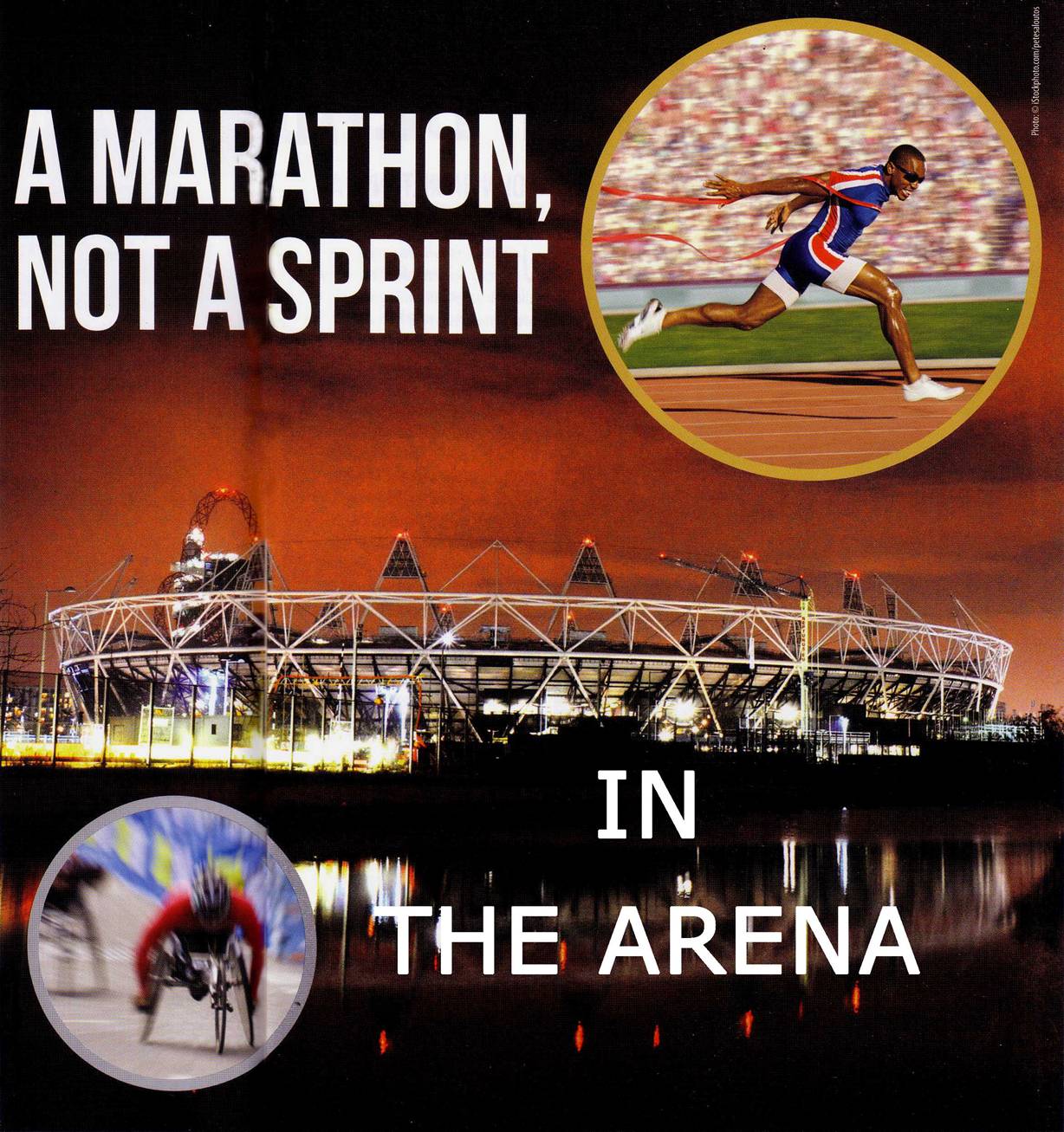 [Picture above (and below) from "Winning the City" – a publication by London City Mission for the Olympics, Summer 2012.]
"Though I am free and belong to no one, I have made myself a slave to everyone, to win as many as possible. … I have become all things to all people so that by all possible means I might save some. I do all this for the sake of the gospel, that I may share in its blessings.
Do you not know that in a race all the runners run, but only one gets the prize? Run in such a way as to get the prize. Everyone who competes in the games goes into strict training. They do it to get a crown that will not last; but we do it to get a crown that will last forever:"
1 Corinthians 9: 19-25.*
* Scripture quotations are from the New International Version.
-------
Throughout the New Testament, Christians are likened to those 'in the arena', "surrounded by … witnesses" (Heb. 12: 1) and competing in a "Race" to win a "Prize:" 1 Cor. 9: 24.
But, as is the case with all runners, there is the ever present danger of ignoring specified conditions; and so the inspired apostle Paul reminds Timothy (and all of us), of one:-
"If anyone competed as an athlete, he does not receive the victor's crown unless he competes according to the rules," (2 Tim. 2: 5).
Now, on the basis of that truth, one might ask: 'Does Paul think we were hiding behind a door when common sense was handed out! Who would ever imagine that all athletes 'in the arena' would receive a prize – 'the victor's crown'?' 'Does he think we are incapable of distinguishing a "free gift" (Rom. 6: 23, R.V.), from what we know the Holy Scriptures describe as a "prize" (Phil. 3: 14)?' Yes! That is precisely what the apostle knew would soon happen! And so, to the Ephesian elders he says:-
(1) "I know that after I leave, savage wolves will come in among you and will nor spare the flock. Even from your own number men will arise and distort the truth in order to draw away disciples after them. So be on your guard! Remember that for three years I never stopped warning each of you night and day with tears," (Acts 20: 29-31).
(2) "Among them are Hymenaeus and Philetus, who have wandered away from the truth. They say that the resurrection has already taken place, and they destroy the faith of some," (2 Tim. 2: 17, 18).
(3) "Whatever you do, work at it with all your heart, as working for the Lord, not for men, since you know that you will receive an inheritance from the Lord as a reward, It is the Lord Christ you are serving. Anyone who does wrong will be repaid for the wrong, and there is no favouritism," (Col. 3: 23-25).
* For 'work' see Acts 13: 2; 1 Cor. 3: 13, 14; Phil. 2: 12. cf. Acts 5: 32, 42; for 'inheritance' see Psa. 2: 8, 11; 37: 10, 11;; 2 Thess. 1: 4, 5; Eph. 5: 3-6; for 'reward' see Matt. 16: 27; Mark 9: 41; Rev. 22: 12, etc.]
Throughout the Paul's epistles there is constant reference drawn between his life of service after regeneration, to the efforts of an athlete 'in the arena' running in a race "to win the prize".
This can also be seen in his letter to the church at Philippi, where he discloses his life's ambition as a faithful servant of Jesus His Lord and Master. There he connects "the prize" to the "fellowship of His sufferings, becoming like Him in His death, and so somehow, to attain to the resurrection from the dead": by "Straining towards what is ahead" – the finishing post – as he presses "on towards the goal."
All these efforts by the apostle, portray to us a mental picture of a runner competing in a race for a special God-given 'prize' – which, he tells us is a select and special resurrection; one which he wanted 'to attain'. That is, to gain by his efforts - an 'out-resurrection, out from the dead' (Lit. Greek), Phil. 3: 14, 10, 11.
During Paul's lifetime, there were many false teachers about. They visited newly-formed churches; and, as is the case with many of God's faithful servants today, Paul's ministry was not properly appreciated. These false teachers were constantly trying to undermine his authority as an Apostle of Jesus Christ: but that didn't bother him. Paul knew a day was coming when all things would be made right – a day when all would be rewarded exactly as they deserve. That is, God will reward for them for bad behaviour as well as for good!
Some of these false teachers Paul named. He said: "Their teaching will spread like gangrene. Among them are Hymenaeus and Philetus, who have wandered away from the truth. They say the resurrection has already taken place, and they destroy the faith of some." "Alexander the metalworker did me a great deal of harm. The Lord will repay [reward] him for what he has done. You too should be on your guard against him, because he strongly opposed our message:" (2 Tim. 2: 17, 18; 4: 14, 15).*
* Anti-millennialists, who specialize in undermining the plain prophetic teachings of the Word of God, take note.
Games and athletic contests were common in Palestine during the times of the Apostles. Herod the Great erected a theatre and amphitheatre at both Jerusalem and Caesarea where races, gymnastics, etc., could be held: and as Paul viewed the activity of these false teachers, his mind was naturally drawn to the race of the Christian life – a race in which all regenerate believers should be running: and so, when writing to Timothy he says: "If anyone competed as an athlete, he does not receive the victor's crown unless he competes according to the rules," (2 Tim. 2: 5).*
* For "crown" see 1 Cor. 9: 25; 2 Tim. 2: 5; Jas. 1: 12; 1 Pet. 5: 4, etc.
As any athlete will tell you, the purpose of running in a race is to win the prize. So Paul, when writing to the Corinthians, says: "Run in such a way as to get the prize" (1 Cor. 9: 24): and by carefully guarding his motivation, took great care to compete "according to the rules". All was done for the glory of Christ; the opportunity to run and compete originated from Him; His grace and strength to compete and be allowed to continue running was essential.* Paul was more concerned with the heavenly crown to be awarded to faithful Christians than any earthly crown of laurel leaves worn by the Greek athletes. Unlike their crown, the crown which overcomers will wear is described as "glory that will never fade away" (1 Pet. 5: 4).
* To be allowed 'to continue' see Acts 5: 1-11, 32.
The 26.2 mile marathon race, more than any other event, best illustrates the Christians' "Race," simply because of what the inspired apostle, nearing his death, exclaimed:-
"…In view of his [Christ's] appearing and his kingdom" … "I have finished the race, I have kept the faith. Now there is in store for me the crown of righteousness, which the Lord, the righteous judge, will award to me on that day* - and not only to me, but also to all who have longed for his appearing" (2 Tim. 4: 1, 7, 8).
*NOTE. The "appearing", "crown" and "award" all have reference to what will happen during the millennial kingdom – "that Day" (2 Pet. 3: 8) of our Lord's manifested glory upon this earth: for entrance into Christ's everlasting Kingdom has nothing to do with a disciple's righteousness, works or efforts to win a "crown" (Eph. 2: 8, 9). 'In the arena.' we now have Christian athletes who compete for the 'Prize' ; and the Christian spectators who do not.
Near the end of a life of faithful service and personal sufferings - for truths which he believed and preached since his conversion – the apostle, near the end of his pilgrimage, was still running as fast as he possibly could 'in the arena'.
Have you ever watched the marathon athletes 'in the arena' at the end of the race? They know they've got only a short distance to go to the finish; and a short time left to make the right decision to get past – or keep in front of a close competitor? That's the time when the pressure is really on! That's the time when they desperately need to make the right decisions, stay focussed on the prize, and run as fast as they possibly can. They want to win; they have trained and dieted to attain peak fitness; they have left nothing to chance; they must run to win: and yet, very often the result will depend on how the last section of the race is run!
"When a person is successful in getting the mastery over the old man he is awarded the incorruptible crown. 'And every man that striveth for the mastery is temperate in all things. Now they do it to obtain a corruptible crown; but we an incorruptible' (1 Cor. 9: 25). The incorruptible crown is given as a reward for those who have lived a separated life unto the Lord, one constantly cleansed by confession of sin. If we constantly say 'no' to our fleshly appetites and live fully and completely for the glory of God. the incorruptible crown is ours." (Kroll.)
All Christians are effectually called to keep "the faith" and win "the crown"; but "few" (in comparison) will be chosen to rule and reign with Christ in the "age" to come, (Matt. 20: 16; Luke 20: 35)!
The distinction will not be made between the regenerate and the unregenerate, but between two distinct classes of regenerate believers. Both have eternal life as a "free gift"; but only one class continues running for the double inheritance of the Firstborn - a thousand years before the other: -.
"Make every effort to live in peace with all men and to be holy; without holiness no-one will see the Lord. See that no-one is sexually immoral, or is godless like Esau, who for a single meal sold his inheritance rights as the oldest son. Afterwards, as you know, when he wanted to inherit this blessing, he was rejected. He could bring about no change of mind" - [on the part of his father] – "though he sought the blessing with tears:" (Heb. 12: 14-17).
Therefore, the one class will rise out from the dead at the "First Resurrection"; and the other will remain in Hades until the time comes when names will be found written in the "Book of Life." Rev. 20: 6, 15.
'In the arena,' Christians need to come in at the end; and the last lap can be the all deciding factor for winning the "Prize". Paul says: "Run in such a way that you might obtain it" (1 Cor. 9: 24). For (1) "When trouble or persecution comes because of the word" - [i.e., 'the message about the kingdom' (Matt. 13: 19)] – "he quickly falls away:" (Matt 13: 21). (2) "Blessed is the man who perseveres under trial, because when he has stood the test, he will receive the crown of life that God has promised to those who love him:" (Jas. 1: 12). And again: (3) "Among God's churches we boast about your perseverance and faith in all the persecutions and trials you are enduring. All this is evidence that God's judgment is right, and as a result" – [for being "persecuted because of righteousness' (Matt. 5: 10)] – "you will be counted worthy of the kingdom of God, for which you are suffering:" (2 Thess. 1: 4, 5).
Today thousands of people cannot resist training during the winter months; they want to attain a high standard of fitness and participate in, and successfully run the marathon. With the vast majority, it doesn't really matter how long it may take them, if only they can complete the course.*
* All runners in the marathon, who successfully complete the course, receive an award of some description.
This would appear to have been Paul's attitude too! He wanted so desperately to finish successfully! The thought of being disqualified by the "righteous judge" must have always been in his mind!
When writing to the church at Corinth – a church which didn't "lack any spiritual gift" (1 Cor. 1: 7) - but, by immoral and greedy behaviour, had completely lost focus on the inheritance in "the kingdom of God" (6: 10)!
They "were washed, ('washed themselves,' R.V. margin) were "sanctified" and "justified in the name of the Lord Jesus Christ and by the Spirit of our God" (6: 11). All this had happened in time past, and there was no possibility of anything - or anybody to take eternal salvation or eternal life away from them: "It is God who justifies. Who is he that condemns?" "For, God's gifts and his call are irrevocable:" (Rom. 8: 33, 34; 11: 29).
Like Paul, they were 'in an arena,' "surrounded by … witnesses" (Heb. 12: 1), and therefore in the right place and in the right position to win the "Prize": but they were not running to win it! Paul could not threaten them with the loss of what they already had, ('eternal life'); and multitudes of Bible teachers know this to be true: but they never tell the Lord's redeemed people what the "prize" is! They also have completely lost focus on the "race," and on what lies ahead! In Paul's estimate, this information was so important for them to know; and it shoulden't have been left out of our reckoning!
By mixing a believers work with Christ's finished work to attain eternal salvation is deadly error: and its effect is to undermine prophetical truths and the importance of being "repaid [rewarded] at the resurrection of the righteous" (Luke 14: 14); of the possibility of missing the grace [favour] of God and loosing the inheritance of the firstborn, (Hebrews 12: 17) - the kingdom of 'a thousand years' (Rev. 20: 4. cf. Rev. 3: 21). That information what Paul knew was so important for regenerate believers to hear: and IT IS NOT BEING TAUGHT TODAY FROM OUR PULPITS!
After Israel sheltered under the lamb's blood at the Passover and after they were delivered from Pharaoh's cruel bondage in Egypt, we read:-
"All passed through the sea. They were all baptised into Moses in the cloud and in the sea. They all ate the same spiritual food and drank the same spiritual drink; for they drank from the same spiritual rock that accompanied them, and that rock was Christ. Nevertheless, God was not pleased with most of them; their bodies were scattered over the desert:" (1 Cor. 10: 1-5).
Only two of that accountable generation who left Egypt, actually entered the Promised Land! After being allowed to send spies into Canaan, and after tasting its fruits, they wanted to stone the two faithful spies to death and return to Egypt under a new leader of their choice: and after Moses' intercession for them, "the Lord replied, 'I have forgiven them, as you asked. Nevertheless, as surely as I live and as surely as the glory of the Lord fills the whole earth, not one of the men who saw my glory and the miraculous signs I performed in Egypt and in the desert but who disobeyed me and tested me ten times – not one of them will ever see the land I promised on oath to their forefathers. No-one who has treated me with contempt will ever see it'": (Num. 14: 21-23). By disbelief and evil behaviour, they disqualified themselves from a future inheritance in 'the land … promised on oath to their forefathers.' They fell on the last lap and lost their inheritance in the land during the coming millennial age.
How do we know this? Because of what Paul has said:-
"Now these things occurred as examples, to keep us from setting our hearts on evil things as they did" … "We should not test the Lord as some of them did" … "These things happened to them as examples [types] and were written down as warnings FOR US, on whom the filfilment of the ages has come."
One writer has described Israel's plight something like this: - 'They perished on the right side of the blood, but on the wrong side of their inheritance.' That is, they sheltered under the lamb's blood - passed through the sea - were baptized - began their pilgrimage towards God's promised inheritance in the land of Canaan - but, through wilful sin, lack of trust in God to enable them to overcome the inhabitants of the land - they apostasised and lost the promised inheritance.
Why? Because although, "the Lord is slow to anger and abounding in love and forgiving sin and rebellion. Yet he does not leave the guilty unpunished; he punishes the children for the sin of the fathers to the third and fourth generation," (verse 18): their evil behaviour received a just recompense of REWARD.
Every Christian athlete who desperately wants to win, should cry with Paul: "Not that I have already obtained (the prize) or am already made perfect; but I press on, if so be that I may lay hold of that for which I was laid hold of by Christ Jesus" (Phil. 3; 12).
'In the arena,' the best athletes always want to win the prize; but they can never be certain of obtaining it! Like Paul, they concentrate on the things which are most important – godliness with contentment and peak moral and spiritual fitness: they know what the "hope" is; they abide by the rules to finish the course successfully; they know what Christ requires from them - a standard of personal righteousness which surpasses "that of the Pharisees and teachers of the law" (Matt. 5: 20); they refuse to allow the opinion of others to distract them from their goal, or have an undermining effect upon their enthusiasm, personal beliefs and interpretations; they don't have any difficulty in distinguishing between what they know is a present possession, from what they hope in the near future to attain: and they always ask for God's grace and power to keep running: and are constantly aware that the Holy Spirit will be "given to those who obey him" [Jesus] (Acts 5: 32). If they fall in the race, they know it is possible to recover: all is not lost. It is possible to be allowed to continue and win the "Prize" and the "Crown"*
* For "Hope" see Eph. 1: 18; for finish, 2 Tim. 4: 6; to attain (i.e., 'to gain by effort'), Phil. 3: 11; Luke 20: 35; Rev. 3: 21; 2 Pet. 2: 21; and to be allowed to continue, (Psa. 51: 7-12; Rev. 2: 5, 10, 16; 3: 2, 3, 11, 19, 20.)
Knowing, believing and acting upon these divine truths, let us press on 'in the arena': "let us throw off everything that hinders and the sin that so easily entangles, and let us run with perseverance the race marked out for us. Let us fix our eyes on Jesus." … "Consider him who endured such opposition from sinful men, so that you will not grow weary and lose heart," (Heb. 12: 1-3): "so that no one will take your crown" (Rev. 3: 10).
The Olympic motto: 'faster, higher, stronger' has a personal and spiritual application for every regenerate believer. Those who follow in the footsteps of their Lord and look for His return and the manifestation of His millennial kingdom, will be with Him all the faster! Then He will raise them to a place higher with Him at that time: and while they are living to please Him in all that they do, their faith will grow stronger.
We can't afford to let this opportunity of winning the "Prize" and the "Crown" pass by, and miss out on the age-lasting glory God wants us to enjoy. "It is the wisdom of each aspirant for that glory to ponder the Lord's words … from Matt. 5: 8: 'Blessed are the pure in heart, for they shall see God:" (G. H. Lang.)
Let us "press on towards the goal to win the prize…" (Phil. 3: 14).
* * *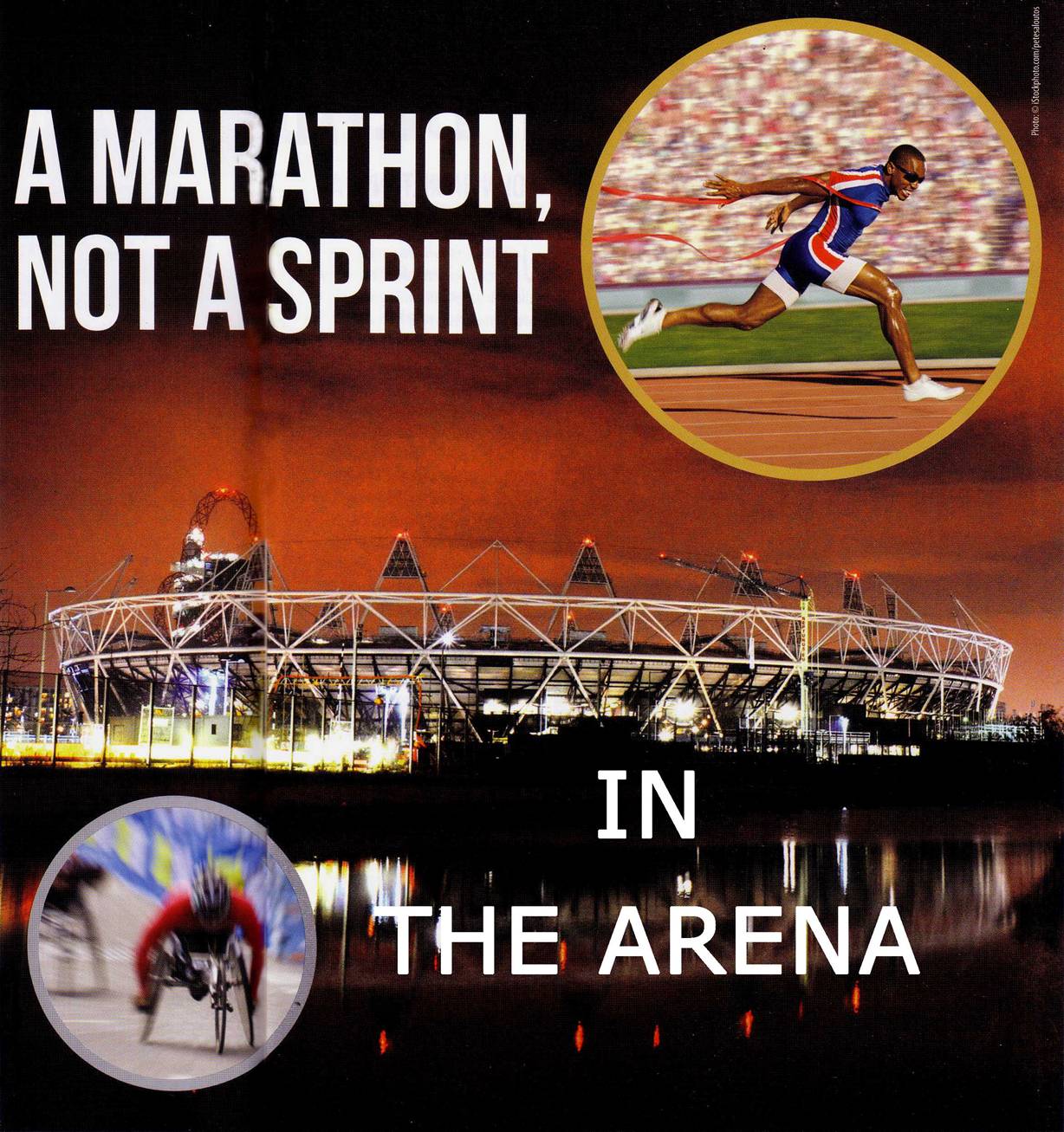 THE KINGDOM
CHASTISEMENT
(Hebrews 12: 1-13)
Hebrews 12: 1, R.V. Therefore let us also, seeing that we are compassed about with so great a cloud of witnesses, lay aside every weight, and the sin which doth so easily beset us, and let us run with patience the race that is set before us, 2. looking unto Jesus the author and perfecter of our faith, who for the joy that was set before him endured the cross, despising the shame, and hath sat down at the right hand of the throne of God. 3. For consider him that hath endured such gainsaying of sinners against himself, that ye wax not weary, fainting in your souls. 4. Ye have not yet resisted unto blood, striving against sin: 5. and ye have forgotten the exhortation, which reasoneth with you as with sons, My son, regard not lightly the chastening of the Lord, nor faint when thou art reproved of him; 6. for whom the Lord loveth he chasteneth, and scourgeth every son whom he receiveth. 7. It is for chastening that ye endure; God dealeth with you as with sons; for what son is there whom his father chasteneth not? 8. But if ye are without chastening, whereof all have been made partakers, then are ye bastards, and not sons. 9. Furthermore, we had the fathers of our flesh to chasten us, and we gave them reverence: shall we not much rather be in subjection unto the Father of spirits, and live? 10. For they verily for a few days chastened us as seemed good to them; but he for our profit, that we may be partakers of his holiness. 11. All chastening seemeth for the present to be not joyous, but grievous: yet afterward it yieldeth peaceable fruit unto them that have been exercised thereby, even the fruit of righteousness. 12. Wherefore lift up the hands that hang down, and the palsied knees; 13. and make straight paths for your feet, that that which is lame be not turned out of the way, but rather be healed.*
[* Note. Almost all scripture quotations are taken from the Revised Version, (1881).]
1. THE RACE, (vers. 1, 2).
1. The Course. The life of the Christian is a race. The length of the race is not settled by the entrant. God has determined its length for the individual believer and for the whole company of the contestants. For the duration of the whole series of contests is settled by the authorities (Acts 1: 7; Matt. 24: 36; Mark 13: 32).
The chief matter is to "finish the course" (Acts 20: 24), to get to its end, and not to drop out by exhaustion or be disqualified for misconduct, by not observing the rules (2 Tim. 2: 5). Paul succeeded in this: "I have finished the course." Therefore he had secured the crown, the reward, the incorruptible glory of the victor (1 Cor. 9: 25). The success of one is the encouragement of others. Much more should we be stimulated by the success of the many racers mentioned in ch. 2.
2. The Cloud of Witnesses. Peter mentions that he and others had been "eye-witnesses" of the majesty of Christ (2 Pet. 1: 16). The word he uses epoptes is the normal word or an onlooker, but it is not used in our passage. Here is used the usual term for one who bears witness to a matter (martus), not one who is at the moment an eye-witness of it. Fifty years ago Sandow astonished audiences by lifting enormous weights. To those who hear of him he still witnesses to the high degree to which the muscles of man can be developed, but this is no evidence that he, being dead, watches the athletic contests of to-day. There seems no Scripture in proof that departed saints are spectators of our conflicts, but the records of their lives do testify to us that faith can enable heroic living.
3. Jesus our Example. But above all others who stir us to steadfast endeavour Jesus is pre-eminent. He is both author and perfecter of faith, its most illustrious example. He originated the principle of faith in God, for there can never have been a moment, even before creation, when the Son did not trust the Father; and He perfected the development and display of faith by surrendering His original glory, by stepping down to the state of manhood, by walking on earth as a dependent being, and above all by surrendering Himself unto the death of the cross. Death by crucifixion was shameful, both by the exposure of the person and because it was reserved for the most despised persons and desperate crimes. But such was the vigour of His faith that Christ simply despised that of which, ordinarily, man would and should be ashamed.
This perfect life commenced in faith: "Thou didst make me to trust when I was upon my mother's breasts" (Ps. 22: 9). It was carried through in faith, as has been already stated at ch. 2: 13, where the Writer follows the Septuagint in making an Old Testament phrase mean (as the Greek may be expanded) "I shall be [one] having trusted [habitually] on Thee," that is, My life entire will be marked by trust.
Faith worked in the Son of God according to its own proper nature: it made real the invisible and the future: first, a seat on the throne of God, as promised to Him (Ps. 110: 1); and then, the joy to be there experienced, according to Ps. 21: 1-7, as a reward of faith: "For the king trusteth in Jehovah, or Ps. 16: 6, telling Him that the lines would fall to Him in pleasant places, since He would be shown the path to resurrection life (ver. 11) and would reach in the presence of God "fulness of joy," and at His right hand "pleasures for evermore."
Of the authentic sacred spots of Palestine two left on my heart, an indelible impression, one may almost say, a movement of soul that has never subsided. On the east of Hebron there is a long, steep, rough path that leads to the high ground that stretches several miles to the mountain land above the Dead Sea. It was along those miles that the Son of God, not yet incarnate, walked and talked with Abraham His friend (Gen. 18: 16 ff; 19: 27). To the west of Jerusalem there is a stretch of high and broken land where the ancient track to Emmaus still ran. There that same Son of God, now risen from the dead, walked and talked with two men till their hearts burned within them (Luke 24).
To Abraham He spoke of judgment and mercy; to the two disciples of suffering and glory. "Behooved it not the Messiah to suffer these things and to enter into His glory?" (Luke 24: 26), and this He enforced from Moses and all the prophets. As ver. 34 shows Peter was not one of those two, but he learned well what they learnt that night, that the Spirit of Christ in the prophets "testified beforehand the sufferings [that should come] unto Christ, and the glories that should follow them" (1 Pet. 1: 10, 11). This double and inseparable prospect the Son of God embraced, and steadfast faith that His Father would give the promised glory strengthened Him to tread to the end the one path that could lead there.
He has gone to that supreme place and bliss as our Forerunner (6: 19, 20) and we are to follow. One who followed Him to life's end in a violent death exhorts us thus: "Forasmuch then as Christ suffered in the flesh arm ye yourselves also with the same mind" (1 Pet. 4: 1); or, as our Writer puts it: "let us run with patience ... looking unto Jesus" (ver. 2), "ponder the One having endured such gainsaying of sinners against Himself" (ver. 3).
For he who does thus set his heart on Christ will find that Christ's faith develops within him by the Spirit of Christ, even as Paul says of his life of conflict and suffering: "the life that I now live in the flesh I live in faith [the faith] of the Son of God, Who loved me and gave Himself up for me" (Gal. 2: 20).
For the development and exercise of this faith, and for the running of the race, there are three requisites.
(1) The laying aside of every weight. We do so carelessly and foolishly encumber ourselves with things unnecessary, unhelpful to the life of faith, indeed, as positive a hindrance as a burden to a racer. Wesley wisely and well said that we ought continually to cut off the unnecessary things that surround us, and that God commonly retrenches the superfluities of our souls in the same measure that we do those of our bodies.
Superfluities of the soul - What are these? Pride, anger, bitterness, jealousy, selfishness, lethargy, anxiety - are not these, and such-like, superfluous to the Christian, states of spirit he could very well do without? Let him then deliberately cut off the superfluous material things, and he will find that, ridding himself of these weights, the Spirit of holiness will free him from the moral weights. And of all weights wealth is the heaviest: "with what difficulty shall they that have riches enter into the kingdom of God" (Luke 18: 24).
This is what the founder and head of an immense and prosperous factory wrote to me:
Your words may save a soul from death.
Early days - I was out and out.
The Spirit of God was mighty.
1. Obedience to Him was a delight.
His Word was illuminated.
It was the chief delight.
His service was supreme.
Everything was done by prayer.
Great distress and crisis in business.
Remarkable deliverances.
2. Tide turned.
Prosperity dawned.
Responsibilities increased.
3. Prayer time shortened.
Practically nil to-day.
Experience of His presence gone.
Life no longer on the heights.
Foundations of things on the low level.
Impossible through sheer impotency.
Habits have the grip.
Will power gone.
4. The truth and force of your words realized, but case hopeless.
With the outline of your address I can fill in practically all you said:
it shall be my close study and may be the recovery of my soul.
"Let us lay aside every weight," everything that cumbers and impedes the movement of the heart Godward. Let us remember what again Wesley said, that laying up treasure on earth is as plainly forbidden by our Lord as are adultery and murder.
(2) Let us lay aside "the easily clinging around us sin." What racer can hope to outstrip the swift if he have not first stripped himself of close-clinging oriental robes? Now clothes are not wrong in themselves, but they may be a hindrance to a racer, so he doffs them. A soldier on reserve must perchance engage in business, but he must not become entangled in it and be unable to respond promptly to a call to the colours. Still less must a soldier on service allow this (2 Tim. 2: 4); and the Christian is always on service, because the battle is unceasing.
(3) The racer requires staying power: "let us run with patience," steadfastness, dogged endurance. This is a long race, lifelong; sprinting will not win it. The heart steadfastly engaged with Christ will find that His faith infused by His Spirit will generate in the soul His patience [perseverance] also: "the Lord direct your hearts into the love of God, and into the patience of Christ" (2 Thess. 3: 5). Love is patient.
Thus with Christ as his life, his in-working vital force, by the Spirit (Eph. 3: 16-19), the racer will be fortified against the double peril of first growing weary and presently fainting (ver. 3), thus dropping out of the race and so losing the prize.
There is no need for the Christian to grow weary in soul. He ought not to have to say that if the trial continues he will not be able to bear it. The prophet said that God the Creator "fainteth not, neither is weary," that "He giveth power to the faint; and to him that hath no might He increaseth strength." Thus those who have reached the end of their resources may count on His. For "even the youths shall faint and be weary, and the young men shall utterly fall," for trials may become so severe and lasting as to exhaust all natural vigour; yet even then "they that wait upon Jehovah," that is, those who "look unto Jesus ... shall renew their strength; they shall mount up with wings as eagles; they shall run, and not be weary; they shall walk, and not faint" (Isa. 40: 28-31).
Whatever else this may mean it can mean this: that walking represents the ordinary activities and tasks of life, such as all must undertake habitually; that running pictures more strenuous efforts, which some must make sometimes; that flying suggests times of special strain when that which is impossible to man naturally must be borne or undertaken. And that waiting upon the Lord, looking unto Jesus, secures His strength, so that the man of faith proves that he can do all things in the power of Christ Who strengthens him (Phil. 4: 13).
4. Discipline (vers. 4-13). The Writer continues his remonstrance and encouragement.
(1) Our Antagonist in the battle is sin, sin in ourselves and others, including the Devil. Hence the severity of the strife, for sin is bitterly, implacably hostile to holiness. "The flesh lusteth against the Spirit" (Gal. 5: 17), and presses the fight with such relentless fierceness that the blood of the witnesses of Jesus has flowed freely; "they loved not their life even unto death" (Rev. 12: 11).
You, says our Writer [i.e. the Holy Spirit], have not yet been driven to this extremity (ver. 4). Things might be, may yet be, worse than they are. One cut his finger and exclaimed, "Praise the Lord," for, he added, "I might have cut it off." Do not be discouraged. The blood of the martyrs testifies that grace to die can be gained.
(2) Forgetfulness (ver. 5), is a deadly disease. In our opening pages it has been shown that God works by speaking. It is by words that He imparts wisdom and courage. Therefore to forget His words is to induce foolishness and feebleness. We are especially ready to forget exhortations. Information can be interesting, even exciting; but exhortation is like the crack of the whip, disagreeable; it calls to duty and effort.
(3) Sonship (vers. 5, 6). The Writer quotes words of Solomon. The quotation illustrates how words spoken by a God-taught man to his son might convey deeper and larger instruction by God to His sons.
Solomon might rightly contemplate his son as being heir to his kingdom and he counselled him accordingly. God is bringing many sons unto the glory of His kingdom (ch. 2: 10), and He trains us accordingly. This honourable relationship and its prospects are a key to His ways and a proof of His love. Hence
My son, regard not lightly the chastening of the Lord, Nor faint when thou art reproved of Him: For whom the Lord loveth He chasteneth, And scourgeth every son whom He receiveth.
(4) Chastisement (vers. 6-11). The word so translated paideia has the root pais a child, and signifies all those steps which a parent takes to educate, correct, train the boy he loves and to fit him for his post and privileges in life. This is proof that
(a) ver. 7, the child is the genuine son of the house, for a father does not chasten another man's child:
(b) ver. 8, that he is no bastard, one not really a member of the family, or his training would be neglected.
Let Job take this to heart and he will not misread the lesson of affliction.
(c) ver. 9. The Father of spirits. Right-minded children give respect to their earthly fathers and accept the discipline exercised, though this may he sometimes misguided and work injury to the child in character and work. Much more should a son of God revere and obey the Father of spirits. The title is significant. That new spiritual nature begotten in the believer in the Son of God is actually the life of God in him, by which he is as literally related to God as child to father as he is related to his human father by his bodily nature. The child who does thus honour God finds that the Divine discipline continually advances his true heavenly life in preparation for his future.
(d) ver. 10. Holiness. Human training is very brief, "a few days" - (Note this instance of "day" meaning a period. Compare "hour" in John 4: 23, 24 and "moment" in 2 Cor. 4: 17). But God is training His children for eternity, and He takes care that the education shall suit the destiny. For the central, vital necessity is holiness. The believer is reckoned to be righteous in Christ; but he has thereupon to be made actually holy in himself. The imputed righteousness grants him a real valid eternal standing before the law; upon that as basis there is now to be developed in him a godly character and walk.
For the former purpose the parental discipline of God has no place. It is as an enemy that man is reconciled to God, his sovereign, by the death of God's Son (Rom. 5: 10). It is the ungodly to whom righteousness (dikaiosune) is reckoned (Rom. 4: 5). It is the dead to whom life is granted as a free gift (Eph. 2: 1; Rom. 6: 23), and they become thereby children of God, being thus born of His Spirit (John 3).
This having been effected by grace, now the parental training begins. The man being now God's child has a new nature, but the old and sinful nature is still present, will assert itself, and, if allowed, will choke the good seed. Against the tendency to yield to this, and so to continue ungodly in practice, the Divine discipline has its necessary place. The Father chastens us "that we may be partakers of His holiness" (hagiotes, not dikaiosune).
(e) ver. 11. Exercise. A wise father does not use the stick first. He begins by talking to his boy about his errors of conduct and defects of character. If the boy heeds and obeys his development advances. Thus is God's word profitable (1) unto teaching His child that which he needs to know, (2) for reproof wherein he is wrong, (3) for putting him right through obeying, and then (4) for further instructing him in righteous conduct (2 Tim. 3: 16).
Thus he grows to be a man of God, complete in character and furnished completely unto every good work.
But when the child does not heed the word he must feel the rod. "He scourgeth every son whom He receiveth." And scourging is a pretty severe ordeal. For the lack of it too many sons have become a scourge to the indulgent father. But the Father of spirits is too wise and too loving not to be firm. Job was upright in walk but not holy in heart. Scourging corrected this. His pains proved more profitable than his pleasures. They fitted him for double blessing and to rule over doubled possessions* (Job 1: 3; 42: 12). It was thus with Nebuchadnezzar after his scourging: "I was established in my kingdom and excellent greatness was added unto me" (Dan. 4: 36).
[* Is there not a hint here, regarding those future blessings held in reserve by God for all His firstborn sons, who will inherit both millennial as well as eternal blessings afterwards?]
But scourging is painful. If it were not so it would not be profitable. No chastisement seemeth for the present to be joyous but grievous. It makes us smart. But afterward! Paul did not glory in tribulation for its own sake, but because it developed that patience which is the quiet atmosphere in which other graces grow (Rom. 5: 3-5; Jas. 1: 2-4).
Similarly the Writer says that chastisement yieldeth in the end "the peaceable fruit of righteousness." Peace is a fruit of righteousness (Isa. 32: 17; Jas. 3: 18). Where unrighteousness flourishes peace dies, in a land or a life. On the contrary, the kingdom of God is blessed with peace and joy because righteousness rules in its King and its true subjects (Rom. 14: 17).
Now to walk righteously in the midst of the wicked, as Abraham did, demands great care, constant watchfulness in all transactions, strict self-discipline. It is an exercise, as Paul said: "I exercise myself to have a conscience void of offence toward God and man always" (Acts 24: 16). Such a blissful inward harmony does not come haphazard; it is sweet fruit that must be cultivated sedulously. It demands exercise of soul.
The root idea of righteousness is completeness of character when scrutinized by the eye of the law. This is reckoned to be the condition of a believer because God's law sees him as in Christ Whose character is complete and perfect. The added parental discipline of God is directed to the producing in the justified the same personal completeness as has been already reckoned to be his in Christ.
The word exercise (gymnasticize) carries the picture of the Greek gymnasium where youths were trained for athletic contests. The prizes were coveted, the struggle arduous, the training correspondingly severe. The gymnasium was so called because the candidates were stripped naked (gymnos) in order that the trainer might study every muscle of the youth and also that each muscle might work with complete freedom. Nature dislikes and dreads being stripped, so that all things are naked and laid open before God.
The trainer studied the youth to observe which muscles were underdeveloped in relation to the whole body. He set such exercises as should develop the undeveloped and produce symmetry of the whole form. For it would be the weak muscle that would give way under the strain of the contest. The chain is no stronger than its weakest link. It was by this process that the Greek athletes became such perfect models of the human form; they attained to completeness, with no part excessive, with no deficiencies. judged by the severest standards the form was "right," perfect.
It is this symmetry of character which God has always required in His sons and still requires: "Ye shall be holy, for I am holy" (Lev. 11: 44, 45; 1 Pet. 1: 15, 16). This wholly indispensable end is served by chastisement; it is the end to which every kind of training is directed. But if exercise is thus to develop the muscles the pupil must put his heart into every movement. Listless action profits little. If the thought be concentrated on the movement the brain automatically directs nervous force to that muscle, this stimulates the flow of blood to it, and thus it receives nutriment and its growth is aided. Sandow has been mentioned. He asserted that if thought were thus concentrated un-dividedly upon the movements the muscles would grow and harden as well without dumb-bells or clubs as with them.
All this is abundantly true in the spiritual realm. Spiritual growth and stamina require that the son of God co-operate heartily with the discipline of the Father of spirits, however long, however severe, however varied the exercises set. The heart must be concerned, not to escape the trials of life, but to profit by them. Then will the fruit grow. Then will holiness of heart and righteousness of practice be attained, to the glory of God in the perfecting of His sons.
(f) vers. 12, 13. Exhortation. A weary traveller, tired of the road and the buffetings of the tempest, stands dispirited and limp. With shoulders bowed, hands hanging slack, knees bent and shaking, he is ready to give up and sink to the ground. Such can God's pilgrim become, as pictured by our Writer.
But one comes to him confident of mien, with kindly smile and firm voice, and says: Cheer up, pilgrim; pull yourself together; stand erect, brace your limbs, take heart of grace. You have already come far; throw not away your former toils. A noble home is at the end of the journey. See, yonder is the direct road to it; keep straight on: seek from the great Physician healing for your lameness, for the limping turn readily into By-path meadow, where Giant Despair may fling you into the dark dungeons of Doubting Castle. Your Forerunner went this same hard road to the palace of God; others before you have won through; others are on the way; you are not alone; only press on! only press on! and you too shall reach the goal and win the prize.
Happy is he who knows "how to sustain with words him that is weary" (Isa. 50: 4). Happy is he who accepts exhortation (ch. 13: 22). And thrice happy is he whose faith is simple and strong, so that he finds no occasion of stumbling in the Lord when His discipline is severe.
Here bend thy knee and bow thy neck,
And love the pain by Jesus given;
He trains thee here by chain and check,
And leads on bleeding feet to heaven.
He schools with lessons kindly stem
His sinner in a world of sin;
And brings thee line by line to learn
The bitter-sweet of discipline.
But there, in spotless heaven serene
He gives His rule of suffering up;
There joy shall keep for ever clean
The pain-wrought largeness of His cup.
(H. C. G. Moule.)
* * *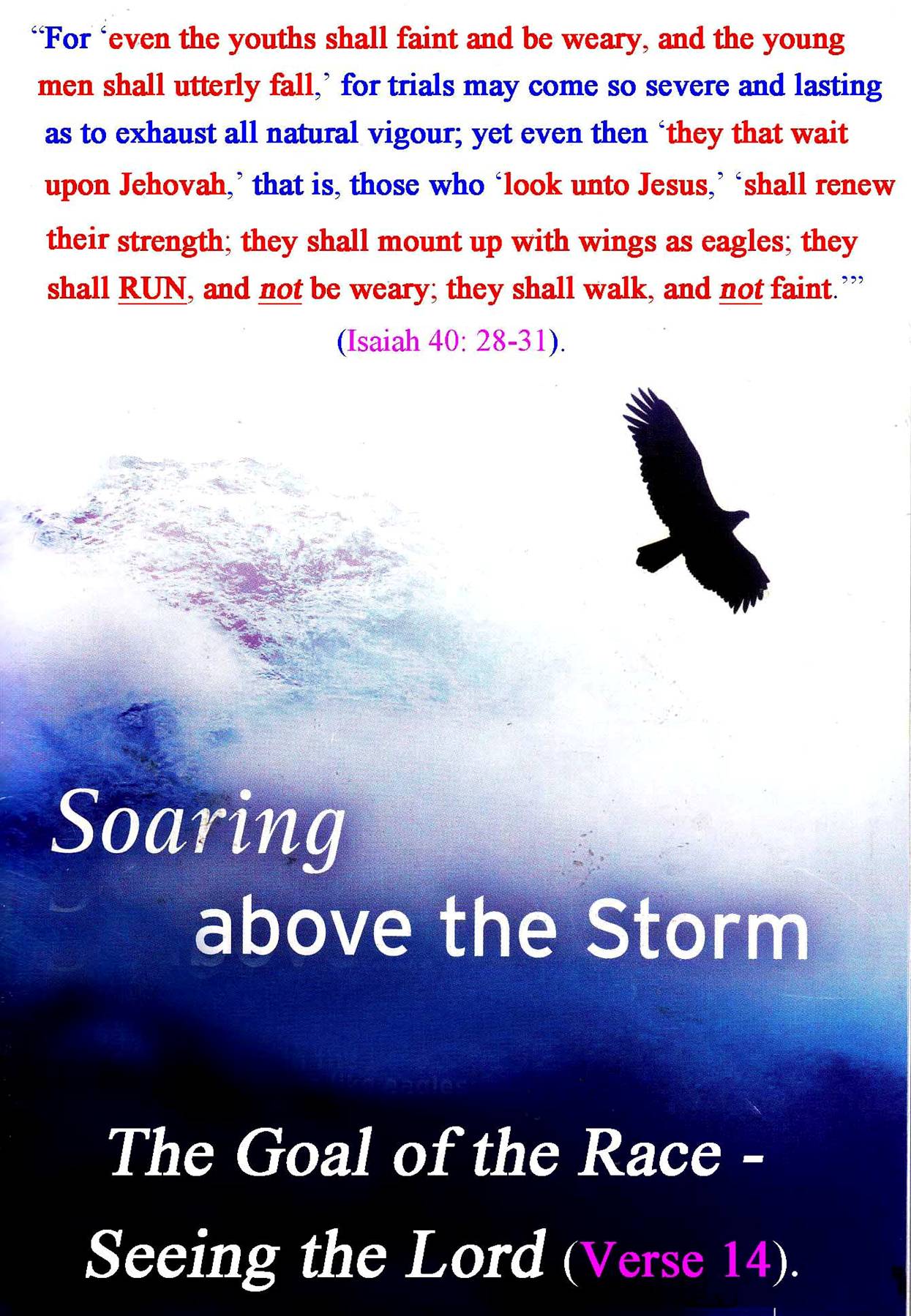 Chapter 12: 14. Follow after peace with all men, and the sanctification without which no man shall see the Lord…"
THE CHRISTIAN COURSE (ver. 14).
1. Its Principle - Peace (ver. 14). By the word diokete, follow on, pursue eagerly, the picture of the race is resumed from ver. 1. It is the word used twice by Paul in Phil. 3: 12-14: "I press on ... I press on toward the goal unto the prize." Paul had in view the final end, the prize; our Writer has regard to an immediate object necessary to reaching that final object, even the leading a life of peace with all men. The believer is to be as zealous in walking in peace as the racer is to secure the crown. In a world marked by greed and contention this is indeed a strenuous affair. It will not be obtained haphazard, but only by such as pursue it as an all-worthy, all-desirable object, and who make every sacrifice to secure it.
In the eighteenth century an American, John Woolman the Quaker, saw clearly and truly that the principle of acquiring and retaining is a basic and inevitable source of strife. The pursuit of wealth (vast or small) will always bring contention; the pursuit of peace alone will change this.
When a certain village refused to grant hospitality to the Son of God two disciples proposed righteous and summary vengeance: "But He turned and rebuked them. And they went to another village" (Luke 9: 51-56). They had not learned His earlier lesson: "Blessed are the peacemakers: for they shall be called sons of God" (Matt. 5: 8). The very God of peace sent into this warring world the Prince of peace, Who made peace by the blood of His cross, peace between God and man, and man and man; therefore to us who know this the exhortation is: "If it be possible, as much as in you lieth, be at peace with all men" (Rom. 12: 18). If there is to be contention, see to it that it arises wholly from the other party.
The effect on personal character of this one habit and practice is immeasurable. The immediate result is an ever-increasing moral likeness to the Prince of peace; the son of God becomes more and more like the Son of God; which has intimate bearing upon that final goal when the [firstborn] son is to share the [millennial] glory of the Son.
For by the very grammar of this passage this pursuit of peace is linked indivisibly with the development of that "holiness without which no one shall see the Lord" - it is all one pursuit, one present object. It is obvious that one who is selfish and contentious cannot be holy, for the Holy One is the God of love and peace. To promote peace God made the supreme sacrifice of His well-beloved Son and the Son of God of His life. To be holy like God involves of necessity that the child of God must "seek peace and pursue it" (1 Pet. 3: 11; Psa. 34: 14) at whatever personal sacrifice.
2. The Character of the Christian Course, Holiness (ver. 14). The A.V. "holiness" is too indefinite. The Writer used the definite article – "the holiness." This is not a usual English expression, and the R.V. gives "the sanctification." The force of the word hagiasmos can be learned from its New Testament use.
(1) Rom. 6: 19: "For as ye presented your members slaves to uncleanness and to lawlessness unto lawlessness, thus now present your members slaves to the righteousness unto sanctification." "The righteousness," that is, that practical righteousness just before mentioned (ver. 13), which is wrought out in our bodies by them being dedicated to God as His weapons in the battle against sin. Having by grace been made free from sin we have become slaves to this righteousness. In ver. 22 this sanctification is described as a "fruit" of that dedication to God, which shows that it is not the root, justification, but a living growth from the root; and the end of this process is "life eternal,"* in full development.
[* NOTE. The Greek word translated "eternal" above, can also be interpreted as "age-lasting" if the context demands it: and, since "sanctification" has to do with a regenerate believer's works after "eternal life" has been received by grace through faith alone, this truth should always be kept in mind.]
(2) 1 Cor. 1: 30; "Christ Jesus became unto us wisdom from God, even (te kai) righteousness, sanctification and redemption." Righteousness as to standing in law before God, sanctification as the power of a holy life now, and redemption as to the perfecting of the work of salvation at His coming. Here sanctification is the connecting process between justification and perfection, and is thus distinguished from both. Comp. Eph. 5: 25-27.
(3) This practical application of the word is shown with emphasis in 1 Thess. 4: 3, 4, 7 where it refers to sexual purity.
(4) In 2 Thess. 2: 13 a yet deeper practical work is in view in the expression "sanctification of spirit," that deeper inner realm which prompts and controls the dedicated body by the energy of the Holy Spirit.
(5) In 1 Tim. 2: 15 habitual sanctification is connected with faith, love, and sobriety in a woman as conducive to safety in childbirth.
(6) 1 Pet. 1: 1, 2 shows that the choice God made according to His foreknowledge operates "in sanctification of spirit" (en hagiasmo pneumatos, as 2 Thess. 2: 13); that is, God's choice takes effect in the realm of man's spirit as sanctified by the energy of the Holy Spirit, which leads to obedience and consecration to God through the blood of Jesus Christ.
These are all the occurrences of this word and they emphasize that it points to practical holiness, which the believer is to consider altogether desirable and therefore to cultivate with diligence, to pursue it as more to be desired than fine gold.
That the holiness here in view is not that righteousness which is imputed to the ungodly when he first places faith in Christ is clear from the very fact that the already justified are here exhorted to pursue it. That they had received as a free gift (Rom. 3: 24); this they are to pursue.
3. The Goal of the Race - Seeing the Lord (ver. 14). Two questions arise: (1) Who is "the Lord"? and (2) What is meant by "seeing" Him?
(1) Concerning the Lord Jesus Christ it is written that before Him "every knee shall bow" (Rom. 14: 11; Phil. 2: 10, 11) and that "every eye shall see Him," including those who pierced Him (Rev. 1: 7). Therefore holiness is no pre-requisite for seeing Christ.*
[* Holiness may not be a "pre-requisite for seeing Christ" - after resurrection and at the end of the Millennium; but it would appear that it is a 'pre-requisite' for seeing Him and being with Him here after the "First Resurrection" – "a thousand years" earlier! "Not one of the men who saw my glory and the miraculous signs I performed in Egypt and in the desert but who disobeyed me and tested me ten times – not one of them WILL EVER SEE the land I promised on oath to their forefathers. No one who has treated me with contempt WILL EVER SEE IT" (Num. 14: 22, 23).]
But the title "the Lord" is definitely applied to God the Father. This usage follows the Old Testament. In Ps. 2: 2 "the Lord Jehovah" is distinguished from "His Anointed," which passage is quoted in Acts 4: 26, followed in vers. 29, 30 by "And now Lord ... grant ... that signs and wonders may be done through the name of Thy holy Servant Jesus." The same distinction is made in Paul's words: "the grace of our Lord abounded exceedingly with faith and love which is in Christ Jesus" (1 Tim. 1: 14). Christ Himself had addressed His Father as "Lord of heaven and earth" (Matt. 11: 25); and James echoes this by speaking of "the Lord and Father" (Jas. 3: 9).
It would therefore seem that in our passage it must be the Father for the sight of Whom practical holiness is essential.
(2) As to the sense of the word "see," here again the Old Testament will show what is meant.
(a) Gen. 32: 30. The "man" Who wrestled with Jacob was so actual and visible that Jacob said of Him, "I have seen God face to face," and therefore he named the place Peniel, which means "The face of God."
(b) Exod. 24: 9-11. Moses, Aaron, and seventy-two others, were called by God to go up into Mount Sinai, where "they saw the God of Israel ... they beheld God."
(c) Exod. 33: 22, 23. To Moses God said: "I will put thee in a cleft of the rock ... and thou shalt see My back; but My face shall not be seen."
(d) Judges 13: 22. After open intercourse with an angel "Manoah said unto his wife, We shall surely die, because we have seen God."
(e) 1 Kings 22: 19. Micaiah said to Ahab: "I saw Jehovah sitting upon His throne, and all the angels standing by Him."
(f) Job 19: 26, 27. "From my flesh shall I see God: Whom I shall see for myself, And mine eyes shall behold."
(g) Isa. 6: 1. "In the year that king Uzziah died I saw Jehovah sitting upon a throne."
In all these places the Septuagint uses the same verb "to see" (horao) as in our passage. It means "to see with eyes." The very noun "eye" (in Greek) is derived from it. So that all these places show that whether it was by bodily sight or ecstatic vision, an actual sight of an actual person is meant by the term "see." In those times the Person it is true was the Son of God; but this does not affect the sense of "to see," and
(h) Dan. 7: 9 carries the matter further. Daniel said: "I beheld till thrones were placed and One that was ancient of days did sit," Whose appearance the prophet then described. This Ancient of days was the Father, for the Son of man is shortly brought before Him (ver. 13).
Thus to this expression "see God," as to so very much else in this Epistle, there is an Old Testament background, and it creates the notion of a literal sight of a literal Person. The New Testament follows to the same effect.
(i) Matt. 18: 10: "in heaven their angels do always behold the face of My Father Who is in heaven."
(j) 1 John 3: 2. "We know that, if He shall be manifested, we shall be like Him, for we shall see Him even as He is."
(k) Rev. 22: 3. And of the final beatific vision in glory it is written: "His servants shall do Him service; and they shall see His face."
Plainly as all these statements point to a face-to-face sight of God, either of the Son or the Father, there is yet another statement even more completely parallel to our present passage. It is (1) Matt. 5: 8: "Blessed are the pure in heart; for they shall see God"; and, as in Hebrews, this is immediately associated with peaceableness by the directly following words: "Blessed are the peacemakers; for they shall be called sons of God." The mention of sons of God shows that "God" here is the Father, and thus the Son pointed forward to a sight of the Father.
(m) This is the evident sense of the sublime doxology in Jude 24: 25: "Now unto Him that is able to guard you from stumbling, and to set you before the presence of His glory without blemish in exceeding joy, to the only God our Saviour, through Jesus Christ our Lord, be glory, etc." "God our Saviour" must here mean the Father, for the glory is rendered to Him "through Jesus Christ our Lord"; and the prospect opened is of a permanent position ("set" you) before the very personal glory of God.
It is essential to this that there be conferred a body of glory, spiritual and of heaven, which can endure the blaze of that uncreated light. The natural, earthly body cannot do this: "Man shall not see Me and live" (Exod. 33: 20); for "the blessed and only Potentate," the Father, is "dwelling in light unapproachable; Whom no man hath seen, nor is able to see" (1 Tim. 6: 15, 16). The heirs of glory must be "clothed upon with our habitation which is from heaven" (2 Cor. 5: 2), at the coming of the Lord (1 Cor. 15: 35-38).
4. The Prize of the Course is Conditional (ver. 14).
The prospect thus opened to faith is of inconceivable sublimity. No higher dignity will ever be possible. God has exhausted His resources for displaying grace, for He proposes to bring His sons to His own presence, to share the love, standing, and glory which He has granted to His own beloved Son. More than this He can never design or do, for He cannot place anyone above His Son. Therefore could Paul say of this secret counsel of God that it "completed the word [message] of God", brought it to full development (Col. 1: 24-26: Variorum Bible).
But the attaining of this high dignity is conditional upon development of godliness. "Pursue the sanctification apart from which [hou choris] no one shall see the Lord." The first privilege which God in His grace confers is a standing in law as justified before Him as judge; the final privilege which that grace will grant is a standing in person before His presence as the Father of glory. Both of these privileges are conditional. The former is conditional upon the guilty sorrowing over his sins and humbling himself to accept the pardon of His offended Sovereign on the sole ground of the meritorious sacrifice of the Redeemer. The latter is conditional upon the justified giving diligence to advance in personal holiness.
The pathway from starting point to goal may be long and dangerous, but God is able to guard from stumbling till the goal be reached (Jude 24). And God will guard all who on their part "add all diligence" in developing, by the Spirit of Christ, the character of Christ. "Wherefore, brethren, give the more diligence to make your calling and election sure: for, if ye do these things ye shall never stumble; for thus shall be richly supplied unto you the entrance into the eternal kingdom of our Lord and Saviour Jesus Christ" (2 Pet. 1: 1-11). God does not say to the ungodly "If ye do these things" you shall be justified; but He does say to the justified "If ye do these things" ye shall never stumble, and thus your entrance into the [millennial] kingdom shall be noble, in place of being humble.
Mr. Carnality and Mr. Faint-heart would fain take comfort from Jude's assurance that God is able to guard from stumbling and set us before the presence of His glory; but they wish to forget the state necessary for that august Presence, even the being "without blemish." Or they fondly suppose that God will produce in them that unblemished and unblameable state without diligence on their part. They will be bitterly disappointed at last. It were wise for such to learn from present experience. If a child of God ceases to give diligence to walk in holiness he loses that present enjoyment of the invisible presence of God which is the joy and strength of the godly. How shall one unfit for that Presence now be found fit for its visible glory where nothing that is unclean shall in anywise enter? (Rev. 21: 27). Let such therefore "wash their robes" betimes (Rev. 22: 14).
Indeed, it is the wisdom of each aspirant for that glory to ponder the Lord's words quoted above from Matt. 5: 8: "Blessed are the pure in heart, for they shall see God." "A pure heart is one to which all that is not of God is strange and jarring" (Tauler). How terribly easy it is to indulge in the heart feelings, cravings, purposes unknown to the heart of God, strange and jarring to Him. Yet He can cleanse the heart from these if there be faith on our part, as He did the hearts of the heathen gathered in the house of Cornelius (Acts 15: 9). Let us therefore, with a defiled believer of old, cry "Create in me a clean heart, 0 God; and renew a right spirit within me" (Ps. 51: 10). For we maybe well assured that outward correctness will not by itself suffice for Him Who searcheth the heart, Who is, as Peter described Him, "the heart-knowing God" (Acts 15: 8). A clean life must grow from a pure heart, or it will be but a plant without root, doomed to wither quickly.
One clear day an unbeliever was seen searching the sky with a telescope. Asked what he was doing he answered: I am trying to find your God, but I cannot see Him anywhere! The fitting reply was given: And you never will, for it is written, "Blessed are the pure in heart, for they shall see God." Most true, now and forever! A king has millions of subjects, most of whom never see him in his palace. It is the few who are counted worthy of this honour. "Many are called, few chosen"; "many shall be last that are first [in opportunity and outward standing]; and first that are last" (Matt. 19: 27 - 20:16).
* * *
Hebrews 12: 15. Looking carefully lest there be any man that falleth short of the grace of God; lest any root of bitterness springing up trouble you, and thereby the many be defiled; 16. lest there be any fornicator, or profane person, as Esau, who for one mess of meat sold his own birthright. 17. For ye know that even when he afterward desired to inherit the blessing, he was rejected (for he found no place of repentance), though he sought it diligently with tears.
2. Three Perils (vers. 15-17). There are three ever-present perils against which the heir of glory must have an ever-open eye. Even as the episkopos, the elder of a church, must maintain the keen watch of the shepherd (episkopounies) over the welfare of the sheep (I Pet. 5: 1, 2), so must each Christian be ever "looking carefully" (episkopountes) against these dangers, lest as wolves they devastate the life.
1. Falling short of the grace of God (ver. 15). In ch. 4: 1 this term hustereo means to fail to attain a given privilege, the [millennial] rest of God. In Rom. 3: 23 it means to fail to live up to a standard, the glory of God. 1 Cor. 1: 7 states that the Corinthian believers did not lack any of the gifts available in Christ. Our present passage may be compared with Gal. 5: 4: "Ye are brought to nought from Christ, ye who would be justified by law; ye are fallen out of grace" (ek-pipto). You have ceased to be in the realm where grace reigns. Our Writer does not go so far as this, but speaks only of "falling short from (apo) the grace of God," of not attaining to and enjoying all that grace makes possible. How many a Christian life is sadly deficient of this or that heavenly quality necessary fully to glorify God and to acquire His highest gifts.
It is the personal servant ("his own servants," Matt. 25: 14), who lacks the zeal and devotion to use the pound entrusted to him while his Lord is away, of whom it is said that, at the Lord's return, he must hear the solemn sentence: "Take away from him the pound ... from him that hath not, even that which he hath shall be taken away from him." This unfaithful servant is not killed as are the enemies of his Lord, but he pays a severe price for having fallen short of the grace of God. He did not appreciate grace in his Lord and therefore lacked it in himself (Luke 19: 24, 26, 27, 21).
2. Bitterness (ver. 15). A feeling in the heart is like a root in the ground; it must either wither and die, or be dug out, or else it will spring up. There is no such thing in this present life as the removing from the believer of the evil soil, the carnal nature, in which evil roots grow; but the roots themselves can be eradicated by watchful and strenuous care, in the power of the Spirit of holiness.
If the heart be flooded with the love of God (Rom. 5: 5), if by obedience the disciple abides in the continual enjoyment of the love of Christ (John 15: 9, 10), then love will kill bitterness, and the Christian will fulfil the exhortation "Let all bitterness," with its evil fruit of wrath, anger, clamour, railing, and malice, "be put away from you" (Eph. 4: 31). Thus the root will not spring up, nor its evil fruit mentioned cause the many [equals, the majority] to be defiled.
But if the child of God, by selfishness and carelessness, allows bitter feelings against another to poison his heart, so that others become involved and defiled, then he is not developing that sanctification without which no one shall see the Lord.
3. Sinful indulgence of the body is the third Peril (ver. 16). Of this two instances are mentioned: (1) sexual sin, fornication; and (2) evil indulgence in eating. Perhaps man's deadliest snares are not acts wrong in themselves, as blasphemy or murder, but right acts done wrongly, as these here in view.
(1) For sexual intercourse is an ordinance of God for mankind, but its illicit indulgence is a crime of first magnitude, of which it is written plainly, and to Christians, that "the Lord is an avenger in all these things, as also we forewarned you and testified" (1 Thess. 4: 1-8); that is, God Himself sees to the execution of the penalty.
This vice is universal still, as it was when Paul was writing. The craving of the individual is aggravated by the ease of indulgence, and the general consent dulls the conscience. In Christ the child of God is elevated to a purer moral region and is given moral power by which to escape "from the corruption that is in the world by lust" (2 Pet. 1: 3, 4); but let him watch and pray, lest he enter into temptation, for the higher the standing the deeper the fall; and a brother in the family of God in Corinth had fallen lower than even the debased heathen would tolerate (1 Cor. 5: 1).
This vileness was an aggravation of the sin of Reuben. He indulged once with his father's concubine (Gen. 35: 22); this Corinthian Christian was living habitually with his father's wife. And the atmosphere was infectious; there was the deadly danger of the whole church becoming leavened (1 Cor. 5: 2, 6). Reuben paid the severe penalty that he lost his priority, his dignities as the firstborn in the family (Gen. 49: 3, 4); this Corinthian was in imminent danger of losing his life by judicial action of Satan, though secure of his salvation [of the spirit] in the day of the Lord Jesus (1 Cor. 5: 3-5). It appears that he repented promptly and the sentence was cancelled (2 Cor. 2: 5-11).
The most cogent argument on this urgent topic is in 1 Cor. 6: 12-20. Its conclusion is that we should "Flee fornication" and glorify God in our body (vers. 18, 20).
(2) Profanity (vers. 16, 17). The profanity of Esau's mind was shown in that he esteemed a passing gratification of the palate above noble permanent privileges ordained of God. He "despised his birthright" (Gen. 25: 34). It is a vigorous word here used, the one which describes the contempt with which carnal men treated the Son of man: "He was despised and rejected" (Isa. 53: 3), "a reproach of men and despised of the people" (Ps. 22: 6). The Septuagint gives a word (phaulizo) which means that Esau regarded the birthright as paltry, a mere trifle, and so he sold it, he bartered it away for a trifle.
The word apodidimi "sold," in the middle voice here used, implies that the article sold is one's own, a material point to observe. It shows that Esau was not a mere pretender to the birthright, nor self-deceived on the matter. He was Isaac's legitimate elder son and therefore the birthright was his by law of primogeniture. Therefore he cannot be taken here as a type of a mere professor of Christianity, or one self-deceived as to relationship to Christ. Such an one cannot be warned not to lose or sell a birthright to which he has no title whatever. Esau can be here only a type of a real [regenerate] child of God, one who is the true holder of the birthright. He did not have to acquire this dignity, for the title to it was his by birth; but he did need to value it and retain it, and because he did neither he forfeited it.
"Birthright" is a plural term in both Gen. 25: 31, 34 (in the LXX) and in our passage, ta Prototokia. It should be rendered "the rights of the firstborn," for these were three.
(a) The firstborn son was ruler of the household under and for the father. Thus David's elder brother "commanded" his younger brother to attend the family sacrifice at Bethlehem, which fact David and Jonathan considered should be adequate reason for absence from the table of even the king (1 Sam. 20: 29).
(b) This shows also that the eldest son acted as the family priest, for he is shown acting as chief on occasion of a family sacrifice.
(c) By the law of God the firstborn received a double share of the father's estate (Deut. 21: 17); that is, if there were six heirs, the patrimony was divided into seven portions of which the firstborn took two.
No alien, no bastard, no pretender had any rights here; and so the legitimate sons of Gilead drove out of the house Jephthah, because he was the son of a harlot, saying, "Thou shalt not inherit in our father's house; for thou art the son of another woman" (Judges 11: 1, 2).
God keeps a full register of all His universal family (Luke 10: 20; Rev. 13: 8; etc.), and therein some are entered as being "firstborn." The reference is probably to the registers kept at the temple in Jerusalem. Who in a numerous family was the firstborn son could be settled beyond controversy, for each such had to be presented to God in the temple (Exod. 13: 2, 11; Luke 2: 21-24). God has the names of His firstborn sons duly recorded as such in His register in heaven.
The three above-mentioned rights typify most accurately the triple dignities of the firstborn sons of God who are being brought unto His glory. For they are to rule the universe as kings; to serve as priests, mediating the merits of Christ's redemption and so aiding the intercourse of man with God; and theirs is the rich heavenly portion, instead of only earthly blessedness. The title to these privileges they do not have to acquire; they hold it, for it is a gift which the grace of God has attached to their calling; even as the sons of Abraham did not have to acquire a title to Canaan. But we, as they of old, do have to value these privileges and so walk and so fight as to get possession and keep it, and as they lost their birthright, so may we forfeit ours.
Of this royal dignity, the "crown" is the symbol: therefore the warning: "hold fast that which thou hast, that no one take thy crown" (Rev. 3: 11), as Jacob took the birthright that Esau despised.
Other Old Testament passages make clear that the birthright was forfeitable. 1 Chron. 26: 10 mentions that of a certain family of Levites Shimri was the chief ("for though he was not the firstborn, yet his father made him chief"). This shows that the essential idea of being "firstborn" is priority of rank, not accident of birth; which is the force of Col. 1: 15, that Christ is "the firstborn of all creation," not meaning that He was the first to be born and so had a beginning, but that He owns and rules the whole universe by the appointment of His Father (see Heb. 1: 2).
1 Chron. 5: 1, 2 (and see Gen. 49: 3, 4) applies this forfeitableness of the birthright to Reuben, "forasmuch as he defiled his father's couch." The ruler's staff went to his brother Judah, "of him came the prince" (Gen. 49: 10); the priesthood went to Levi; and the double inheritance was given to Joseph, whose sons Ephraim and Manasseh each became a tribe in Israel. Here also the one who was the first to be born did not become the firstborn as to rank, for Jacob "set Ephraim before Manasseh" (Gen. 48: 8-20).
Thus from the case of Esau the Writer again warns his brethren, partakers of a heavenly calling (ch. 3: 1), that the noblest gifts offered in Christ may be missed, yea, will be missed if things earthly and present be valued more than things heavenly and future, if the body be gratified at the expense of the spirit.
This last was the sin of our first mother Eve; she forfeited fellowship with God by a false gratifying of the body, by eating wrongly. The spirit succumbed, the body dominated, and thus it has been with all her children. From this slavery to the body God sets us free by redemption and regeneration. It is for each believer to imitate Paul: "I buffet my body, and enslave it (doulagogo); lest by any means, after that I as a herald have called others into the race, 1 myself should be disapproved and refused the crown" (1 Cor. 9: 27).
(3) The Loss is Irrecoverable (ver. 17). The case of Esau shows, indeed, that the sin which involves so serious loss is not casual or unintentional, but deliberate. When Jacob proposed the cunning bargain Esau turned it over in his mind, briefly but sufficiently: "Behold, I am about to die: and what profit shall the birthright do to me?" The compact was made the more conscious and deliberate by Jacob demanding that it be confirmed by oath (Gen. 25: 31, 33). Thus Esau did not lose his rights by accident or mistake but by compact; with his eyes wide open to what he was doing he sold the birth-right.
This greatly aggravated his guilt and rendered the position irreversible in two major elements.
First, Esau never after really changed his mind or was sorrowful for his wilful sin in this matter. Gen. 27: 34, 36 shows him blaming Jacob, not reproaching himself. He mourned his loss but not his sin. In this also he proved himself a true son of his first parents, for Eve and Adam each blamed another for their guilty conduct. In each of the three cases there was a measure of truth, for those others blamed were in part responsible; but godly sorrow for sin seeks no such shelter, but accepts its own responsibility and is humble. This change of mind Esau neither showed nor sought.
Secondly. Esau's act had been ratified by God, and Isaac as a prophet was moved to give to Jacob the blessing that attached to the rights of the firstborn, and his God-inspired prophetic utterance could not be recalled. Esau's cupidity sought the blessing that, by his own act and deed, was no longer rightly his, but his bitter tears could not avail to change Isaac's mind: "he found no place for a change of mind in his father" (American Standard Version).
It was Kadesh Barnea enacted in advance in a single individual. When Israel stubbornly refused to accept the privilege available God withdrew the possibility of gaining it. How urgently does Esau bring home to each as an individual the earnest exhortations of ch. 3: 12 that we must each "Take heed" that there be no "falling away from the living God," and that of 4: 1, "Let us fear lest haply ... should seem to have come short."
The forfeitability of the birthright is further indicated and emphasized in the case of Reuben. Being Jacob's eldest son this honour was his; but because of his yielding to an unnatural sensual craving, it was taken from him (1 Chron. 5: 1), and was given, as to the territory, to the sons of Joseph, the latter thus, in his children, receiving the double portion; and as to sovereignty, to the tribe of Judah, in the person of David and his sons, including Messiah; and as to the priesthood, to Levi. Was this in the Writer's mind when he specified in our passage the sin of fornication?
Yet Reuben remained of the family, and was blessed in measure; but as showing that the rights in question if once lost cannot be regained, it is to be remembered that in the days of the future [millennial] kingdom the status created by Reuben's misconduct will still abide: the King will be of the house of Judah, the priesthood in Israel will be in the family of Zadok the Levite (Ezek. 48: 11), and Ephraim and Manasseh will hold their double portion. These things Reuben lost for ever, though for ever remaining of the house of Israel, and sharing a portion, though this of ordinary and not special degree. All this is seen by comparing the final and prophetic announcements of Jacob (Gen. 49: 1-4) and Moses (Deut. 33: 6); for Jacob declared that the dignity of the firstborn with its pre-eminence and power belonged to Reuben, yet should not be his, not even in the latter days; yet Moses guaranteed life to the tribe, but nothing more: "Let Reuben live, and not die; yet let his men be few."
Note.
Mal. 1: 2-5 does not deny that in Heb. 12 Esau is a type of a child of God to-day, but rather establishes it. For Esau is there called "Jacob's brother," as in full fact he was. Now in Heb. 11: 9, 21 Jacob is cited as a man of faith, a sample of all such, and therefore as a child of God. His "brother" therefore cannot in Malachi typify an unregenerate man or Jacob also must be so, for they are of the same family.
It is also to be stressed that Heb. 11: 20 shows, as does the history in Gen. 27: 39, 40, that Esau received definite blessings, though inferior to those of the firstborn son. He is therefore not a type of the unregenerate, who are not related to the regenerate, and who are under the curse and wrath of God (Gal. 3: 10; John 3: 36); but he typifies one who has forfeited priority and privilege, though retaining some measure of blessing.
Thus did the men of war forfeit Canaan and fell in the wilderness, though God in grace treated them as still of the redeemed family and did the best He could for them in the desert (Isa. 63: 9, 14).
Love in God is not impaired by that weak partiality which often infects human love, nor is hatred in Him vitiated by that evil bitterness which makes it wicked in man. In God both are harmonious with His holy preference for piety and holy abhorrence of impiety. It is in this sense only that He "loved" Jacob and "hated" Esau.
It should also be observed that in Malachi it is Esau in his posterity, Edom, rather than in his own person on whom because of their wickedness the judgments are inflicted, and to whom God's holy "hatred" is shown.
Of Esau himself the history gives, as the final pictures, a man who has risen above his earlier hatred of his brother, welcomes him back with love, is ready to protect him and his substance (Gen. 32 and 33, and who at last joins him at the graveside of their father (Gen. 35: 29). Thus is he a type of one of the family of God who lapses into carnality and bitterness, but years after is restored in soul, yet who nevertheless cannot regain the full position and priority originally owned. He is the first that shall be last, though still in the family.
A wealthy commercial magnate of two generations ago had two sons. The elder did not live worthily and the father left him only enough to maintain him decently; but the title, castle, fortune, and business went to the younger son. Yet the elder remained one of the family and received as much as he deserved.
This is the force of Rom. 8: 16, 17: "we are children of God: and if children, then heirs; heirs indeed (men) of God, but (de) joint-heirs with Christ [Messiah], if so be that we suffer with Him that we may be also glorified with Him." For every child, however wayward, inherits something from the Father - His life, nature, love, with food, clothing, training; but sharing with the Firstborn in glory is conditional.
- G. H. LANG.
* * *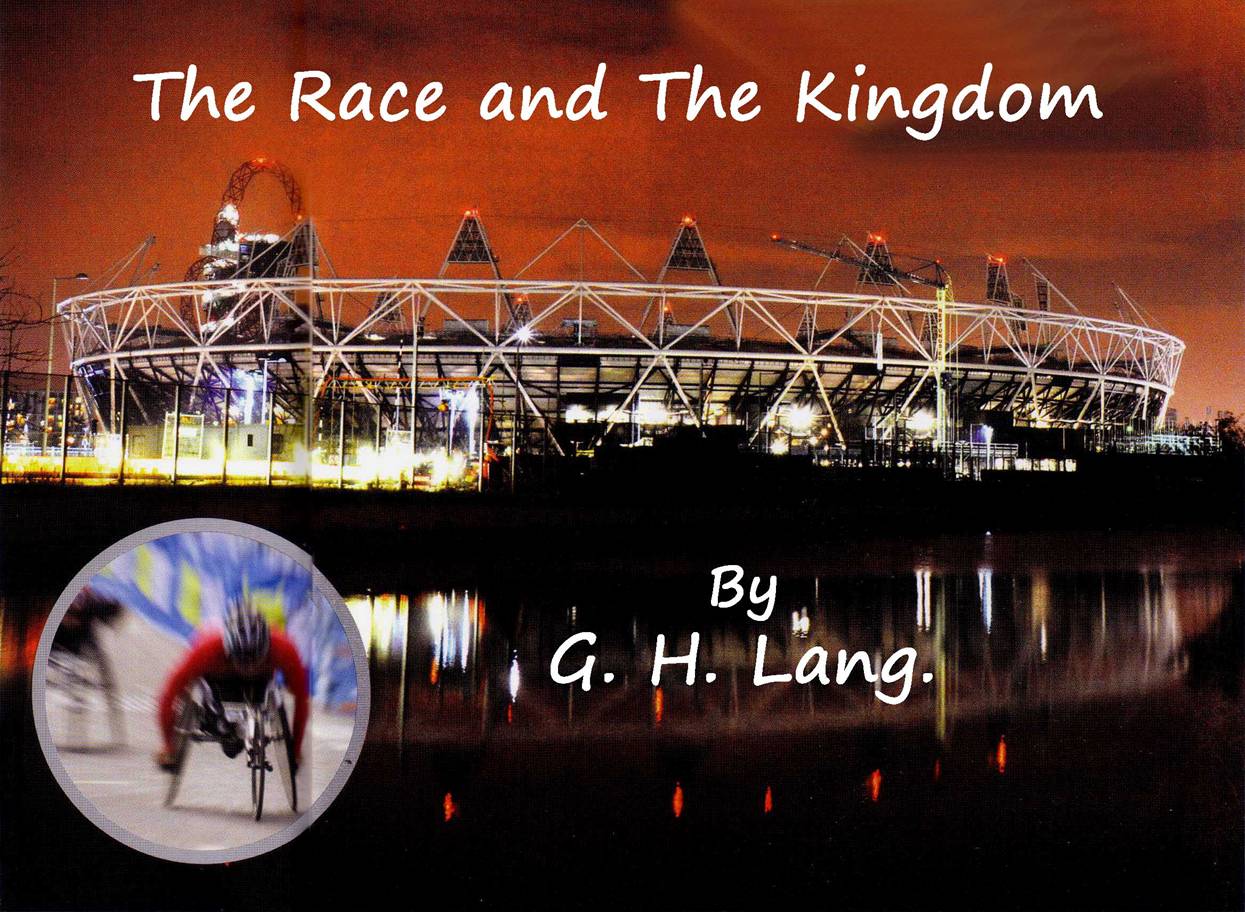 [Introductory photograph: Taken from 'Winning the City" – a publication by London City Mission for the Olympics Summer 2012]
"That line of exposition will be found most accordant with Scripture which makes the most imperative demand for holiness." – G. H. LANG.
-------
To gain that prize I toward that goal will struggle
Which God has set before;
To gain that prize 'gainst sin and death I'll battle
And with the world make war;
And if it brings me here but shame and troubles
And scorn, if pain life fills,
Yet seek I nothing of earth's empty baubles;
My God alone my longing stills.
To gain that prize, to reach that crown I'm pressing
Which Christ doth ready hold;
I mean His great REWARD to be possessing,
His booty for the bold.
I will not rest, no weariness shall stay me,
To hasten home is best,
Where I some day in peace and joy shall lay me
Upon my Saviour's heart and rest.
-------
"All other religions have their Golden Age in the past: God lodges His in the future. For indeed man's Age began with gold, but it ends in mire (Dan. 2: 32). It is unfortunate that the Church of Christ has made the ever-blessed Kingdom of Christ, a secret out of the eternal ages, to obscure, and even obliterate, the COMING RESTORATION OF THE [THIS] WORLD TO GOD. But a thousand alarums would now wake the sleeping soul.
The grace of God is free even to the vilest sinners; but the THRONES OF THE MILLENNIAL AGE ARE WON BY SACRIFICE, SERVICE, AND VICTORIOUS ACHIEVEMENT."
-------
THE CHRISTIAN RACE
Who would make the prize his own,
Runs as swiftly as he can;
Who would gain the earthly crown,
Strives in earnest as a man;
Trains himself betimes with care
For the conflict he would share,
Casts aside whate'er could be
Hindrance to his victory.
Lord, Thou biddest me aspire
To a prize so high, so grand,
That it sets my soul on fire
To be found amidst Thy band:
Oh, how brightly shineth down
From Thy heights the starry crown,
And the throne to victors given,
Who for Thee have bravely striven.
Yet it seems I strive in vain;
Lord in pity look on me,
Thou my weakness must sustain;
Set me now from all things free
That would keep me from my goal:
Come, Thyself prepare my soul,
Give me joy and strength and life,
Help me in the race, the strife.
Well our utmost efforts worth
Is the crown I see afar;
Though the blinded sons of earth
Care not for our holy war.
An exceeding great REWARD
Is the crown of grace, my Lord:
Be Thyself my Strength divine,
And the PRIZE shall soon be mine.
J. Mentzner, 1704.
Translated by Catherine Wilkworth, Lyra Germanica.
-------
"Do not be afraid of what you are about to suffer. I tell you, the devil will put some of you in prison to test you, and you will suffer for ten days. Be faithful, even to the point of death, and I will give you" – [as a REWARD for your faithfulness to Me] – "the CROWN OF LIFE:"
(Rev. 2: 10. NIV).
"I am coming soon. Hold on to what you have, so that no-one will take YOUR crown:"
(Rev. 3: 11. NIV).
"Those whom I love I rebuke and discipline. So be earnest and repent. Here I am! I stand at the door and knock. If anyone hears my voice and opens the door, I will go in and eat with him, and he with me.
"To him who OVERCOMES, I will give the right TO SIT WITH ME ON MY THRONE. He who has an ear, let him hear what the Spirit says TO THE CHURCHES:"
(Rev. 3: 19-22, NIV).