CLOUDS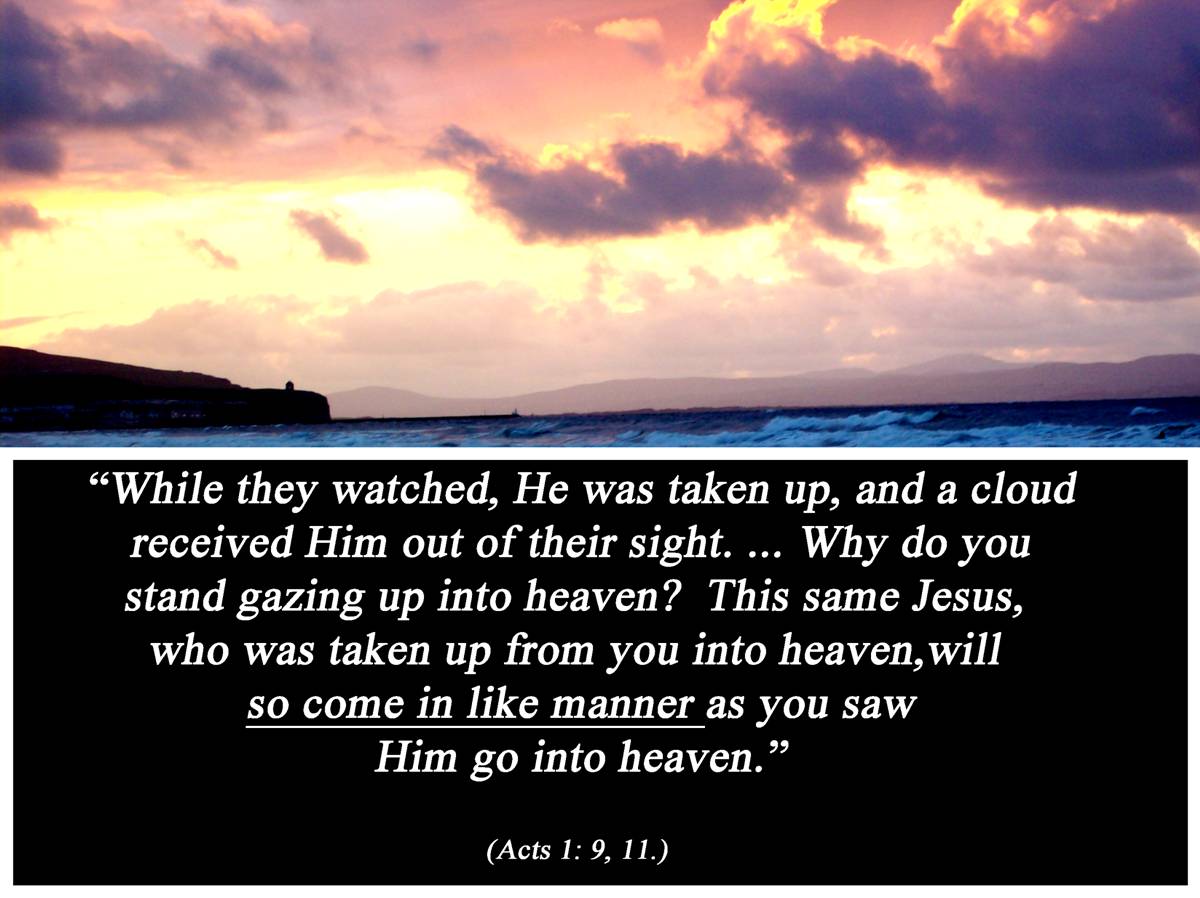 Many and varied were the conditions upon earth, where we read in the Scriptures of clouds accompanying momentous events and divine promises.
1. After the destruction of the earth by a flood because it was filled with violence, God said to Noah:-
"This is the sign of the covenant which I make between me and you, and every living creature that is with you, for perpetual generations: I set my rainbow in the cloud, and it shall be for the sign of the covenant between me and the earth. It shall be when I bring a cloud over the earth, that the rainbow shall be seen in the cloud; and I will remember." … "The waters shall never again become a flood to destroy all flesh. The rainbow shall be in the cloud, and I will look on it and remember the everlasting covenant:" (Genesis 9: 12-16).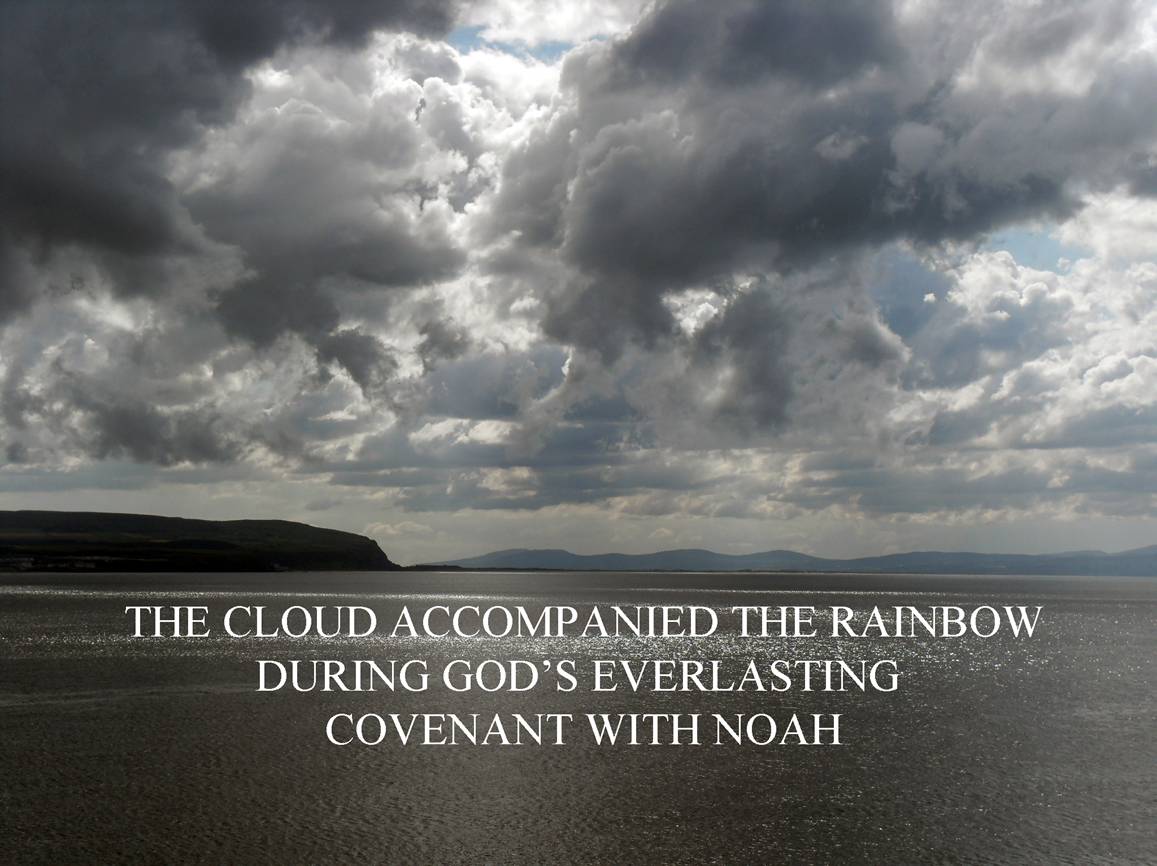 2. In the prophetic Book of Daniel, we can read of clouds:-
"I was watching in the night visions" says Daniel, the 'greatly beloved' (10: 11) prophet of God,* "And behold, One like the Son of Man coming with the clouds of heaven!" … "Then to Him was given dominion and glory and a kingdom, that all nations, and languages should serve him, His dominion is an everlasting dominion, which shall not pass away, and His kingdom the one which shall not be destroyed:" (Daniel 7: 13, 14).
* "Blest prophet! Second to no seer,
Whose eyes beheld the coming day,
To whom the secret task was given
To paint the End, and point the way!"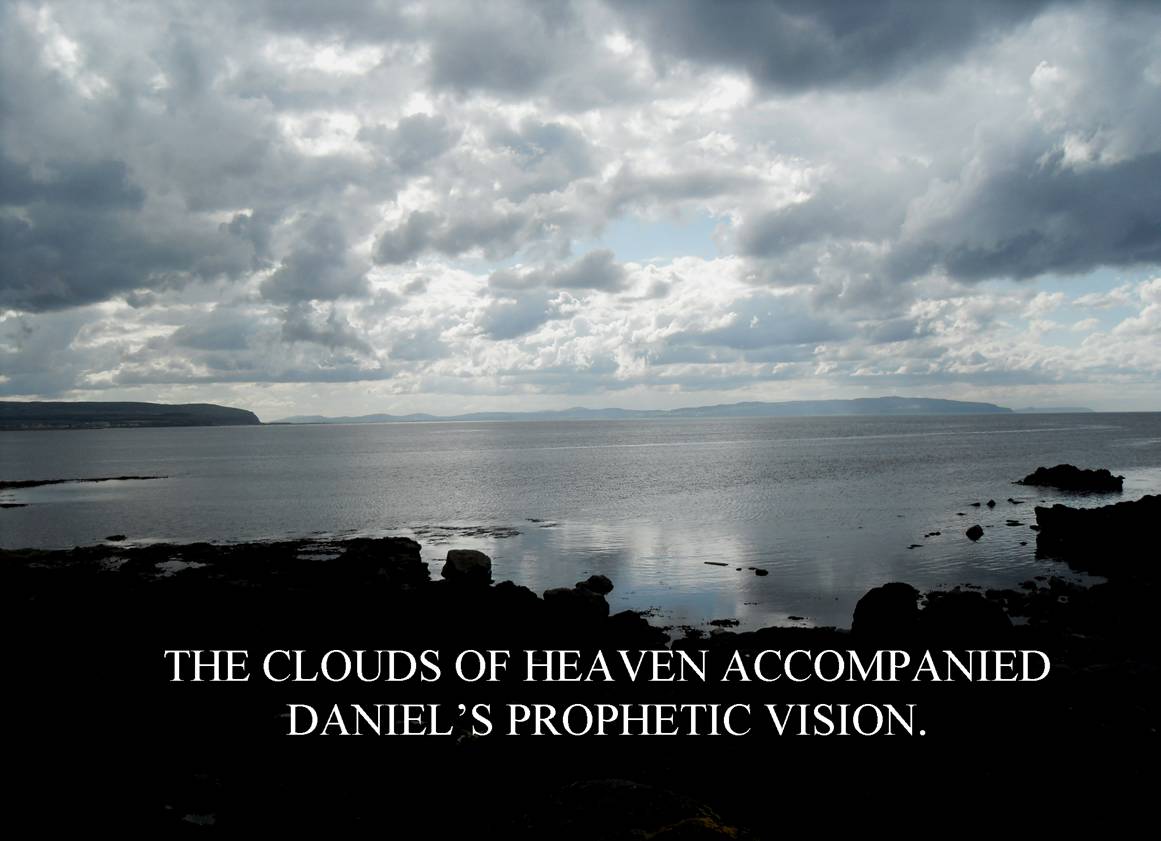 3. In the gospel of Matthew, we find another prophetic statement uttered by our Lord Jesus Christ to Caiaphas the High Priest, where the scribes and elders were assembled:-
"Tell us," said Caiaphas, "if you are the Christ, the Son of God? Jesus said to him, 'It is as you said, neverthrless, I say to you, HEREAFTER you will see' - (Presumably, from a position in Hades/Sheol - the place of the un-resurrected souls of the dead in the underworld [Acts 2: 25, 31; Luke 16: 18, 31], by means of a 'vision' given him from God - like that experienced hundreds of years beforehand by Daniel the prophet.) – 'the Son of Man' – a description of God's promised Messiah, found in the Book of Daniel – 'sitting at the right hand of the Power, and coming on the clouds of heaven:'"* (Matthew 26: 57, 63, 64).
* "Messiah, first upon the cross,
Then hidden long from mortal view;
Messiah coming on the clouds
To judge the Gentile and the Jew."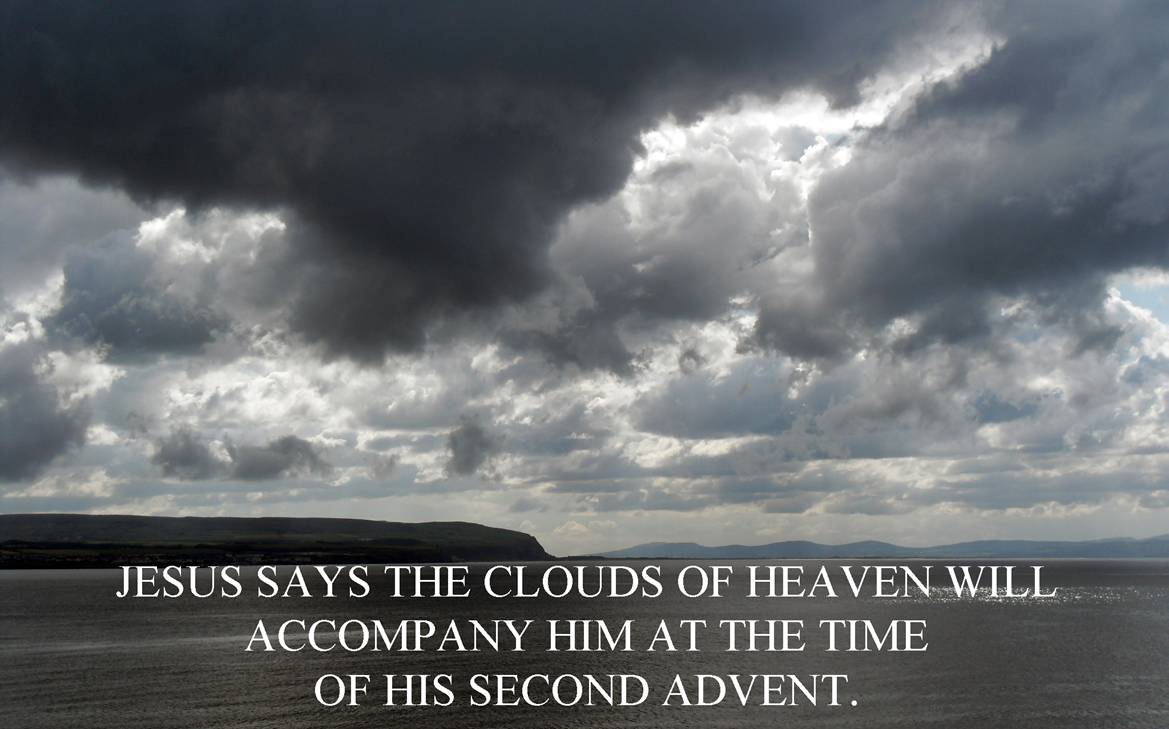 4. Let us look at another momentous event; one which the apostle Peter says was so important that we should not allow it to slip from our memories: and he interprets its significance for us by the words: "Beloved, I now write to you … that you may be mindful of the words which were spoken before by the holy prophets, and of the commandment of us the apostles of the Lord and Saviour, knowing this first, that scoffers will come in the last days" – (i.e., the 'last days' of this evil age presumably) – "walking according to their own lusts, and saying, 'Where is the promise of his coming?' " … "But beloved, do not forget this one thing, that with the Lord one day is as a thousand years, and a thousand years as one day:" (2 Peter 3: 1-8).*
[* Mr.Spurgeon says, "It was believed in the early Church, I do not know whether there is any Scriptural foundation for the precise date they fixed, that the seventh thousand years of the world's history would be a Sabbath; that there were six days of toil in the week, and the seventh was a day of rest, so the world would have six thousand years of toil and sorrow, and the seventh thousand be a thousand years of rest." [See, Rom. 8: 19-22.] … "If it be true that the meek ones shall yet possess this very earth, and that here, in the abundance of peace through Messiah's reign, they shall rejoice in it, I think I have found a fuller meaning, and one which has a God-like meaning." … "What did the meek inherit, brethren? Faggot, flames, racks, pincers, dungeons. Their inheritance, indeed, was nothing. They were destitute, afflicted, tormented; they wandered about in sheepskins and goatskins; and if the meek are ever to inherit the earth, certainly it must be in some age to come, for they have never inherited it yet." …"Whether any one disputes the genuineness of these words [see Rev. 5: 9, 10.], I do not know; but if they mean anything at all, if the Holy Spirit meant to set forth any meaning, surely it must have been that the people of Christ shall reign upon the earth. Besides, remember our Saviour's words in Matthew 19: 28, where in answer to a question which had been put by Peter as to what the saints should have as the result of their losses for his sake, he said unto them, "Verily I say unto you, that ye which have followed me, in the regeneration when the Son of man shall sit in the THRONE OF HIS GLORY, ye also shall sit upon twelve thrones, judging the twelve tribes of Israel And every one that hath forsaken houses, or brethren, or sisters, or father, or mother, or wife, or children, or lands, for my names sake, shall receive an hundredfold, and shall inherit everlasting life." … "I do look forward to this with joy, that though I may sleep in Christ before my Master comes, and I know not whether that shall be or no, yet I shall rise at the day of his appearing, and shall be recompensed at the resurrection of the just if I have truly and faithfully served him; and that recompense shall be, to be like him, and to partake of his glories before the eyes of men, and TO REIGN WITH HIM DURING THE THOUSAND YEARS."]
All the Apostles were familiar with Old Testament prophecies which they interpreted literally, and when Jesus appeared they knew He was God's Messiah. "In that day," Isaiah says, "a man will look to his Maker, and his eyes will have respect for the Holy One of God:" (17: 7). But the apostles initially did not believe in two advents of Messiah – to suffer and die for the sins of mankind and the salvation of the world, (Gen. 3: 11-19; Rom. 8: 19-25; Luke 24: 13-27.) they could not see; and only after His death, did they begin to realise it would be a long time before His millennial Kingdom would be established, (Matt. 24: 29, 30; Mark 16: 15; Acts 3: 21).
To prepare Peter, James and John for the sufferings which lay ahead of them,* Jesus said to His disciples: "There are some standing here, who will not taste death till they see" – (i.e., by "a vision") - "the Son of Man coming in his kingdom. Now after six days" – (i.e., after six thousand years from the creation of man presumably) – "Jesus took Peter, James and John his brother, brought them up on a high mountain by themselves, and was transfigured before them. His face shone like the sun, and his clothes became white as the light, and behold Moses and Elijah" - (presumably the two witnesses in Rev. 11) – "appeared to them talking with him. Then Peter answered and said to Jesus, 'Lord, it is good for us to be here; if you wish, let us make here three tabernacles.' … "While he was still speaking, behold a bright cloud overshadowed them; and suddenly a voice came out of the cloud, saying, 'This is my beloved Son, in whom I am well pleased, HERE HIM!" (Matthew 16: 28-17: 5).
* "The Risen Saints thine eyes beheld,
The Antichrist sent to his doom;
Delivered Israel, new-born, saved;
The "Kingdom, Power and Glory" come!"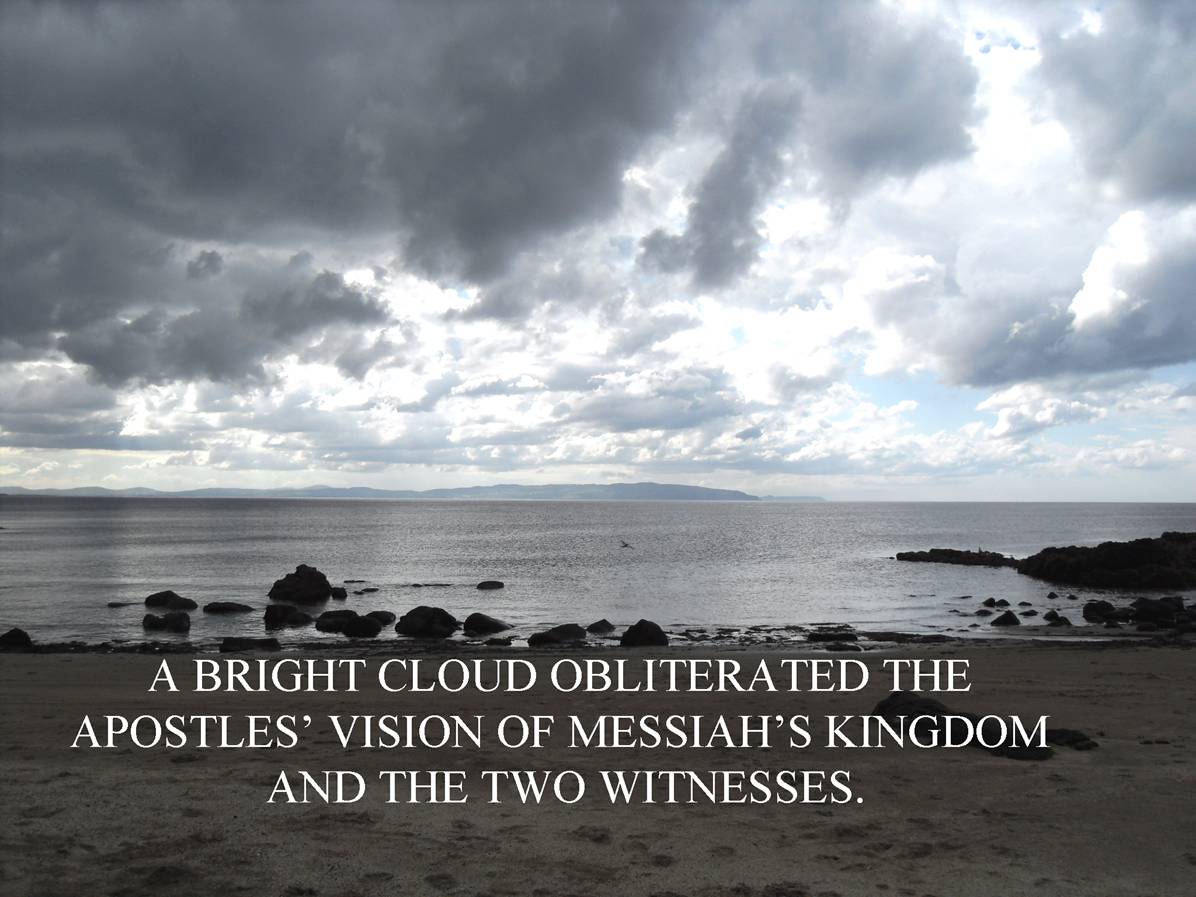 5. In the Apocalypse we read: "The Revelation of Jesus Christ, which God gave Him to show His servants – things which must shortly take place. And He sent and signified it by His angel to his servant John, who bore witness to the word of God, and to the testimony of Jesus Christ, and to all things that he saw.
Blessed is he who reads and those who hear the words of this prophecy, and keep those things which are written in it; for the time is near.
John, to the seven churches which are in Asia: Grace to you and peace from Him who is and who was and who is to come, and from the seven Spirits who are before His throne, and from Jesus Christ, the faithful witness, the firstborn from [of] the dead,* and the ruler over the kings of the earth. To Him who loved us and washed us from our sins in His own blood, and has made us kings and priests to His God and Father, to Him be glory and dominion forever and ever. Amen.
Behold, He is coming with clouds, and every eye will see Him, and they also who pierced Him. And all the tribes of the earth will mourn because of Him. Even so, Amen.
'I am the Alpha and the Omega, the Beginning and the End,' says the Lord, 'who is and who was and WHO IS TO COME, the Almighty.'" (Rev. 1: 1-8).
* Allow me to quote Mr. Spurgeon once again:-
"I shall now refer you to one or two passages in Scripture and you will use your Bibles and follow me. First, let us look at the words of the apostle in that chapter which we use generally as a burial service, the first epistle to the Corinthians, 15: 20:- 'But now is Christ risen from the dead, and become the firstfruits of them that slept. For since by man came death, by man came also the resurrection of the dead. For as in Adam all die, even so in Christ shall all be made alive. But every man in his own order: Christ the firstfruits; afterward they that are Christ's at his coming. Then cometh the end, when he shall have delivered up the kingdom to God, even the Father; when he shall have put down al rule and all authority and power.' There has been an interval of two thousand years between 'Christ the firstfruits' and the 'afterward they that are Christ's at his coming.' Why not then a thousand years between the first resurrection and 'the end.' Here is a resurrection of those who are Christ's and of them only. As for the wicked" - [See 1 Cor. 6: 9-12; Num. 16: 25, 26.] - "one would scarce know that they would rise at all from this passage, if it were not for the general statement, 'All shall be made alive,' and even this may not be so comprehensive as at first sight it seems. It is enough for me that there is here a particular and exclusive resurrection of those who are Christ's. Turn to another passage, which is perhaps plainer still." … "Turn to Phillippians 3., verses 8 and 11, and compare the two. 'Yea doubtless, and I count all things but loss for the excellency of the knowledge of Christ Jesus my Lord: for whom I have suffered the loss of all things, and do count them but dung, that I may win Christ.' 'That I may know him, and the power of his resurrection, and the fellowship of his sufferings, being made conformable unto his death; if by any means I might attain unto the resurrection [out] of the dead.' What does he mean there? Everyone will rise, no orthodox Christian doubts that. The doctrine of the general resurrection is received by all the Christian Church. What, then, is this resurrection after which Paul was exerting himself, if by any means he might attain unto it? It could not be the general resurrection; he would attain unto that live as he list. It must have been some superior resurrection of which only those shall be partakers who have known Christ and the power of his resurrection, having been made conformable unto his death. I think you cannot interpret this passage, or give it any force of meaning, without you admit that there is to be a prior resurrection of the just" - [i.e., those 'counted worthy to attain that age', (Luke 20: 35)] – "before the resurrection of the unjust. If you will turn to a passage in Luke 20: 35, which probably is fresh upon your memories, you will find there something which I will venture to call a clear proof of a special resurrection. The Sadducees had proposed a difficulty as to the relationship of men and women in the future state, and Jesus says, 'But they which shall be accounted worthy to obtain that world, and the resurrection from the dead, neither marry, nor are given in marriage: neither can they die any more: for they are equal unto the angels; and are children of God, being the children of the resurrection.' Now, brethren, there is some [personal] worthiness necessary for this resurrection. Do you not perceive it?"]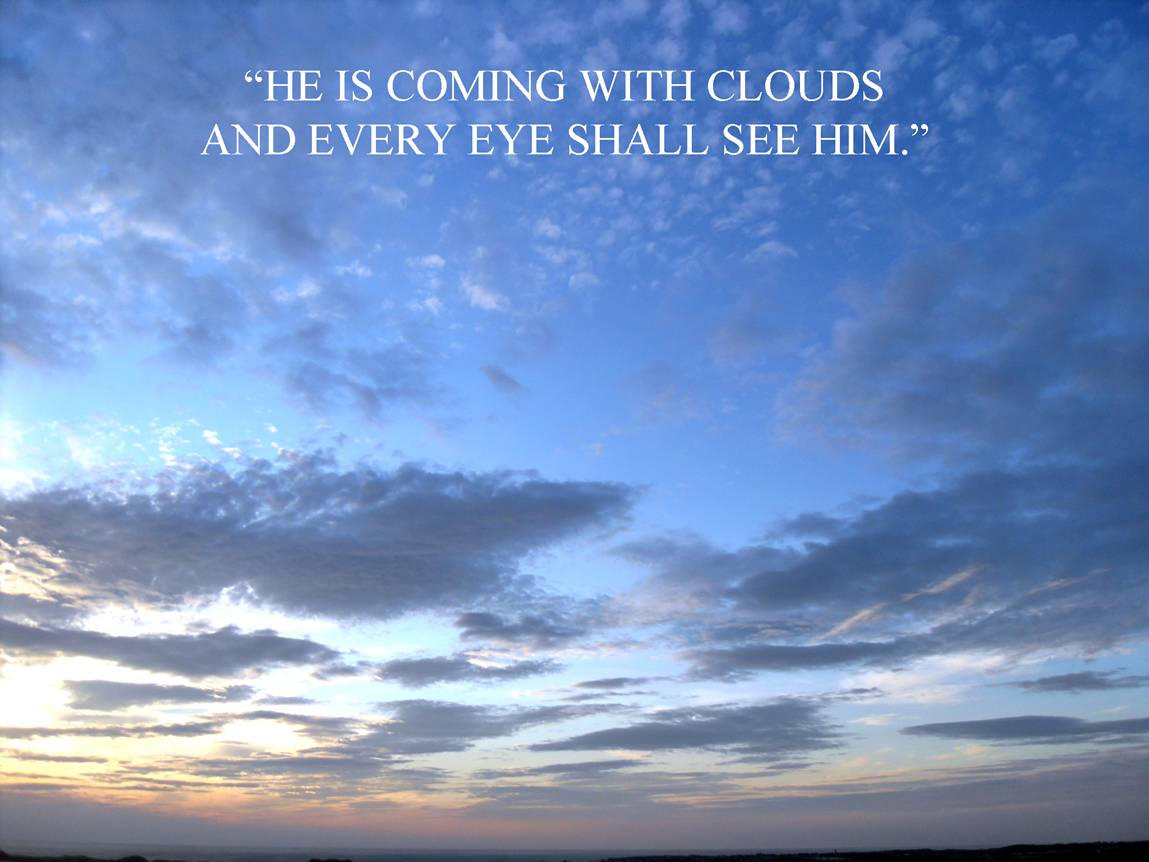 6. On the Isle of Patmus, the apostle John "heard a voice from heaven, saying to me, 'write: Blessed are the dead who die in the Lord from now on" – (Primarily, referring to the time of the Great Tribulation, when the 'saints' of God will be severely tested by Antichrist, and given a last opportunity by him to win a "crown" [Rev. 3: 21, 22; 3: 11.]) – "'Yes,' says the Spirit, 'that they may rest* from their labours, and their works follow them'. And I looked, and behold, a white cloud, and on the cloud sat One like the Son of Man, having on his head a golden crown:" (Rev. 14: 13, 14).
* "Rest undisturbed, till yonder morn
Awakes the "Many" from the dust;
Within thy lot thou then shalt stand
In resurrection of the just."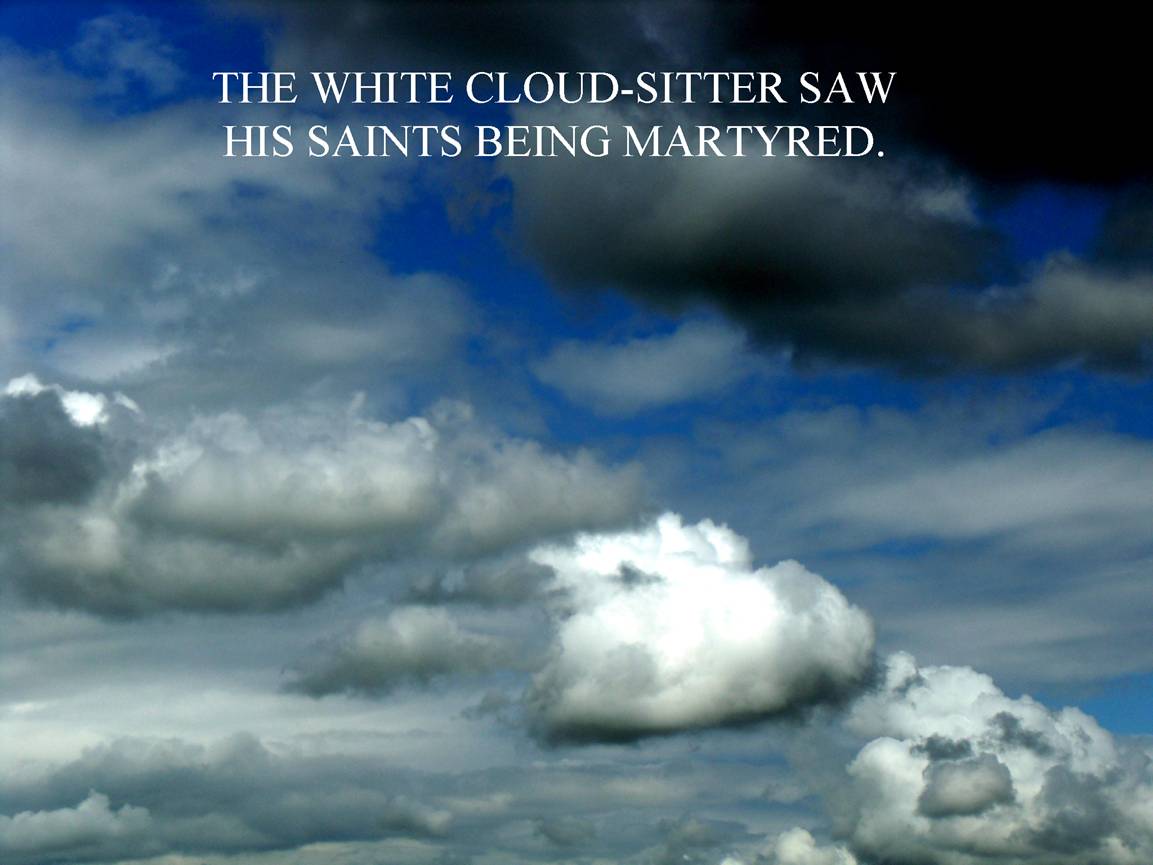 7. So we can now return to look once again at our text attached to the picture, at the beginning of this short scriptural meditation and study:-
"Of all that Jesus began both to do and teach, until the day in which He was taken up, after He through the Holy Spirit had given commandments to the apostles whom He had chosen, to whom He also presented Himself alive after His suffering by many infallible proofs, being seen by them during forty days and speaking of the THINGS PERTAINING TO THE KINGDOM OF GOD.
And being assembled together with them, He commanded them not to depart from Jerusalem, but to WAIT for the Promise of the Father, 'Which,' He said, 'you have heard from Me; 'for John truly baptized with water, but you shall be baptized WITH THE HOLY SPIRIT not many days from now.'
Therefore when they had come together, they asked him, saying, 'Lord, will You at this time restore the kingdom to Israel?'*
And He said to them, 'It is not for you to know the times or seasons which the Father has put in His own authority. But you shall receive power when the Holy Spirit has come upon you; and you shall be witnesses to Me" – (i.e., not just before their death, but also after their resurrection, I presume) – "in Jerusalem, and in all Judea and Samaria, and to the end of the earth.'
Now when He had spoken these things, while they watched, He was taken up, and a cloud received Him out of their sight. And while they looked steadfastly toward heaven as He went up, behold, two men" – (presumably two angels of God, who looked like 'men') – "stood by them in white apparel, who also said, 'Men of Galilee, why do you stand gazing up into heaven? This same Jesus, who was taken up from you into heaven, will so COME IN LIKE MANNER as you saw Him go into heaven:" (Acts 1: 1-11, N.K.J.V.).
"Thy Hope our Hope,* thy Faith our Faith,
Thy people on our heart in prayer,
One DAY our eyes the joy will see,*
And then with Thee the glory share!"
* "Therefore gird up the loins of your mind, be sober, and rest your hope fully upon the grace that is to be brought to you at the revelation of Jesus Christ: as obedient children, not conforming yourselves to the former lusts, as in your ignorance; but as He who called you is holy, you also be holy in all your conduct, because it is written. 'Be holy, for I am holy:'" (1 Peter 1: 13-16).
"Till He come" so runs the line,
Marking off the term of ill;
Darkest hours of power malign
Never more an hour to fill.
"Till He come" the might of hell
Still against the saints shall rage,
And, beneath the Tempter's spell,
Men in strifes and sins engage.
"Till He come," wrong will prevail,
And the right be done in vain;
Truth's confession still entail
Toil, and obloquy, and pain;
But Our Hope can brook delay,
Waiting such a glorious day!"
So we arrive at last at one of the most wonderful sunsets in Scripture.
In the thrilling words of Napoleon:-* [*See 'Power Lost and Recovered.]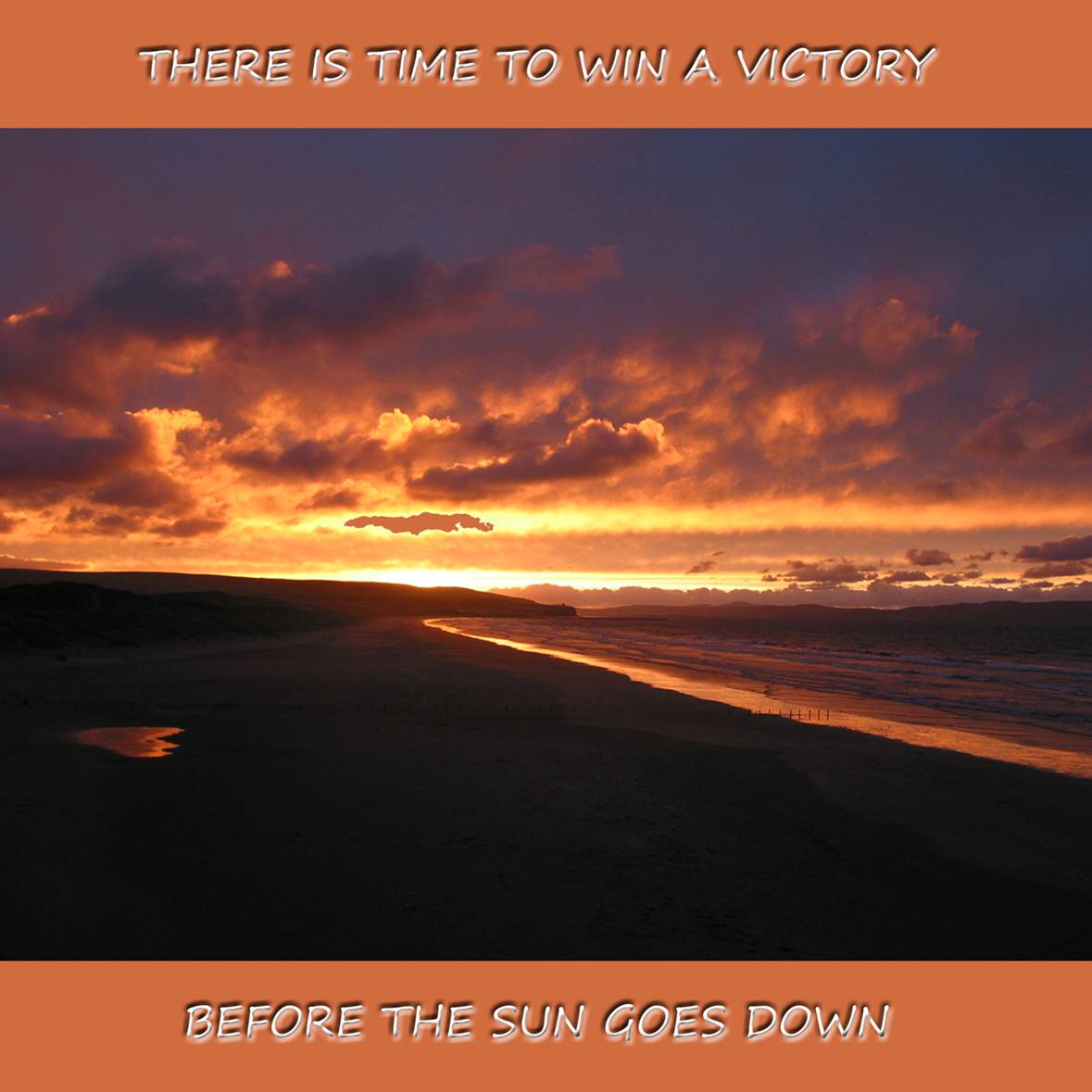 * Picture above: Portstewart Strand, Northern Ireland. Photograph by Derek Hawthorne.
"The Cloud-Comer descends, all Gentile empires are broken as a potter's vessel, and Israel's kingdom rises on the ruins of them all."
– NATHANIEL WEST, D. D.
-------