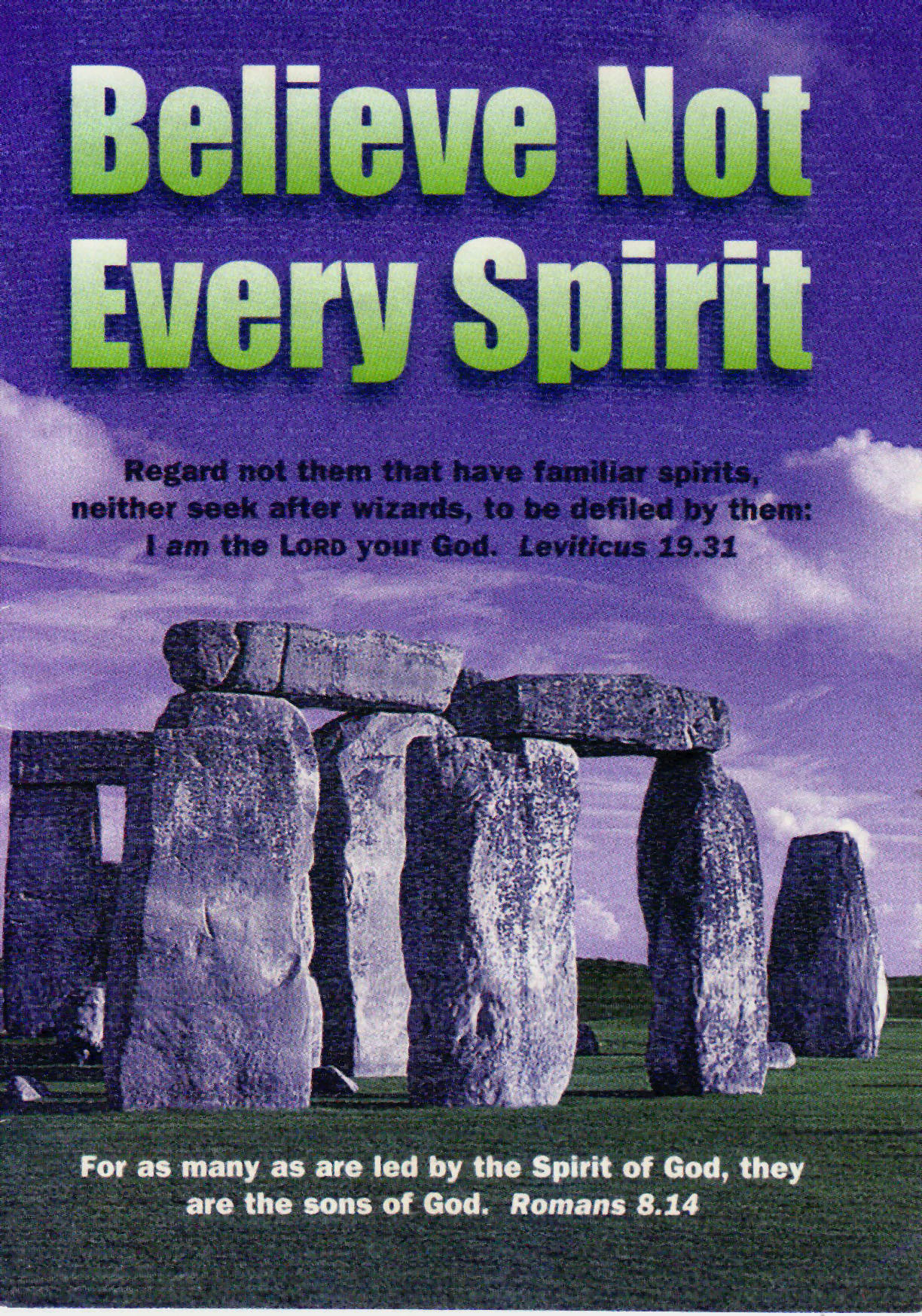 What Saith the Scripture?
Communication with spirits forbidden
And the soul that turneth after such as have familiar spirits, and after wizards, to go a whoring after them, I will even set my face against that soul, and will cut him off from among his people. Leviticus 20: 6
When thou art come into the land which the LORD thy God giveth thee, thou shalt not learn to do after the abominations of those nations.
There shall not be found among you any one that maketh his son or his daughter to pass through the fire, or that useth divination, or an observer of times, or an enchanter, or a witch, or a charmer, or a consulter with familiar spirits, or a wizard, or a necromancer.
For all that do these things are an abomination unto the LORD: and because of these abominations the LORD thy God doth drive them out from before thee.
Thou shalt be perfect with the LORD thy God.
For these nations, which thou shalt possess, hearkened unto observers of times, and unto diviners: but as for thee, the LORD thy God hath not suffered thee so to do.
The LORD thy God will raise up unto thee a Prophet from the midst of thee, of thy brethren, like unto me; unto him ye shall hearken. Deuteronomy 18: 9-15.
King Saul's Transgression
So Saul died for his transgression which he committed against the LORD, even against the word of the LORD, which he kept not, and also for asking counsel of one that had a familiar spirit, to enquire of it; and enquired not of the LORD: therefore he slew him, and turned the kingdom unto David the son of Jesse. 1 Chronicles 10:13-14 [see also 1 Samuel 28: 7, etc.]
King Manasseh's Sin
And he made his son pass through the fire, and observed times, and used enchantments, and dealt with familiar spirits and wizards: he wrought much wickedness in the sight of the LORD, to provoke him to anger. 2 Kings 21: 6.
King Josiah's Reformation
Moreover the workers with familiar spirits, and the wizards, and the images, and the idols, and all the abominations that were spied in the land of Judah and in Jerusalem, did Josiah put away, that he might perform the words of the law which were written in the book that Hilkiah the priest found in the house of the LORD. 2 Kings 23: 24.
The Prophet's Warning
And when they shall say unto you, Seek unto them that have familiar spirits, and unto wizards that peep, and that mutter: should not a people seek unto their God? for the living to the dead? Isaiah 8: 19.
Jesus greater than the strong man armed
And he was casting out a devil, and it was dumb. And it came to pass, when the devil was gone out, the dumb spake; and the people wondered.
But some of them said, He casteth out devils through Beelzebub the chief of the devils.
And others, tempting him, sought of him a sign from heaven.
But he, knowing their thoughts, said unto them, Every kingdom divided against itself is brought to desolation; and a house divided against a house falleth.
If Satan also be divided against himself, how shall his kingdom stand? because ye say that I cast out devils through Beelzebub.
And if I by Beelzebub cast out devils, by whom do your sons cast them out? therefore shall they be your judges.
But if I with the finger of God cast out devils, no doubt the kingdom of God is come upon you.
When a strong man armed keepeth his palace, his goods are in peace: but when a stronger than he shall come upon him, and overcome him, he taketh from him all his armour wherein he trusted, and divideth his spoils.
He that is not with me is against me: and he that gathereth not with me scattereth. Luke 11: 14-23.
Christ healing the 'possessed'
And at even, when the sun did set, they brought unto him all that were diseased, and them that were possessed with devils.
And all the city was gathered together at the door.
And he healed many that were sick of divers diseases, and cast out many devils; and suffered not the devils to speak, because they knew him. Mark 1: 32‑34.
The apostle Paul casting out an evil spirit -
And it came to pass, as we went to prayer, a certain damsel possessed with a spirit of divination [margin, 'of Python'] met us, which brought her masters much gain by soothsaying: the same followed Paul and us, and cried, saying, These men are the servants of the most high God, which shew unto us the way of salvation.
And this did she many days. But Paul, being grieved, turned and said to the spirit, I command thee in the name of Jesus Christ to come out of her. And he came out the same hour.
And when her masters saw that the hope of their gains was gone, they caught Paul and Silas, and drew them into the marketplace unto the rulers. Acts 16: 16-19.
What the Holy Spirit says -
Now the Spirit speaketh expressly, that in the latter times some shall depart from the faith, giving heed to seducing spirits, and doctrines of devils. 1 Timothy 4: 1.
But evil men and seducers shall wax worse and worse, deceiving, and being deceived. 2 Timothy 3: 13.
For the time will come when they will not endure sound doctrine; but after their own lusts shall they heap to themselves teachers, having itching ears; and they shall turn away their ears from the truth, and shall be turned unto fables. 2 Timothy 4: 3, 4.
'Waxing worse and worse' up to the end
And the rest of the men which were not killed by these plagues yet repented not of the works of their hands, that they should not worship devils, and idols of gold, and silver, and brass, and stone, and of wood: which neither can see, nor hear, nor walk: neither repented they of their murders, nor of their sorceries, nor of their fornication, nor of their thefts. Revelation 9: 20, 21.
And I saw three unclean spirits like frogs come out of the mouth of the dragon, and out of the mouth of the beast, and out of the mouth of the false prophet.
For they are the spirits of devils, working miracles, which go forth unto the kings of the earth and of the whole world, to gather them to the battle of that great day of God Almighty...
And he gathered them together into a place called in the Hebrew tongue Armageddon. Revelation 16: 13, 14, 16.
The 'Word of God', not 'departed spirits', the medium of Truth
Then he said, I pray thee therefore, father, that thou wouldest send him to my father's house: for 1 have five brethren; that he may testify unto them, lest they also come into this place of torment.
Abraham saith unto him, They have Moses and the prophets; let them hear them.
And he said, Nay, father Abraham: but if one went unto them from the dead, they will repent.
And he said unto him, If they hear not Moses and the prophets, neither will they be persuaded, though one rose from the dead. Luke 16: 27-31. [see also Deuteronomy 8: 15.]
Men and brethren, let me freely speak unto you of the patriarch David, that he is both dead and buried, and his sepulchre is with us unto this day.
Therefore being a prophet, and knowing that God had sworn with an oath to him, that of the fruit of his loins, according to the flesh, He would raise up Christ to sit on his throne.
He, seeing this before, spake of the resurrection of Christ, that His soul was not left in hell [Gk. Hades], neither His flesh did see corruption.
This Jesus hath God raised up, whereof we all are witnesses.
Therefore being by the right hand of God exalted, and having received of the Father the promise of the Holy Ghost [Spirit], He hath shed forth this, which ye now see and hear.
For David IS NOT ASCENDED into the heavens: but he saith himself,
'THE LORD SAID UNTO MY LORD,
SIT THOU ON MY RIGHT HAND,
UNTIL I MAKE THY FOES THY FOOTSTOOL.' Acts 2: 29-35.
While he yet spake, behold, a bright cloud overshadowed them: and behold a voice out of the cloud, which said, This is my beloved Son, in whom I am well pleased; hear ye him. Matthew 17: 5.
For whether we live, we live unto the Lord; and whether we die, we die unto the Lord: whether we live therefore, or die, we are the Lord's.
For to this end Christ both died, and rose, and revived, that he might be Lord both of the dead and living. Romans 14: 8, 9.
Solemn Warnings for Christ's Disciples
Now the works of the flesh are manifest, which are these; Adultery, fornication, uncleanness, lasciviousness, idolatry, witchcraft, hatred, variance, emulations, wrath, strife, seditions, heresies, envyings, murders, drunkenness, revellings, and such like: of the which I tell you before, as I have also told you in time past, that they which do such things SHALL NOT INHERIT THE KINGDOM OF GOD. Galatians 5.19-21.
Then He said unto them, 'O how fools, and slow of heart to believe ALL that the prophets have spoken:
Ought not the Christ to have suffered these things, and to enter into His glory'. And beginning at Moses and all the prophets, We expounded unto them in all the scriptures the things concerning Himself. Luke 24: 26, 27.
To him THAT OVERCOMETH will I grant to sit with Me in My throne, even as I also overcame, and am set down with My Father in His throne.
He that hath an ear, let him hear what the Spirit saith UNTO THE CHURCHES. Revelation 3: 21, 22.
-------